How many not datings apps do you know to help you to make new friends? During the quarantine most people use dating apps Tinder, Badoo or Bumble to connect people to make friends, but there are some great alternatives to dating apps to find new friends. ZINGR, Ablo, Facebook or Yubo are great apps to connect friends or meet new people.
ZINGR – meet people and find new friends in your area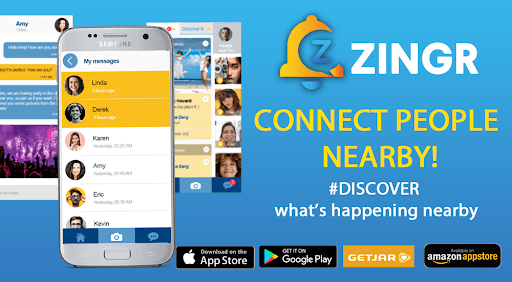 Most of our friends are living nearby, so if you want to find new friends, you are looking for people with the same interest. ZINGR local app is a great not dating app to make friends with the same hobbies as you. This social network connects people and helps meeting new friends who are living in your area and love the same things as you. ZINGR uses GPS to connect people and allows users to share stories, photos, videos with people nearby. Hashtags nearby are used by users to find like-minded people on ZINGR. 
ZINGR was released in 2019 by Kęstutis Gedaitis and can be downloaded from Apple, Google Play, Apple store or GetJar. This app supports more than 50 languages.
ZINGR website: https://zingr.app
ABLO – Lets talk to people around the world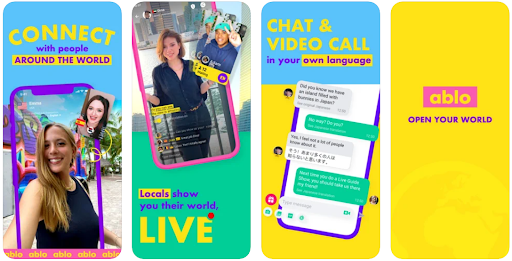 If you love to travel, ABLO social network is a great app for you. This social network translates your chats live. ABLO allows users to connect and chat in one-on-one conversation. It gives you the chance to connect with people from across the world. 
This social network supports 37 languages, released for Android and iOS. If you want to download the ABLO app you can do that on Google Play, Apple and many other popular app stores.
ABLO website: https://ablo.live
YUBO – app to make friends for teens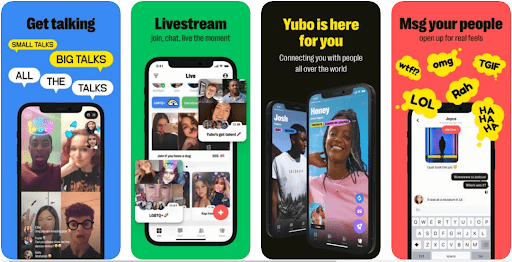 Yubo is your social video live-streaming app. This app helps teens to make friends but anyone under 17 who sets up a profile on Yubo has to confirm they have the permission of a parent. The YUBO app was released in 2015 for teenagers to connect and find new friends. The app allows users to create video livestreams with up to 10 friends, most of them are teenagers. Yubo is a  French social network launched by "TWELVE APP", supports 9 languages and can be downloaded from most app stores.
YUBO website: https://yubo.live
All these not dating apps do not use a matching system like dating apps, but users still can connect like – minded people to meet new friends. These social networks are worldwide and support many languages so it's great for travelers to make friends worldwide.