Noodles is a Maltipoo who is just three years old but a great actor and an emerging social media influencer. Although she's a little dog, the way she carries herself is insanely fascinating. Her sense of fashion is way better than most humans. The adorable and one-of-a-kind way she wears her dainty little sandals, cute hair clips, and braided ear ornaments sets her apart from every other pet. That is the reason why Noodles is not just getting immense love from her parents, but the whole world as well. Her existence is enough to make anyone's day.
Originally, Noodles was adopted from a breeder in Pennsylvania by her mom Yosa and dad Scott but is currently living in New York City. Her online career started quite unexpectedly when amidst the Covid 19 wave, Noodles's mom decided to document her experiences on social media. Noodles made her debut on Instagram, and soon after that, Yosa started uploading amusing videos of her performing different tricks on TikTok.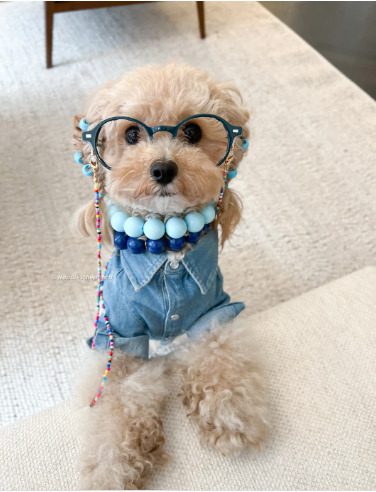 Noodles' journey so far has been quite exciting. She has documented her experiences, including the road trips she took with her parents and all the beautiful places she visited. These adventures from a dog's perspective are fascinating for the world. Not just that, but Noodles absolutely loves to get praised, and she very well knows how to get attention. She can pull any of her 40 tricks anytime she wants to and mesmerize the ones around her. She can easily recognize her stuffed animals by name, play hide and seek, and even hide her parents' socks. Noodles's mischievous yet adorable actions make her one of the most loved dogs on social media.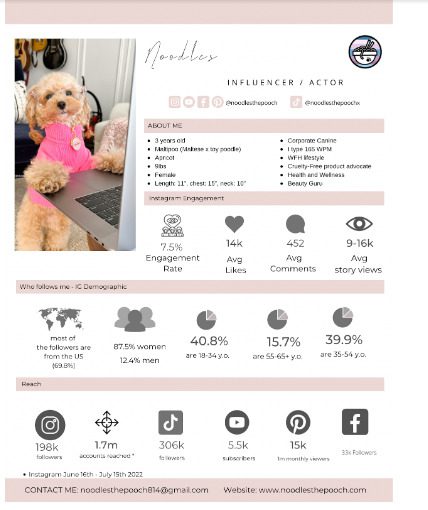 The fame of Noodles is rising with each passing day. She has almost 200k people following her on Instagram, 6k people watching her on YouTube, and 206.9k people following Noodles on Tiktok alone. This demonstrates her impact on the social world and how well she engages with her audience. 
Recently, Noodles has started a brand new series called "The Corporate Canine" where she portrays the difficulties of a 9-5 corporate job. Almost every other American can relate to her videos. The most famous ones are titled "Openly Judging My Colleagues," "Rewording My Emails," and "What I Say vs. What I Mean."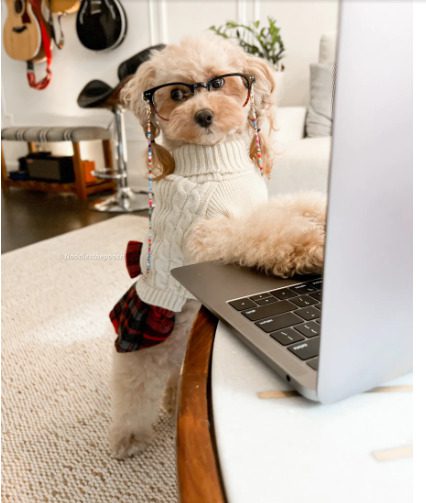 For future endeavors, Noodles's parents are actively looking for acting roles for her. Noodles has had the opportunity to collaborate with various brands, including SundaysForDogs and Leisure Pets. Not only these, but she has also been receiving offers to work with brands unrelated to dogs or pets. Bloomingdale has worked on a few videos with her too.
Some companies like Drunk Elephant – a famous skincare brand, gifted their pr kit because of her cruelty-free views regarding makeup and skincare products. 
As a social media influencer, Noodles is creating a positive impact with her existence and enjoying the experiences coming her way wholeheartedly. She's got some exciting new collaborations coming up! Noodles is always ready to entertain people with her typing skills by standing on her little hind legs and throwing judgey glances at her colleagues!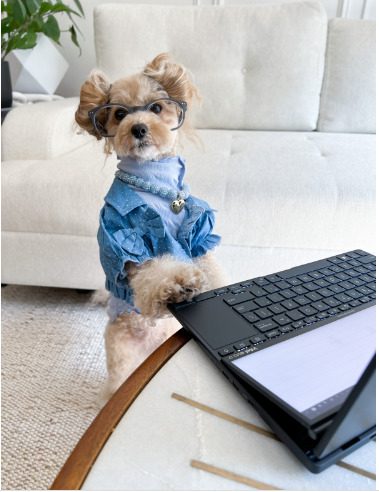 Enter the adventurous world of Noodles by simply clicking on any of the links given below:
Instagram: @NoodlesThePooch
Website: https://noodlesthepooch.com/
YouTube: @NoodlesThePooch
Facebook: @NoodlesThePooch
Pinterest: @NoodlesThePooch
TikTok: @NoodlesThePoochX
Amazon Store: https://www.amazon.com/shop/noodlesthepooch
Twitter: @NoodlesThePooch