Nine Chronicles, a decentralized RPG (role-playing video game) published by Singapore-based Planetarium Labs, is launching its first non-fungible token (NFT) project. The NFT collection will contain PFP (profile picture) items related to the characters that fight in the decentralized game.
These are not simple PFPs in the traditional sense – the NFTs will be issued by D:CC (De:Centralized Cat), an online "secret society" within Nine Chronicles that mimics the vibe of Freemasonry and the Illuminati.
The PFP NFTs issued by D:CC can be used by players as costumes in Nine Chronicles, which will symbolize the player's status as a member of the "great society."
Besides reflecting the player's identity in the Nine Chronicles game, each PFP will have a unique appearance, with holders being able to fight against monsters, or battle against each other, in Nine Chronicles.
PFP holders are automatically considered members of D:CC, meaning that they benefit from multiple perks, such as exclusive rewards, in-game items, and additional currencies that are available only to D:CC members. The membership comes with some governance features as well, as NFT holders will be able to vote on future collaborations.
Each PFP, which resembles a cat, will represent a unique combination of features, including hairstyle, ears, eyes, face expression, accessories, and tail.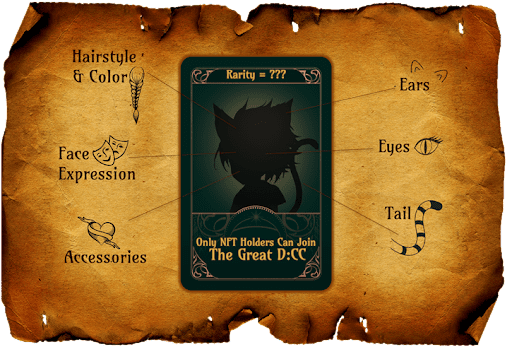 Nine Chronicles recently revealed some examples reflecting how the cattish PFPs will look like: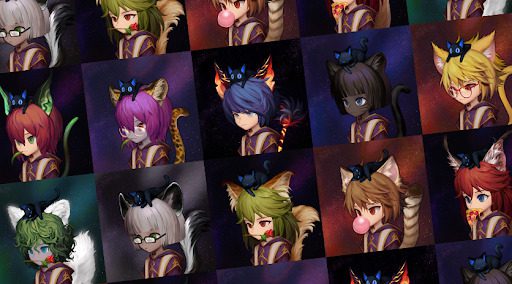 How to Get the New PFP NFTs?
Those hoping to get their hands on the NFTs issued by D:CC will have to join a special allowlist called the "Pionyan List." Players must be accepted into that list to be eligible for minting authority. The Pionyan List consists of a guaranteed "Allowlist" and a "Waitlist." Candidates have to take part in the Program to become part of the Pionyan List.
In fact, there will be two rounds of the Pionyan Programs, with the number of spots allocated being revealed at the right time. The first program has opened 999 advance spots for existing Nine Chronicles players, while the second program will open widely to the public on August 24th. Those who are eligible and meet the requirements will be added to a guaranteed "Allowlist," with all participants who make the equal minting authority for a single PFP from the collection. 
This means that if you are on the Allowlist, there is no need for a cat fight! Nevertheless, even those who are not selected for the Allowlist can participate in the raffle or may be placed on the Waitlist.
A number of players will also be directly "paw-picked" by the D:CC if they have been active on Discord and Twitter.
Pionyan Program 1, with exclusive access for Nine Chronicles players, is open through August 31st. Pionyan Program 2, opening up the chance to gain a coveted Allowlist spot, launches on August 24th, 2022.
What Is Nine Chronicles?
Nine Chronicles is a decentralized fantasy world where players have their unique characters to explore the virtual world, fight against monsters, and compete with each other. The game is powered by the players themselves, who can play, mine, and take part in the governance process. There are four main types of players:
Adventurers, these characters overcome challenges, compete with other players, and implement strategies to improve their game.

Miners support the Nine Chronicles' decentralized world by converting their computing resources with gold.

Merchants are the ones who balance the supply and demand for exotic items and materials.

Politicians are the main characters in the governance process, as they issue and pass amendments for the decentralized world with players' support.
The game is published by Planetarium Labs, which recently raised $32 million in a Series A funding round led by Animoca Brands. Samsung Next, Krust Universe – the investment arm of South Korean tech giant Kakao and WeMade, also took part in the funding round. Earlier this year, Binance Labs made a strategic investment in Nine Chronicles.