The American Express Centurion Card has long been lauded as the world's premier membership card. Often referred to as the Black Card, Centurion offers dedicated concierge access and a number of benefits with elite travel companies. But for most the card is far out of reach with a required minimum annual spend of $250K, $2.5K annual fee, and a $7.5K initiation fee.
SELECT, a NY-based startup aims to bring benefits beyond what's found on Centurion, Palladium, and other premier cards to young professionals and entrepreneurs across the globe. Since launching just over four years ago the company has quickly grown its premier black card community to over 19,000 members, with thousands more on the waitlist. 
According to Founder & CEO Carlo Cisco, creating SELECT is a way to provide members with unlimited access to premier benefits and high-quality, bespoke experiences while providing top-tier brands and businesses with a sustainable and profitable way to build lasting relationships with their target clientele. 
In order to receive SELECT benefits, prospective members must apply through a fairly competitive process where they cite biographical, educational, and career information as well as general interests. Cisco notes approximately 40 percent of all applicants are ultimately offered membership. He also notes that the company's average member boasts a six-figure income but stressed that income is far from the company's only criteria for membership. 
Once accepted to the SELECT community, members receive a personalized black metal membership card that can be linked to any of their current credit or debit cards. Additionally, they can access all of their benefits through the members-only website and mobile apps for iPhone and Android. Members even have access on-demand access to SELECT's dedicated concierges via text through the app and website. The concierge team helps members make bookings and provides recommendations for restaurants, hotels, and experiences that best suit a member's needs wherever they are. SELECT's in-house concierge staff is trained to be in the know and connect members with the personalized experiences for any occasion.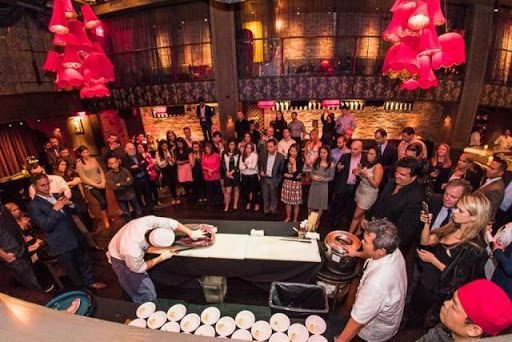 SELECT benefits include sizable discounts or complimentary drinks for your entire party at top-tier restaurants, guest list access and upgrades at premier nightlife venues, unpublished rates (as high as 70% off) at over 1.3 million hotels, ongoing special offers at retailers like Brooks Brothers, Cole Haan, and Bose, and even up to 50 percent off most movie tickets. A few other noteworthy brands participating in SELECT include Kimpton Hotels, BMW, Range Rover, Bliss Spas, Priceline, Celebrity Cruises, and AVIS, to name a few. 
The SELECT community is also invited to curated members-only events, which include private dinners, speaker series, panels, complimentary cocktail hours, gallery openings, galas and more. Members have also enjoyed complimentary and/or VIP access to events with brands like Veuve Cliquot and Johnnie Walker, musicians and DJs such as Norah Jones and Steve Aoki, and to major events including New York Fashion Week, Art Basel, Miami Music Week, and multiple award shows. 
Those accepted pay an annual fee of $300 to keep the benefits active, a tiny fraction of the fee charged by Centurion and significantly less than other premier membership cards such as FoundersCard. 
Members can access benefits and attend events in any of SELECT's current or future markets. With NYC, DC, Miami, San Francisco, LA, Chicago, San Diego, Orange County, Las Vegas, and now Atlanta live; Cisco expects the community to continue to grow and says that many more cities are on the way in 2019 and 2020. SELECT's travel, lifestyle, retail, and entertainment benefits are all now available nationally or globally. Cisco notes average savings on SELECT Hotels are 31% vs. the lowest rate online, which could potentially allow members to recoup the entire membership fee in a single booking. 
"After seeing the membership and utilization grow exponentially in all of our main cities and across the country, we continued to see huge demand for Atlanta" said Cisco. "We chose Atlanta because it's the economic and cultural hub of the south. We've seen local membership grow and existing members continue to travel there. It was due time to make it an official SELECT city." Cisco also noted that Atlanta and Dallas had the highest concentrations of members outside of the company's core markets. 
The company is rapidly building its membership community and network of partners across Atlanta. Cisco says members have access exclusive benefits at dozens local hot spots including: STK, American Cut, Capital Grille, Eclipse di Luna, Agave, and Parkers on Ponce. 
Learn more about SELECT or apply for membership