According to the latest report, New York City Mayor Eric Adams fulfilled his previous promise to receive his first cryptocurrency paycheck through the automatic exchange. Adams's wages were converted into BTC and ETH through Coinbase, according to a statement by the mayor's office on Thursday. Earlier, in a reply to Miami Mayor Francis X. Suarez on Twitter, Adams wrote, "In New York we always go big, so I'm going to take my first THREE paychecks in Bitcoin when I become mayor. NYC is going to be the center of the cryptocurrency industry and other fast-growing, innovative industries! Just wait! "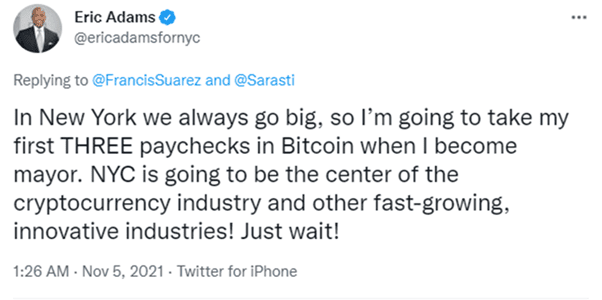 Adams's move quickly caught the attention of the crypto community and triggered the discussion of whether you would accept payment in cryptocurrency if you were given a choice. No matter whether the answer is yes or no, there is no doubt that Bitcoin is being recognized and accepted by more and more people, and even began to accept it as a means of payment.
Young investors use Bitcoin as an option of the new-era asset investment, not only to achieve high returns but also to pursue security. Compared with the incomes of buying and selling Bitcoin in the secondary market, which is greatly affected by market volatility, Bitcoin mining is a more stable source of access to Bitcoin. However, participation in bitcoin mining needs to consider a series of problems, such as mining machine procurement, mining machine transportation, mine selection, mining machine maintenance, and so on, which makes the threshold of participation higher and the investment risk greater. At this point, choosing a reliable platform for bitcoin mining is the best choice.
In order to enable more people to participate in Bitcoin mining, Rock Hash global comprehensive mining service platform has launched a series of cloud mining products. If you do not have enough money for investment in hand and want to participate in mining, you can go to the Rock Hash mining platform to have a look. The platform currently offers cloud mining products in many currencies, such as BTC, ETH, FIL, with a variety of product cycles, and the platform works with a number of top mining machine manufacturers around the world. With sufficient and high-quality spot reserves, the mining machines they apply are all large-scale mining machines to ensure the stable output income of users.
Not only that, Rock Hash platform services cover the whole world, providing a one-stop mining integrated service for hundreds of thousands of users. At present, there are seven language versions of the official website, including Chinese, Japanese, Korean, English, Russian, Thai, Indonesian. Rock Hash provides safe, reliable leasing and trading services on high-quality and convenient mining machines for users around the world. Meanwhile, it also greatly reduces the barriers for users to enter the mining industry, so that everyone can easily enjoy the dividends of the development of the times.
If you like to learn more about Bitcoin mining, feel free to visit the Rock Hash official website and get official customer service to learn about their latest activities.