One of the easiest updos for women is the ponytail. It is simple to make and can be modified to work with all hair lengths, thicknesses, and textures. You can add a braid to the ponytail for a fresh and intriguing twist. 
Your braided ponytails can be made in a variety of ways, allowing you to experiment with the look you want, whether you like a more complex braided pattern that is symbolic and significant or something quick and simple. 
Braided ponytails can be designed to be purposefully untidy and chaotic for a soft, romantic finish, or they can seem sleek and professional. Additionally, braided ponytails are useful too! To know everything, you need to learn about braided ponytails to be inspired.
African Scalp Braid Hairstyles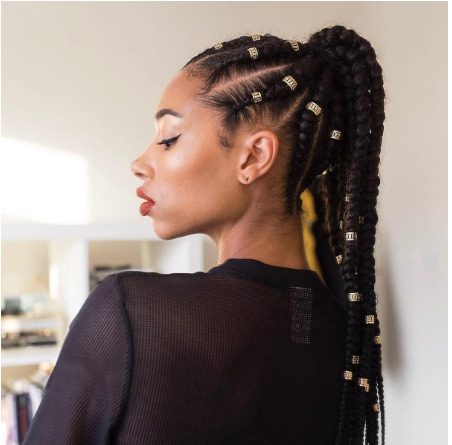 Gorgeous African scalp braids ponytail hairstyles
The versatility of braided ponytails is what makes them appealing. Finding the style that best meets your preferences is simple because there are numerous options to explore with various hair textures. 
Additionally, you can play with the length of your ponytail and the style of your top-of-the-head hair, such as with cornrows or tribal braids, which will result in an eye-catching pattern on the scalp. You can also add gorgeous and significant accessories like beads and cuffs to further personalize your style.
Twist Braids Hairstyle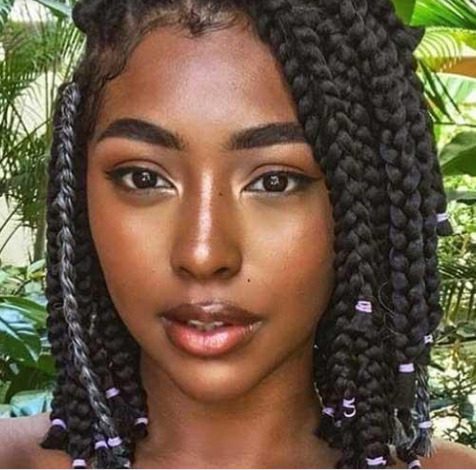 Short bob twist braids hairstyle
When worn with brilliant brown hair, bob twist braids with a side part look adventurous and vibrant. Short passion twist braids seem even more elegant when accessorized with any hair jewelry, such as silver face cuffs that lend a hint of sparkle. The twists look fuller because they reach the collarbone.
Sleek Braided Ponytail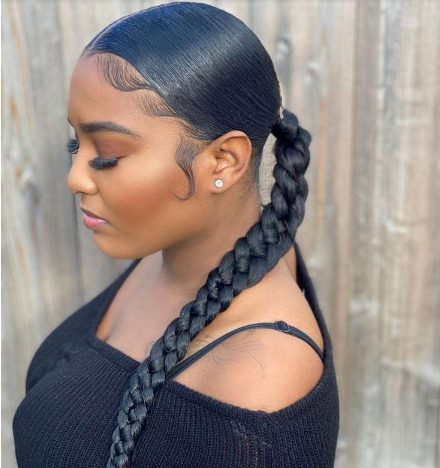 Sleek braided ponytail hairstyle
You can build a braided ponytail with any braids you like according to your preferences and the effect you want to achieve. 
There are many possibilities, but if you want to go for a polished appearance, pick something straightforward, like a three-strand braid. 
Straight hair textures work best with this to keep the hair in place and from looking unkempt. Additionally, you should remove the top hair from your face and slick it back.
Two Braided Ponytails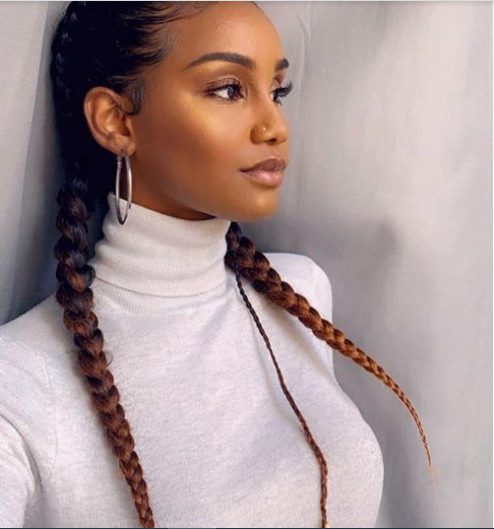 Two braids ponytail take you back to childhood.
The term "ponytail braids" is used broadly to refer to braided hairstyles worn in a ponytail. Thanks to the style's various versions, you can choose the ideal look for you. 
Try two braids for a playful and young look. They may be done in a variety of ways, such as pigtails for a girly, cute look or Dutch Braids for a more sophisticated and adaptable style. 
You can play around with different hairline patterns and lengths to find the style that appeals to you the most.
French Braid Ponytail Hairstyle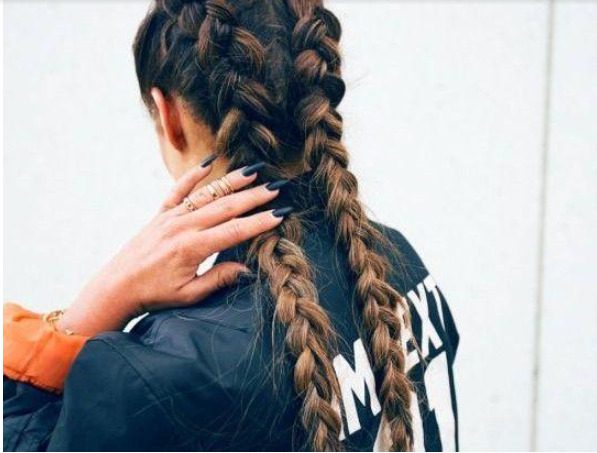 Simple and chic
The French braided ponytail is a beautiful hairstyle for those seeking a straightforward yet elegant look. Using the overhand braiding method, the French braid is a three-strand plait. It is a fantastic temporary alternative for braided hair and can be adjusted to fit all hair textures. 
The hairstyle is great for people who wish to look young and can be readily customized with accessories, making it the perfect look for formal parties and special occasions.
Super Long Braided Ponytail
You can use the braided hair of your choice to make your braided ponytail hairstyle, but you can also play about with thickness and length. 
A lengthy ponytail with braids will be highly noticeable and full of movement. This is a great option for highlighting your hair because it gives you additional styling options. 
You can go for a high ponytail for a sleek, beautiful finish or a low ponytail for a romantic and carefree look.
Braided Ponytails With Box Braids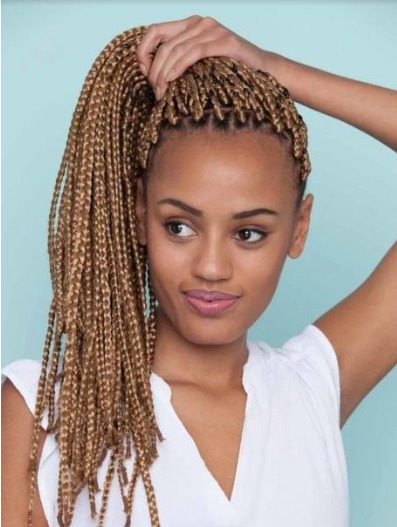 Give Box braids hairstyle a twist.
Due to their adaptability, box braids are one of the most common protective hairstyles. These braids are identified by their box-like shape and can be made in a range of thicknesses and lengths. 
By cutting the hair into tiny squares, individual plaits are made to accomplish this. There are numerous ways to style these braids, including a ponytail. Because it is straightforward but stylish and works with all hair textures, the ponytail is one of the most beautiful hairstyles. Women of all ages find it to be appealing.
Thick Cornrows With Braided Ponytail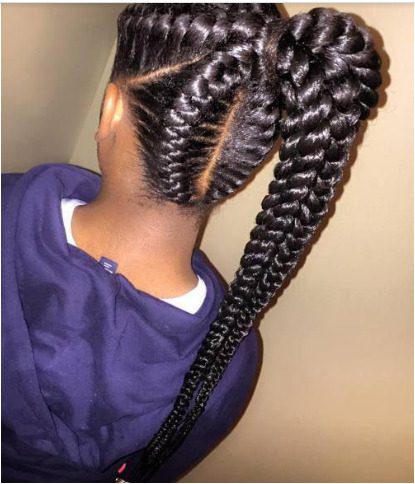 Cornrows with braided ponytails
They are thicker cornrows made with the underhand braiding technique and are also known as Goddess braids. They come in a variety of lengths and densities and are stunning, feminine, and highly adaptable. 
These braids can be worn in a variety of ways, including in a ponytail, and they are also functional. This is a great way to show off your braids and works nicely in many different situations. Additionally, you can add extras like cuffs and beads to add drama and definition to your braids.
Heart Braids With Ponytails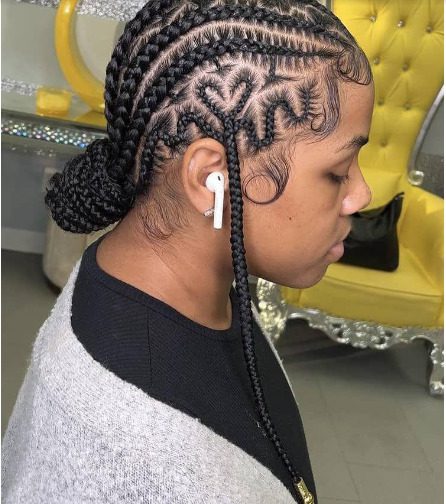 Add some fun elements to your braids.
The braided ponytail with a heart is the best option for people looking for a cute and expressive haircut. On the scalp, a heart-shaped braid is made, and the remaining hair can be fashioned however you choose. 
This includes styling it in a straightforward updo, like a ponytail, which will balance out the design's complexity. 
This may be a fun and symbolic method to express your humorous side. It will serve as a reminder to rejoice in all the things that bring you joy.
Some Commonly Asked Questions On Braided Ponytail Hairstyles
Q: Can I Use Braiding Hair To Make A Braided Ponytail Hairstyle?
A: Yes! Making a braided ponytail hairstyle using braiding hair is very much possible. In fact, it will make your life easier if you use Indique's Kinky Curly Hair. It has the tightest curl pattern, and the soft texture of the hair adds to making the afro-inspired braided hairstyles a breeze.
Q: Where Can You Order The Braiding Hair Online?
A: If you are looking for braiding hair made from 100% human remy hair and has a variety of textures available in utmost quality, then head straight to Indique Hair. They deal with human bulk braiding hair and have various textures that will suit each one of your personal styles.
The braiding hair, which is bulk (loose, not wefted) hair, can be used for other techniques such as ventilating, crochet, twisting, Brazilian knots, micro beading, fusion, and more.
Q: How Do You Do A Slick Braided Ponytail Hairstyle With Braided Hair?
A: Take your hair in a ponytail, apply a strong hold gel to tame all flyways, and get that neat look. Use a paddle brush to get a clean, sleek look removing tangles. Add more length to your ponytail, and add braiding hair or curly extensions for maximum drama.
Grab the braiding hair and place a hair tie in the center of the bundle to do this. After creating a low ponytail with your hair in the previous step, loop the braiding hair bundle around it and secure it with the hair tie. Make sure to leave off a portion of hair so you may wrap the base of the braid with it once you're finished braiding before beginning to braid the braiding hair into your natural hair.
Conclusion
We have listed some of the most famous braided ponytail hairstyles for you to try to protect your natural hair from the environment and products and make them more manageable. Do try them on with Indique Hair's braiding hair and tag them on their Instagram handle @iloveindique.
Shop in the ongoing black friday sales and watch out for their website for more great deals this Black Friday.