The number of companies engaged in the metaverse business has increased from 200 in July 2021 to more than 500 now, according to a new metaverse study released by Newzoo. Many people may not have heard of the metaverse a year ago, but the surging demand for virtual life under the COVID-19 pandemic has spread the metaverse as a rapid vision of life. Based on the metaverse, humans will be able to live in an interconnected virtual world.
Metaverse industry chain
The research data shows that the metaverse will bring new development opportunities for the global economy. In terms of economic size, Bloomberg expects the metaverse market to reach $800 billion by 2024; PWC predicts the metaverse market to reach $1.5 trillion by 2030. McKinsey said the metaverse market would reach $5 trillion by 2030; and Khronos Group announced the launch of a metaverse standards forum for developing industry guidelines, being held next month.
One important reason for metaverse's outlook on the market is that its underlying technology has gradually developed over the past few decades. metaverse involves a lot of underlying technologies, including artificial intelligence, digital twin, blockchain, cloud computing, brain-computer interface, 5G, and so on. The combination of these underlying technologies with metaverse forms a huge metaverse industry chain.

These technical elements can be divided into three industrial layouts: software and hardware facilities and human-computer interaction as the underlying infrastructure and equipment; core layer layout of development engine and video rendering tools; and application service layer layout with creator economy, content exposure, and distribution as application products and applied ecology. After a long time of precipitation, it has been 30 years since the concept of the metaverse, the prototype of the metaverse industry has become clear, and the industrial chain has been initially formed.
The Metaverse shows corporate ambitions
It should not be ignored that the concept of "metaverse" is so colorful, and almost all the major technology companies, brands, game companies, and authorities are involved in the metaverse, which will be a life model for the future generation. Facing the huge industrial chain, Tencent (TCEHY), Meta (META), Microsoft (MSFT), Apple (AAPL), WiMi Hologram Cloud (WIMI), Bytedance, and other world technology giants have entered the bureau, technology and capital compete to pursue their dreams, consensus and differences are constantly agitated, "metaverse" layout competition slowly opened.
Meta, renamed from Facebook, is undoubtedly a typical representative of metaverse radicals. It was the first player to decide on "All in the metaverse". In terms of the overall layout, Meta has clear goals and decisive actions. First, enter metaverse hardware entry through heavy Oculus acquisition; second, continuously build metaverse content ecosystem through VR social platform Horizon Worlds, VR activity space Horizon Venues, and VR collaboration software Horizon Workrooms. At the same time, by developing virtual currency (Diem cryptocurrency, Zak currency) to establish the currency system in the metaverse.
The next six months are crucial for Meta's future of building "metaverse," as the company prepares to launch a new high-end headset, "Project Cambria," in 2022 while working to "perfectly execute" other priorities. Meta this year is "focused" on launching the "professional/industrial hybrid MR device," according to a memo obtained by The Verge and fully published on its website. The memo outlines the immediate imperative within Meta to accelerate the corporate identity transition from Facebook to Meta.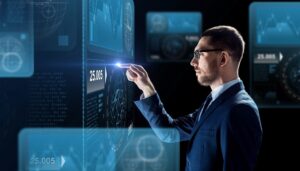 Apple AAPL (AR device) has been exposed to a lot of information recently, it was recently announced that Apple's AR device will be available in 2023. Later on WWDC2022, Apple first disclosed its AR operating system, realityOS, which determined that Apple's AR devices have entered the real development and design stage. Meanwhile, Cook also responded positively to the rumors about AR devices in an interview and said he was looking forward to it. The reexposure of Apple's AR device seems to have been the lead to the metaverse news outbreak, followed by a lot of news that makes people realize that metaverse is not a "scam", the head technology companies do want to make a difference in this market. They can now come up with a lot of stage results.
On Microsoft Build 2022, Microsoft (MSFT) CEO Satya disclosed the first details of Microsoft's latest progress in metaverse: in the chat software Teams, B-end conference application Mesh application. It is worth noting that Satya also introduced the results of Microsoft's exploration of industrial metaverse for the first time. Based on the Internet, digital twin, HoloLens platforms, and other technologies, Microsoft is enabling manufacturers through the industrial metaverse. Not long ago, Microsoft announced that Kawasaki Heavy Industries, a leading company in industrial robotics, became the first customer to use its "industrial metaverse services."This indicates that Microsoft's latest trend in the metaverse has officially entered the industrial metaverse.
Previously, Tencent (TCEHY) has not publicly expressed its attitude, but recently, Tencent officially announced the establishment of the XR department to prepare for the upcoming metaverse era. According to the lover, Tencent will choose to find the supply chain to do self-research in the future of hardware infrastructure, which can see that Tencent wants to fight hard. Although Tencent has not very clearly explained Tencent's metaverse business, the old line of virtual social networking and games will become an important entry point into the metaverse. Earlier, Tencent released four metaverse games in one go, then opened a virtual concert in the game, and launched China's first virtual music carnival TMELAND through its music APP.
"Metaverse", as a new Internet application and social form integrating virtual and real generated by integrating a variety of new technologies, "metaverse" involves many industries and application scenarios. As the world's leading innovative enterprise, WiMi Hologram Cloud (NASDAQ: WIMI) will also actively pay attention to the landing progress of the "metaverse" concept and technology, seek the connection point of AR technology and "metaverse", and explore and expand the new areas of AR technology application scenarios according to the market demand. It is worth noting that WiMi Hologram Cloud is based on the classic virtual IP creation, and digital world linkage, to provide resources corresponding to the real world, such as animation, e-commerce, social entertainment, and so on. With nearly 5,000 virtual digital human image IPs, it enables digital twin projects, brings customers new multi-scene services such as publicity, marketing, and commercial advertising, and further improves the metaverse multi-scene experience category of enterprises and users.
Conclusion
In addition, Bilibili, ByteDance, and others choose to enter metaverse from VR content; Amazon, Google, and others from cloud computing, basic algorithms, and other dimensions; Unity, Epic Games, etc., from the underlying tools (game engine, virtual engine, etc.) layout. To sum up, whether it is the current Internet mainstream big factory, or once the vertical track king, in the evolution of the metaverse tuyere, the head of the enterprises to bet, waiting for the opportunity to move. In his opinion, Rome is not built in a day. If the metaverse wants to finally achieve the ultimate immersive experience, the hypertemporal social system, and the economic system of virtual and real interaction, the metaverse era will be more explicit shortly, and with an optimistic spirit of expectation.