Frog App topped the free downloads chart on the Apple's UK App Store after recent innovative campaigns on London Streets.
This app went viral as Londoners had been buzzing about the app that could outsmart Instagram and Snapchat.
Here's how this new platform that pioneers in anti-fakeness works.
 LONDON,  28/02/2022: This new instant video messaging app, Frog, has been gaining a huge amount of popularity among young people and helping them to create real connections with each other. The Frog app which is expected to give other video-based social messaging apps such as Instagram and Tiktok a run for their money stormed the streets of London with captivating brand awareness campaigns that creatively conveyed its anti-fakeness message.
Frog app values the ease and authenticity of sharing life within a network of real friends. Free of filters and other video editing tools that tamper with the originality of digitally captured footage, the Frog app will allow users to have real and sincere conversations, without the aid of flamboyant yet misleading masks.
Here's How Frog App Works
Users on the Frog app can check up on their friends by sending a simple "WYD" (what are you doing), to which friends can then reply with video stories called SUPs. The stories will auto-play in the background without filters or music while both users have a conversation via text. 

Perhaps the most unique feature of the Frog app is the ability it gives users to see if a friend has revisited a previous conversation – a unique feature unavailable in other instant messaging apps.
The company wrote in a blog post that they were keen to create the app as a statement to redefine online messaging.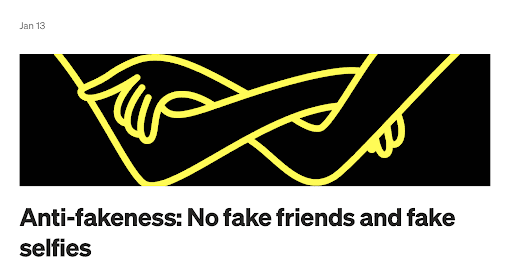 "Our mission at Frog is to change fake intimacy for good, spread sincerity, and connect people more authentically. The company wrote in a Medium post announcing its brand story. "We do this by building a social media platform, the Frog app, which cultivates true friendships and genuine feelings." 
To effectively spread its anti-fakeness message, this group of London-based social ninjas has been running brand awareness campaigns that created buzzes in the city of London. People have been talking about the "Frame" on Instagram. They set up several acrylic board installations on street lights near signature London landmarks. The transparent frames were replicative of the app's interface, featuring a conversation between friends while the lively city, visible through the transparent background, served as the filter-less story auto-playing on the app.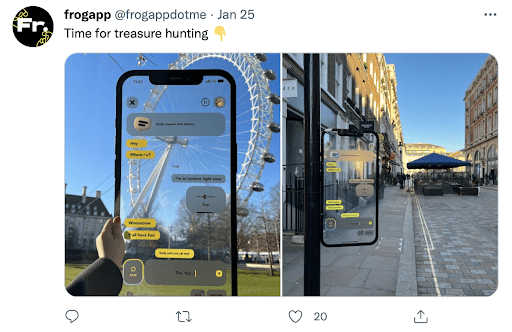 Residents of London awoke to find out how crazy and unique the team behind this buzzy new app is. Graffiti-painted trash bins popped up at random locations, including London Bridge, Covent Garden, Embankment, etc. The trash cans had the campaign's slogan "No fake friends" inscribed on them, which symbolised the perfect dumping ground for fake friends and charged people to retrospect and weed out all the unnecessary friendships they were tolerating. 
The company revealed that they chose to run the campaign in London as it is the city they're most familiar with and accurately captures their unique brand identity, as well as their position in the marketplace.
You can find more stories about them on their website: www.frogapp.me