Summary:
A fun way for members of the public to inspect all the aging infrastructure in the world! TEKKON is a new Web3 app that uses tokens to provide a gamified solution to infrastructure issues.
All new reward function incentivizes community service in a move to a new stage where crypto-assets will be used to create an ecosystem for infrastructure maintenance.
The new app has no startup costs and allows players to earn money while contributing to society
Manila, Philippines, 15 October 2022 –The Whole Earth Foundation (WEF), a nonprofit organization that creates, provides, and operates an infrastructure information platform for a community initiative, has announced the release of the iOS version of TEKKON, a new community service-based web app in the App Store today. Having originated from Japan, the company has since expanded its service offerings to the global market focusing on initial markets such as the Philippines, Indonesia, Taiwan, Brazil & South Korea.
For the first month, only those who receive an activation code from another player can play TEKKON. The mobile app will then be available to everyone from Saturday, October 15, 2022.
It's a new community service-based position information game developed to tackle the issue of aging infrastructures and ensure safe infrastructures by having members of the public work together to take and post photos of infrastructures and review existing photos. Continuing the philosophy of Guardians of Metal and Concrete, a Previous app that was only dedicated to manholes in japan, TEKKON is making efforts to reform the infrastructure industry by utilizing data science tech and gamification to provide posted information to infrastructure companies & local governments. Players can earn tokens, protect infrastructure, and even improve their health, simply by taking photos of the infrastructure (at present, there are only manholes in the focus, but plans are to broaden the scope in the future) in their free time as they walk, shop & commute. It can be enjoyed anywhere in the world, with the aim of expanding the TEKKON phenomenon worldwide.
*The service of the original app, Guardians of Metal and Concrete, will be terminated on Friday, October 14 with the launch of TEKKON. For current users of Guardians of Metal and Concrete, some of their existing user data will be transferred to TEKKON once they sign up, and users will be able to continue using that data as they play.
Visit the Guardians of Metal and Concrete website for more details
With the addition of a reward function that incentivizes community service activities, this Web3 app is aiming to usher in a new society where citizens protect social infrastructure in a fun way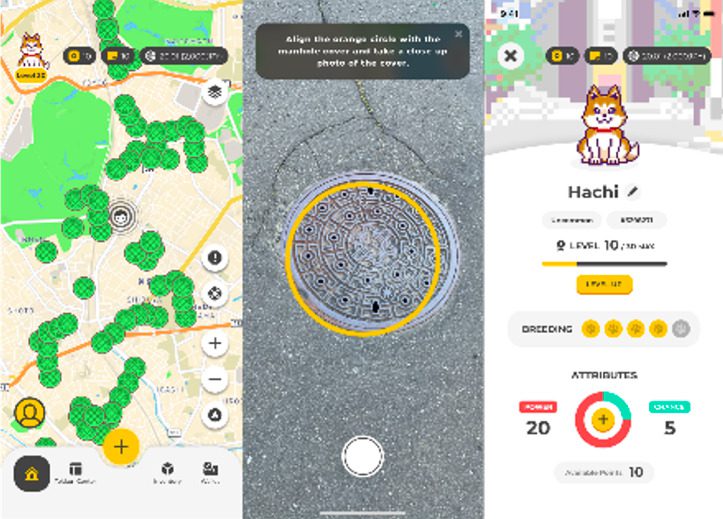 TEKKON has added a reward function that allows players to earn incentive points when they take and post photos of infrastructure in society (currently manhole covers) or review photos that have already been posted by other players. TEKKON players progress throughout the game with dogs as their companions. The gameplay is enhanced by a dog training function that allows players to use their points to raise the level of their dogs or purchase more dogs in order to earn more points at a time.
A crypto wallet function allows players to exchange the points they earn for Whole Earth Coins (WECs), which are crypto-assets issued by WEF. In the future, WEF plans to list WECs on Japanese crypto-asset exchanges and, through the use of crypto-assets as an incentive, players will be able to earn money without startup costs while participating in community service.
Available worldwide to allow collection and review of infrastructure photos from around the world
Unlike Guardians of Metal and Concrete, which was intended for the domestic market in Japan, TEKKON has taken the fun globally. Players can now take photos of infrastructure around the world, at home, or on vacation. Players can also enjoy seeing manhole covers from unfamiliar places as the review function makes it possible to review photos of infrastructure overseas.
Expanding the scope of infrastructure: the second stage will feature another aging infrastructure in need of urgent attention―electric
In roughly half a year since the original Guardians of Metal and Concrete app launched this March, over 900,000 photos of manhole covers have been collected in Japan.
WEF plans to expand the scope of infrastructure that players can photograph, post, and inspect in TEKKON to include electric poles (expected to be added in early October). Like shafts, power poles were mostly constructed during Japan's period of high economic growth and now require urgent attention as they are nearing the end of their useful life (about 50 years on average). TEKKON's expansion of more than 36,000,000 electric poles across Japan will enable the efficient maintenance of this infrastructure through public efforts.
The scope of infrastructure covered by TEKKON will continue to be expanded in the future. About TEKKON
Name: TEKKON
Price: Free
Available from:
iOS version: App Store (iPhone)
Android version: Google Play
Compatible devices:
iOS version: iPhone 6s and later, OS ver. 15
Android version: Android OS ver.7 and later Full launch: Saturday, October 15, 2022
Official website: (English website)
How to play (manhole version)
Take photos of manhole covers and post them
If users find a manhole cover that is yet to be posted, select its location on the map. Take one photo including the surrounding area of the manhole cover and one from directly above it and post them to earn points.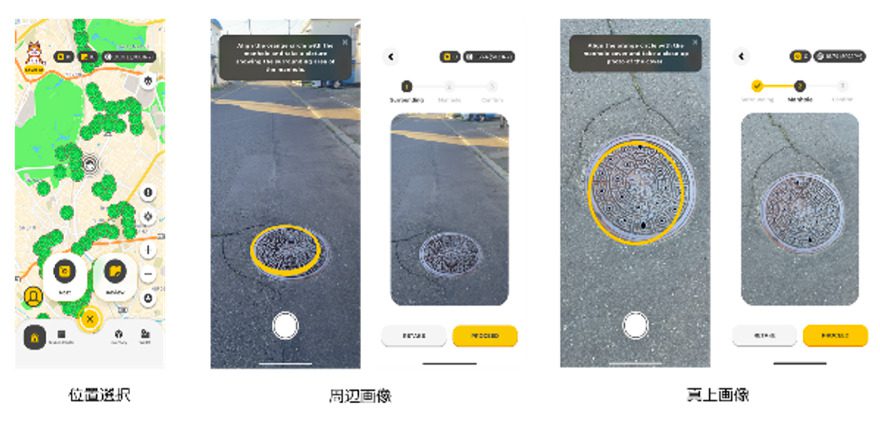 Review photos that have already been posted
Users can also earn points by answering questions about the status of shaft hatches that have already been posted. The new live view feature offered in TEKKON also allows users to view photos of shafts around them by physically looking at them.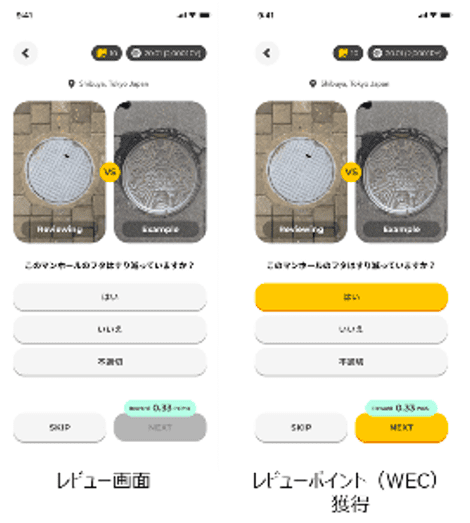 New Feature (Utility Pole)
TEKKON also introduced a new feature that allows users to earn points by scanning the Utility bar. Users can now take photos of multiple poles, such as electric poles, and upload them to the TEKKON app.

Dogs in the app
In TEKKON, users start the game with a dog as their companion. To earn points more efficiently, users can use the earned points to level up their dog so they can earn more points for each photo they take and each review they make.
Some dogs are rare characters that have a high point gain. Users can earn even more points by using points to purchase and own multiple dogs.

Character design by Mari Asada
Mari Asada is a crypto artist and NFT community leader of NFT & CRYPTO ART JAPAN. In June 2021, it hosted CAWA in Tokyo, Japan's first NFT exhibition, and operates ArtiStake, an artist support platform. She has performed as a VJed at many festivals and events in Japan and overseas, including J-WAVE INNOVATION WORLD FESTA, FUJIROCK, MUTEK.JP x Japan Media Arts Festival, DOMMUNE, BOOM FESTIVAL in Portugal and Fulldome Festival in Germany.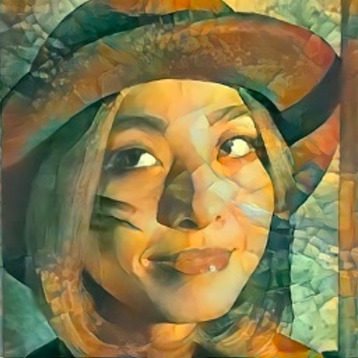 Launching Event in the Philippines
TEKKON is a Web3 app promoting social good by empowering users to help fix their local community's infrastructure. Earn by walking & reviewing infrastructure data.🔥
Join TEKKON in the upcoming lunch this October 30.
🚀Follow these steps to get a whitelist spot:
STEP 1: Join Telegram
STEP 2: Follow Twitter
STEP 3: Join Discord
STEP 4: Website
About Whole Earth Foundation
Head office: Singapore
Japanese office: 7F Shibuya 1-chome Bldg, 1-3-9 Shibuya, Shibuya City, Tokyo
Established: December 2020
The Whole Earth Foundation is an organization that aims to find solutions to the social problem of aging infrastructure by engaging the public in activities. Since the summer of last year, Guardians of Metal and Concrete has regularly held a public event called the Great Manhole Battle, and so far data have been collected on more than 950,000 manholes across Japan. TEKKON, which uses Web3, will encourage players to collect more infrastructure data by rewarding them with tokens in exchange for their infrastructure data, creating a system that provides economic compensation to players for their community service contribution. In the future, the TEKKON phenomenon will expand with plans to improve the features of the new TEKKON app and expand the Great Manhole Battle events held to encourage public participation.