ZONVE, a nano glass stone slabs manufacturer, is committed to "research and implementation of industrial solid waste and tailings reuse, as well as the preparation of green new materials." It is a green high-tech firm that merges research and development, manufacturing, processing, and sales throughout the industrial chain. Currently, production sites are located in Hunan, Fujian, Guangxi, and Shanxi provinces. It is a new environmentally friendly material company in China with innovative and extremely huge manufacturing capability. ZONVE is a manufacturer of Nanoglass Slabs, which utilize the unique Nano glass technology that the company invented. Their goods are made of high-quality quartz sand that is lightweight, long-lasting, and non-toxic. It is also extremely strong and has a low density.
 ZONVE has seven senior executives with substantial experience in state-owned firms, central enterprises, or publicly traded corporations, as well as more than 20 Nano Crystallized Glass stone technical talents. The organization is complete, the system procedure is standardized, and the mechanism is flawless. They have collaborated closely with several universities, some of which have formed collaborations in teaching, research, production, and education, and they hold over 50 patents. Talents and resources are constantly being gathered.
 The real benefit of these items is that they may be used in various applications such as windows, doors, and furniture. They may create various shapes and sizes to fulfill the needs of their customers. The items are constructed from high-quality raw materials, which ensures their durability and longevity.
 Global glass stone demand has increased recently, particularly for Nano or petrified wood look glass. As a result, there are millions of clients in over 200 countries. ZONVE has become China's most preferred provider of Nano glass due to its unequaled quality. Look only as far as ZONVE if you want top quality at a reasonable price.
The end user must understand how to determine the quality of Nano Glass Stone Slabs. Many producers sell counterfeit or low-quality goods. Before purchasing any product, always seek the certification mark. When looking for high-quality Nano Glass Stone Slabs, search for the certificate of origin first. This certificate will inform you where it was made and what materials were used. The certificate of origin is the greatest way to recognize a high-quality glass slab. If no certificate is available, you should avoid purchasing that slab because it could be fake or of poor quality.
 The first step is to ensure that you are dealing with a reputable company. You should be aware that if you are working with a nanotechnology manufacturer, they will be able to present you with a certificate proving their certification. Another technique to determine the quality of Nano glass stone slabs is to look at their credentials. A company with an ISO9001 or ISO14001 certificate signifies that these standards have accredited them.
 Nano Glass Stone Slabs
Nano glass is a synthetic material made in a factory from natural elements and silica. Essentially, Nano glass provides the elegant appearance of an all-white kitchen countertop devoid of veins or grout lines. So it's a continuous surface. Nano glasses are mostly white, but they can have various textures with 3D printing technology, your design and color possibilities may be limited.
 If you want a conventional kitchen design, you should walk carefully. Still, if you want a modern kitchen with dark cabinetry, Nano-glass counters can be a wonderful delight. This material is highly resistant to scratching and staining, making it an excellent choice for kitchen surface material.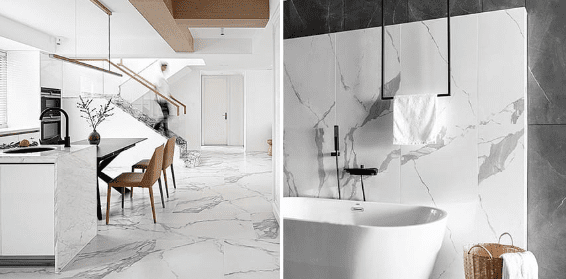 Nano Crystallized Stone Slabs
With so many options, selecting the right marble stone for your home décor can be difficult. However, if you decide to join the Nano Crystallized Glass stone bandwagon, you won't have to face this difficulty anymore. This cultured marble is a ZONVE product comprised primarily of quartz sand. Quartz sand is the basic raw material that is melted at 1600°C and then refined into a high-grade, high-tech building material via a molecular chain process. This method yields a pristine imitation marble glass stone with unique qualities that enhance the elegance of your home's decor.
Nano White Stone Large Slabs
The beauty and luster of premium white marble are replicated with Nano white crystalline glass, often known as Nano white or Nano white marble. This material is largely sourced from China and is an excellent method to give refinement and rich high-end touch to the home's design. So, if you're seeking a stylish new material that will overcome the shortcomings of real white marble, go no further than Nano white.
 Nano white is a crystallized glass created in a factory from a mixture of 75% silica and other natural minerals. The silica-based slurry is placed into a mold that produces Nano-white slabs or tiles and subjected to extremely high temperatures and pressure for around 24-26 hours. It's worth noting that one side of the Nano white is glossy while the other is rough.
 Nano Glass Countertops
Nano Glass countertops are a revolutionary countertop material that you should look into. They are long-lasting, stain-resistant, incredibly aesthetically pleasing, and environmentally beneficial. When heated to 1800 degrees Celsius, an amalgamation of 75% silica and 25% other natural minerals is formed. Nano Glass' qualities make it a favored material and an alternative to marble, granite, quartz, and porcelain.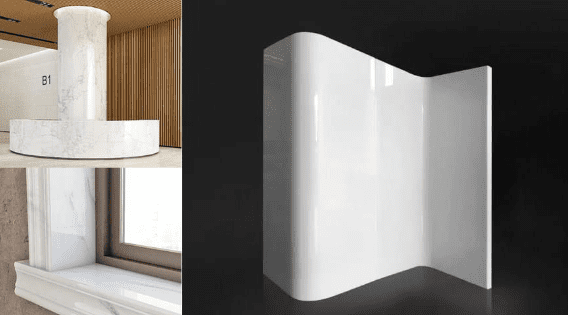 Interior and exterior applications for Nano Glass Stone Slabs include kitchen countertops, bathroom vanity tops, commercial wall cladding, window sills, flooring, tables, basins, sinks, furniture design, backsplashes, and bar tops. They will not discolor when exposed to ultraviolet radiation when used outside!
ZONVE has been in this field for a long time and is well-known in the market. The products are created with cutting-edge technologies, such as diamond cutting and polishing. In addition, they use high-quality raw materials to manufacture our products. ZONVE has several years of experience in this industry, so they are confident that their products are stable and long-lasting. They place a high value on client service and satisfaction, which is why they offer 24-hour customer support to answer any inquiries regarding their products or services.