With so many nail color options out there, finding the one that complements your skin tone ideally can be challenging. To make matters more complicated, this varies not only by skin tone but also by season, as winter and summer have different color palettes associated with them. 
For example, warmer tones like reds and oranges are familiar in the fall and winter seasons, while cooler tones like blues and greens are popular in the spring and summer months. You can pick out one of the most flattering nail colors by using this quick guide to nail colors according to skin tone.
Skin Tone Basics
There is no such thing as a universal nail color that will look good on all skin tones. The best way to find out what colors work with your skin tone is to experiment and see which colors you like best. If the nails are too light, they can wash out your skin and make it look unhealthy. If the nails are too dark, they will age the appearance of your hands. 
Nails should complement the skin, not compete with or clash against it. To match your skin tone, wear darker polish shades if you have darker skin or lighter shades if you have lighter-colored skin. Colors that flatter fair skin include pink, nude, peach, and beige. Colors complimenting medium-toned skin include coral reds, corals, and browns. 
For olive complexions, try turquoise blue or orange shades. Finally, ladies with deep complexions may consider metallic silver or gold in order to give the illusion of healthy-looking skin. But, again, experiment with different colors until you find one that complements your skin tone and choose a halal nail polish to prevent chipping. Remember: the most essential and fundamental part of painting your nails is finding a shade that complements your skin tone.
The Best Nail Colors for Your Skin Tone
So you want to know what nail colors best suit your skin tone? Here is a list of the best colors to help you find the perfect shade that suits you! 
*Top 6 Colors* 
Black

: Perfect for dark-skinned women, this bold and deep hue is a classic that never goes out of style. 

Brown

: A neutral shade, this dark chocolate brown will match almost anyone's skin tones and last longer than most other nail colors. 

Purple

: For those with fair or light-medium complexions, this beautiful, elegant shade looks great on any skin type and matches many different eye colors beautifully. 

Pale Pink:

If you have a pale complexion, go for one of these pink shades if you're looking for something pretty but not too flashy. 

Dark Gray:

With its unique blend of blue and black hues, this dark gray color has just enough depth to make it flattering for any skin tone. 

Bright Red:

We all love some bright red nails once in a while. It's an easy way to spice up your look without much effort and also pops against many different skin tones as well.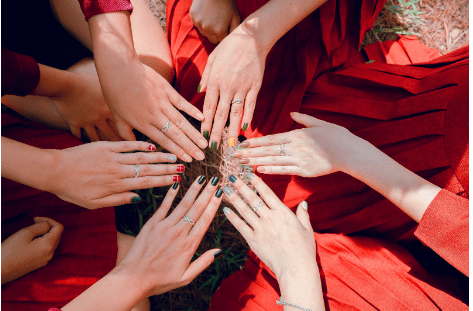 The first time we ever went in search of my favorite color, we needed to figure out where to start. Moreover, we were able to narrow down our favorites by trying them out first on my fingers and then adding them into my shopping basket when we found the ones liked best.
Tips for Choosing the Right Nail Color
Choosing the right nail color is crucial, but it can be challenging to figure out what colors to use. This guide will help you find the perfect shade of polish for your skin tone. The best way to choose a color is by finding one that matches your natural skin tone. If this isn't possible, then try and find something close in tone. 
Avoid darker shades as they can make nails appear shorter and stubby; instead, opt for lighter tones such as pale pinks or baby blues which give nails a lengthened appearance. Next time you are at the nail salon, ask them if they have any advice on which colors would look good with your skin tone. Remember to take pictures of your manicure before getting dressed so you know how the color looks after wearing it all day long!
You might also want to bring some nail polish remover with you, just in case. Halal nail polish is also a great option. But what is halal nail polish? Halal nail paints are the nail polishes that keep your nails breathing. And don't forget to apply a top coat every couple of days, so your nails stay looking shiny and new! -Nails should always match your outfit! Look through your clothes to see if there is a hue in there that's similar to the color of the nail polish you've chosen. 
For those who love bright neon colors, mix them up with neutral colors like taupe, dark browns, and dark greens.
How to Wear Nail Colors with Confidence
It's hard to wear nail colors with confidence. You want to be able to proudly show off those new shades, but at the same time, you don't want to look like a crazy person or make people uncomfortable by having your nails out on display. Luckily, there are ways to wear nail colors that will let you show off your new color without looking like a freak.
Here are some tips:
Make sure your nails are in good condition—they need to be clean and free of any dirt or debris that could cause damage when they hit something hard, like the back of your hand during a handshake or something similar. If you find yourself getting frustrated trying to get rid of all this stuff from under your nails, consider investing in some nail clippers at home—they'll get rid of it for you quickly!

Pick a light-colored polish as your base coat—this will help keep your manicure from looking too dark against the light-colored polish underneath it. You can also use a clear polish as a base coat if you'd rather have no color at all underneath!
Conclusion
Nail color is a great way to make a statement, but it's also important to remember that not all nail colors are suitable for every skin tone. For example, if your skin tone is warm and you're looking for bright yellow nail polish, you might be surprised by how many options are already out there. But if you're looking for something more subdued, like burgundy or plum nail polish, those choices may be fewer.
The best way to figure out what nail color is suitable for your skin tone is by experimenting with different shades—and remember that when it comes to creating the perfect shade, you should always consult with a professional first! Mersi has plenty of breathable nail polish shades for every skin tone, don't forget to check them out. We hope this guide helps you feel more confident in your own skin and that you'll be able to step out of your comfort zone and try something new!