Multi-club ownership (MCO) in football continues to grow, with their number more than doubling in the last five years from 28 to 70.

Following its $7.5 million IPO earlier this year, the Irish holding company Brera Holdings PLC (Nasdaq: BREA) celebrated at the closing bell ceremony, effectively bringing several clubs on the stock market.

Besides the opportunity for MCO investors to own multiple teams across several nations and improve their brands, football is touted as a social unifier to help integrate migrants in European countries.  
European football clubs seem to be a new craze for American investors, who now converge on the stock market to challenge an elite clique of football owners. This effectively flips the status quo that only oligarchs could own football clubs. 
As the famous player Bobby Robson said: "The first 90 minutes are the most important." So, what can we glean from the actions of clubs who attracted investment to date? Is there even an investment case to be made here?
First Italian football team to list in New York will add more clubs
Brera Holdings (Nasdaq: BREA) was the first Italian football team to list on the New York Stock Exchange – and now continues its expansion: it recently announced a plan to acquire the European first-division North Macedonian football team Fudbalski Klub Akademija Pandev. This is simply one of several good examples of how already successful clubs can pivot to the multi club football ownership model. In the case of Brera Holdings, it already owns the third most valuable football club in Milan, Brera F.C, which ranks on the heels of AC Milan (valued at $1.2Billion) and Inter Milan 2nd (valued at $1Billion). 
What caused investors to have football fever?
The history and size of the European football market suggests that there could be much more than just hot air to this craze. With a market size near $30Billion it is already considered substantial in its own right. As many canny property investors would say: make your money on the buy, by scooping up assets during a firesale. Thich is exactly the case of football assets that got overly battered during the pandemic. Add to this by simultaneously rolling out the disruptive MCO model and it leads to a model that arguably creates shareholder value from the start.
It would seem that demand, disruption and buying power are the key ingredients surrounding this new model that is being rolled out across a near ancient European tradition like football:
Demand: Astronomic search volume exists for the names of football clubs and their owners – which shows how big the market is.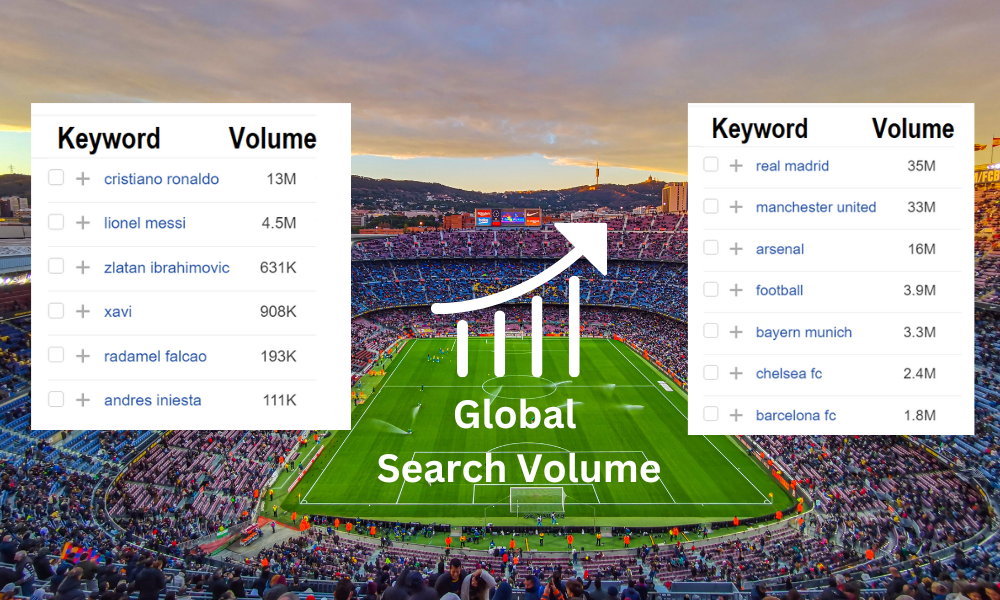 Disruption: Strategically the MCO model itself is disruptive. Now let's look at how physical assets can be used. Many central London football clubs earn large portions of revenues from non-football events such as conferencing, their gym space and other events. MCO operatives have the potential to roll out similar models to diversify revenue streams.
Buying power: Whereas in the past, the most cashed up clubs were able to get hold of the better players, the MCO clubs will now have the volume and scale to punch in the upper weight class, potentially even surpassing the capabilities of premium solo football clubs. 
Key Players in the MCO Market
Some of the most prominent MCOs in recent years include Abu Dhabi-backed City Football Group (CFG) owners of England's Manchester City and Red Bull of Germany's RB Leipzig. However, as the market transforms, we continue to see new incomers joining the MCO market. In addition, a few publicly traded companies want an ownership stake in the global and $27.6 billion European football industry.
Just this February, Brera Holdings (Nasdaq: BREA) became the most recent IPO to attract the attention of Wall Street insiders. Another MCO owned by US businessman John Textor, Eagle Football, recently announced its plans to go public later this year. The group owns Brazil's Botafogo, Belgium's RWD Molenbeek, and just completed a takeover of Lyons.
John Textor's past business ventures include bringing rapper Tupac Shakur back to life as a hologram. But among football investors, Textor is perhaps one of the best examples of a leader who helped democratize the football market, effectively replacing the wealthy states and individuals who control many of football's top clubs. "It's not the Wall St devil we're talking about," he said. "It's a form of ownership which closely approximates community." Textor also pulled a genius stunt by merging one of his companies with fuboTV, a US sports streamer which is akin to the "Netflix of soccer". After this move, he exited six months later during a stock market rally which gave the company a peak market capitalisation of $8bn. 
Deloitte's Annual Review of Football Finance 2022 shows that the number of MCOs on their books now exceeds 70, doubling the number of 28 they had five years ago.
Bowing to Fate, or Leading Through Example?
The European governing body Uefa believes that the multiclub model is the hottest trend in the sport, with more than 180 teams now part of a broader network. Yet to replace the sentimental and status-driven ownership models we have seen over the last two decades, takes more than just investors: it also requires a willingness from European stakeholders. What is the European perspective?
Following their successful IPO, CEO of Brera Holdings (Nasdaq: BREA) Sergio Scalpelli was asked about changes in the industry and how they will position their business. He said: "Brera Holdings would like to give average and institutional investors exposure to the football industry. At the same time we also want to consider our potential role in helping Italy and Europe improve social integration during times of change." 
It would therefore seem that there is more than a willing attitude to tap into the most substantial investor pool in the world, which led to markets opening up. 
Football Industry in Numbers
The football industry's success continues to grow, as we can see from its revenues from sponsorships, media rights, cost of acquiring premier league players, and online search volumes about the sport and its major stars. Interestingly, Cristiano Ronaldo became the most followed player in 2022, surpassing Lionel Messi with an average of 17.5 million monthly searches.
Some football clubs like Arsenal, Manchester United, Borussia Dortmund, and Juventus are traded publicly in their own rights. However, the strategic appeal of multi-club football ownership continues to garner interest thanks to their advantages.
These include greater leverage to recruit on a combined scale, allowing them to exploit synergies by getting better players from another market. In addition, with MCO, clubs can make combined purchases of machinery and materials at better prices.
Furthermore, company advertising goes through one entity but gets exposure in more markets because of the different clubs an MCO represents.
Finally, the economy of scale provides advantages in HR since clubs don't need to duplicate several top managerial positions. 
Role of Football in Social Integration
There is more to football than profit; it can have a huge impact on social integration for the thousands of migrants across Europe. Some forms of social bonds are necessary to create community connections without a common language, culture, or religion. Many argue that football is the most obvious common denominator since many migrants share the same passion for the sport as Europeans.
Many leaders in the football industry believe that social integration will make it easier for migrants to attain their European dream, and the way to achieve it is through social investment initiatives and social funding.
Brera Holdings is concentrating its efforts on socially impactful outcomes, starting by allowing immigrants to lead better lives. Not surprisingly then: the majority of Brera FC players are migrants.
The only way forward for the football industry?
Cronyism can be kissed goodbye as American shareholders will require tight oversight over their investment. European clubs will no doubt face a culture shock because reporting to a single oligarch versus hedge funds and institutional investors, requires next-level management. 
Europeans fully understand the overdue need to pivot to the American led global investor market: Rising tensions with Russia led to sanctions, meaning Oligarchs buying football clubs are out the question. With Saudi Arabia potentially pivoting eastwards or being more neutral, who knows what their future appetite may be for the football industry? However, the investor potential from the EU and U.S. combined, dwarfs what wealthy investors from the aforementioned countries can offer: There is strength in numbers and the GDP of the collective West is still unmatched. 
With opportunity comes greater responsibility
Now, as Europeans say goodbye to football team ownership by oligarchs, tycoons, entrepreneurs, and politicians, and more of these assets will be listed on the stock market, an old sport with a lot of heritage is facing a reset – where more investors with American corporate culture will change the face of how it is managed. This is seen as truly evolutionary. 
Football continues to be Europe's most lucrative sport, and MCOs seem to pave the way for more significant club synergies that provide development opportunities and sustainability for clubs. However, all indications also point to them providing ordinary investors a chance to share in the sport's profits, with a few hedge funds now circling like sharks around a feeding frenzy. 
Watch this space closely
Multi-club football ownership is a model in its infancy. It continues to draw investors who want a share in football club assets and earnings, especially in more minor leagues with potential. Even Chelsea's new owner, Todd Boehly, recently said he is considering a MCO model. Club networks can potentially provide value to the teams and a share of the profits to investors. 
So after all, who said that Sheikh Mansour with a networth of $30 billion, who owns Manchester City, or Andrea Agnelli & family who own Juventus are the only game in town?
Yet, like all investments, participating in football-related stocks does come with risks, and you would definitely want to seek professional advice before scoring a try. Nevertheless, football has a promising future hence the continued interest in owning a slice of the pie. Everyone is watching the developments with interest.