As cyber threats grow more frequent and sophisticated, managed service providers (MSPs) require robust technology stacks to secure their clients' systems and data against escalating attacks. Integrating solutions for backup, endpoint protection, access management, threat monitoring, and more creates a resilient digital fortress safeguarding client infrastructures. 
With hackers constantly devising novel intrusion techniques, the ideal MSP tech stack balances comprehensive security with usability and affordability. Strategic integrations unify disjointed capabilities into infrastructure-wide defense systems. 
By selecting the right partners and solutions, MSPs can future-proof their stacks to combat whatever threats the horizon holds.
The Cybersecurity Imperative for Modern MSPs
Recent statistics underline the unprecedented threats facing MSPs in the digital age. The ConnectWise 2023 MSP Threat Report reveals:
Over 440,000 security incidents impacted MSPs and their clients in the past year alone.

Ransomware, phishing, and supply chain attacks are among the top threats.

Infrastructure hacking has increased, with threat actors leveraging tactics like brute forcing. 

Emerging attack vectors like weaponized Microsoft Office documents are on the rise.
Facing this onslaught, it is no longer feasible for MSP software to rely on manual monitoring and legacy security tools. Integrated next-generation solutions with automation, machine learning, and AI are imperative to counter risks.
Crafting Optimal MSP Tech Stacks
When designing their technology architectures, MSPs must balance several crucial factors:
Security

– With expanding attack surfaces, security cannot be shortchanged despite the significant investments required. MSPs must secure the trust of clients by prioritizing cyberdefense.

Support

– To assist clients effectively, MSPs need solutions with robust vendor support and resources tailored to MSP workflows. This ensures seamless deployments and ongoing management.

Scalability

– As MSPs grow and take on more customers, their tech stack must scale cost-effectively to accommodate expansion. Vertical-specific solutions allow for specialization.

Integration

– Disjointed tools lead to gaps in protection. Tightly integrated solutions provide infrastructure-wide security. APIs enable connecting new technologies into the stack.

Automation 

– Manual monitoring and management processes do not scale. MSPs need solutions that automate threat detection, client onboarding, backup processes, and more through workflows.

Usability

– Easy learning curves, interoperable systems, and single-console management simplify delivering services at scale. Poor usability results in hesitation in adopting new solutions.
By optimizing for these criteria, MSPs can craft tech stacks that balance robust security with efficiency and cost-effectiveness.
Specializing Through Target Market Research
Rather than be generic technology consultants, MSPs can gain an advantage by specializing to excel at particular niches. Conducting target market research reveals high-demand services, such as:
Healthcare

– Healthcare organizations need

HIPAA compliance

, ransomware defense, and solutions tailored for EHR protection.

Finance

– Banks, insurance firms, and investment companies need strong access controls, data encryption, and fraud monitoring.

Manufacturing

 – Industrial firms require IoT and network security, unified monitoring between IT and OT infrastructure, and managed backup services.

Retail

– Retailers need POS system security, customer data protections, and tools to prevent online credit card fraud.

Government

– Public sector clients demand solutions meeting stringent compliance mandates like FEDRAMP, IRAP, and CJIS.
Understanding regional demographics, business landscapes, and pain points through market research helps MSPs identify which specialized services to focus on. But market data provides only half the equation.

MSPs must also play to their existing strengths and in-house expertise. Aligning specializations to current capabilities enables the delivery of outstanding targeted services.
Backup and DR: The Bedrock of MSP Tech Stacks
With data emerging as the most coveted asset today, backup and disaster recovery form foundational pillars of effective MSP tech stacks. Integrated solutions like Backblaze B2 Cloud Storage, when combined with backup software platforms like MSP360 Managed Backup, enable MSPs to easily safeguard client data.
Key features like set-and-forget automated scheduling, military-grade encryption, ransomware detection, and rapid restoration empower MSPs to swiftly recover client systems from malicious attacks or outages. Solutions tailored for MSPs like Backblaze's Groups functionality streamline managing multiple client accounts. 
By providing air-tight offsite data protection and availability continuity, integrated backup solutions give clients confidence that their information and systems remain secure if the worst occurs.
Packaging MSP Offerings Through Bundled Services
Given the multitude of solutions constituting modern tech stacks, MSPs can simplify their services portfolio by creating packaged offerings that align with common customer needs.
For instance, an "Essentials" bundle could include basic endpoint antivirus, patch management, cloud backup, and remote monitoring for budget-conscious SMB clients. 
Mid-size businesses may gravitate towards a "Professional" bundle adding sandbox malware analysis, DNS filtering, vulnerability scanning, and dedicated account management. 
Top-tier clients demanding cutting-edge protection could be offered an "Elite" bundle with managed threat hunting, dark web monitoring, zero trust architecture, and 24/7 incident response. 
Tiering services into bundled solutions helps clients pick packages tailored to their needs, risk profile, and budget. It also creates simpler pricing models for MSPs.

Expanding the Stack Beyond IT Tools 
Though cybersecurity and infrastructure management form the core MSP offerings, integrating business operations solutions creates complete client coverage. 
Customer relationship management, project management, remote access, marketing automation, accounting, and other business tools can be incorporated into bundles or offered as add-ons.
Operational efficiency directly impacts the quality of IT support clients receive. Seamless coordination enabled by business software integration helps MSPs deliver stellar services and run an agile, profitable practice.

Building Future-Ready MSP Tech Stacks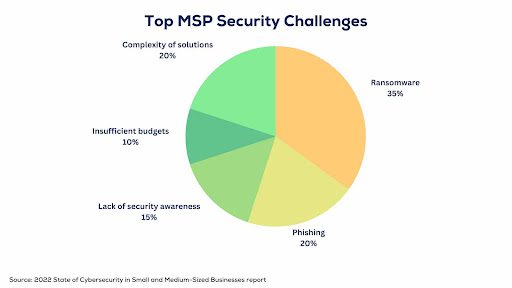 Rather than overload their stack with every security solution available, MSPs should strategically select technologies that play to their strengths and align with client needs.
 Key considerations include:
Specialize based on in-house skills, client verticals, and regional landscapes rather than dilute focus. Become known as niche experts.

Integrate and consolidate disparate tools into unified platforms providing single-console administration.

Automate repeated processes around client onboarding, threat monitoring, backup, ticketing, and more to enable scaling.

Adopt cutting-edge solutions like AI-driven threat intelligence, zero trust architecture, and managed threat hunting to stay ahead of threats.

Evaluate continuously to identify potential gaps. Be ready to swap or augment solutions as needs evolve.
With the right planning and methodical execution, MSPs can assemble tech stacks that balance security, usability, and affordability while driving efficiency, client trust, and business growth.
Software Spotlight: MSP360 Managed Backup
MSP360 Managed Backup offers a prime example of data protection designed specifically for MSPs to safeguard client infrastructure. Tight integration with trusted backup storage platforms like Backblaze B2 enables combining best-in-class data resilience with cloud scale.
Benefits of Integrating MSP360 Managed Backup include:
Reliability

– Military-grade encryption and redundancy keep data available continuously.

Security

– Ransomware detection, anomaly alerts, and immutable backups thwart cyberattacks.

Automation

– Preconfigured templates, centralized dashboards, and policy-driven backup automation simplify protecting many clients.

Flexibility

– Custom branding and white-label reporting help MSPs strengthen their brand authority.

Profitability

– Usage-based pricing optimizes TCO while enabling cost recovery by billing back clients directly.
With proven large-scale deployments, MSP360 delivers robust backup purpose-built for MSP ecosystems.
Frequently Asked Questions
How do I ensure that my tech stack remains relevant to the evolving cybersecurity landscape?
Stay updated on emerging threats and challenges through threat reports, blogs, webinars, and peer input. Regularly evaluate your existing solutions to identify potential gaps. Have a roadmap to integrate new solutions like AI-driven threat intelligence that bolster your capabilities.
What are the key factors to consider when selecting software integrations for my MSP business? 
Your selection depends on your client profiles, growth objectives, and in-house skill sets. Prioritize security, scalability, ease of use, automation potential, and cost. Vet vendors thoroughly and select established players with a track record of assisting MSPs.
How can I differentiate my MSP services from competitors in the same geographic region?
Conduct market research to identify underserviced needs and pain points. Develop specialized expertise around your strengths. Adopt cutting-edge solutions that competitors lack. Offer bundled service packages tailored to client needs. Leverage predictive technologies like AI and machine learning.
The Future of MSP Tech Stacks
As technology disruption accelerates, MSP tech stacks must evolve just as quickly. Several key trends will shape future stacks:
Consolidation

– MSPs will consolidate overlapping or fragmented tools into unified platforms to simplify management.

Everything-as-a-Service

– Subscriptions for security, infrastructure, and business operations will supersede costly hardware investments.

Specialization

– MSPs will increasingly niche down around high-value specialized services aligned to in-house expertise.

Human + Machine Security

– AI and automation will handle high-volume tasks enabling humans to focus on high-level security strategy.

XDR Adoption

– Extended detection and response capabilities will become ubiquitous for advanced threat hunting across entire infrastructures.
The optimal tech stack will always be a moving target as innovations emerge. But with the right vision and partnerships, MSPs can assemble integrated foundations positioning them to capitalize on the next wave of technology disruptions.
Key Takeaway
As digital transformations accelerate across sectors, managed service providers find themselves on the front lines combating escalating cyber threats targeting their clients' data and systems. By integrating robust security solutions specialized for MSPs into unified tech stacks augmented by business operations software, they can secure client infrastructures against anything the turbulent future holds. 
With threats multiplying, the time has come for MSPs to re-evaluate tech stacks in terms of integration efficacy rather than individual tool capabilities. Because protection is only as strong as the weakest link, consolidating disjointed systems into cohesive, resilient ecosystems is imperative. 
With the right solutions mix, they can profitably deliver airtight protection to clients while future-proofing their own business. By integrating top technologies tailored for streamlined management at scale, MSPs can fortify their clients' foundations against whatever storms lie ahead.