Do you still recall those cherished memories of our childhood, when bulky gaming PCs and consoles served as our beloved sources of entertainment? We can't neglect our fondness for that era, but it's a fact that technology is continually evolving. As time passes, new innovations are emerging, bringing us enhanced enjoyment, thrills, and convenience in our lives.
From prominent arcade games to visually realistic gaming technology, we have also witnessed a shift from bulky, large, and enormous gaming rigs and consoles to slimmer, portable, advanced-featured, and lightweight gaming laptops. However, not everyone can afford top-of-the-line gaming machines. That's where budget-friendly options of MSI laptops such as the MSI Bravo 15 and MSI Katana GF76 come into play. Both laptops offer excellent specifications and impressive features, making them stand out in the gaming world.
In this article, we will compare and contrast these two MSI gaming laptops in terms of specifications, features, and budget. So, let the budget battle begin!
MSI Bravo 15 RFB-9S7-16WK12-224 
| | |
| --- | --- |
| Pros  | Cons  |
| Carries a quite futuristic design with firm angles  | An inefficient colling system |
| An exceptional battery life of up to 9 hours  | It would be more compelling if the built-in RAM was dual channel |
| Equipped with a 15.6-inch IPS-level Full HD screen with a maximum refresh rate of 144 Hz  | Unable to match the gaming frame rates of GeForce GTX 1660 Ti notebooks |
| Solid 1080p gaming performance  | Single-colour keyboard |
| Potent Ryzen 4000 series processor  | No card reader is available |
Specifications 
AMD Ryzen 5 Processor
6 in. screen size, 1920 x 1080
8 GB RAM, 256 GB SSD
Radeon RX 5500M GPU
Windows 10 Home
Design and Build Quality 
The MSI Bravo 15 comes with a sleek, modern appearance that looks stylish.. The brand-new ID design enhances and complements the overall productivity of the Bravo series, empowering you to conquer the world of gaming. Its thin form and angular lines give it a futuristic architecture, perfectly embodying the spirit of a gaming machine.
This MSI laptop is made with durable and high-quality materials, with a combination of metal and plastic in its construction. This combination provides a perfect balance between sturdiness and weight reduction, allowing it to last for years. The lid of the laptop is crafted with a metal finish, which adds a touch of elegance to its overall look.
The MSI Bravo 15 has a robust chassis and is sturdy.. You can easily apply pressure to the centre of the keyboard or lid without any slight wrapping. Attempting to twist the laptop does not result in any creaking, either.
Display and Visual Experience 
The RFB-9S7-16WK12-224 has a 15.6-inch Full HD IPS panel with comfortable viewing angles and an excellent contrast ratio. A resolution of 1920 x 1080 pixels lets you immerse yourself in your favourite games. This display offers crisp and detailed visuals due to the addition of an anti-glare coating, minimising reflections and providing a clear view even in bright environments.
The higher the refresh rate, the more immersive your gaming experience will be! With a refresh rate of 120 Hz, this MSI laptop features AMD FreeSync technology, resulting in smoother motion and reduced motion blur. This makes it an ideal choice for fast-paced and intensive games.
Gaming Features and Performance 
By combining the cutting-edge AMD Ryzen 5 processor with the powerful AMD Radeon RX 5500M graphics and super-efficient Windows 10, the Bravo 15 gaming laptop fulfils gamers' wildest imaginations in gaming.
MSI Bravo 15 ignites the gaming world with its exclusive thermal solution, including Cooler Boost 5 technology, to empower the full potential of the CPU and GPU. You can resume your gaming session within 10 seconds if the display sleeps.
The exclusive MSI Centre provides you with the flexibility to personalise your laptop as per your preferences. You can monitor, adjust, optimise, and use many other features in one unified system.
Keyboard and Connectivity Options 
For enhanced gaming performance, the MSI Bravo features an ergonomic keyboard with a dedicated numeric keypad. The keyboard is designed especially for gaming, as it provides the versatility of customisable RGB lighting and per-key backlighting.
These features enable the gamers to create a visually aesthetic setup by customising the light effects as per whatever they want. With exclusive red illumination and built on solid metal shielding, the keyboard boasts 1.7mm of key travel to effectively meet all the requirements of gamers.
Despite an excellent keyboard, the Bravo 15 also comes with multiple connectivity options, allowing you to connect, share, and browse. These include USB ports, the latest Wi-Fi 6, and USB Type C for lightning-fast gameplay, smooth streaming content, and the most immersive communication experience.
MSI Katana GF76 12UGSZOK-642UK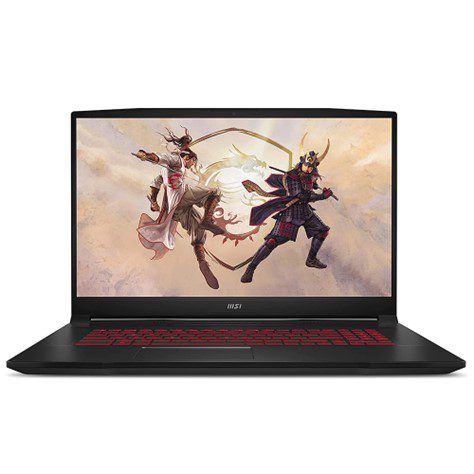 | | |
| --- | --- |
| Pros  | Cons  |
| Attractive cost for gaming on a budget  | Lacklustre GPU performance |
| Super battery life  | Inefficient cooling system |
| Impressive design with plenty of flair  | Mediocre keyboard and touchpad |
| Extraordinary CPU performance  | Underwhelming screen |
| Comes with several upgradability options  | Meh speakers |
Specifications 
Intel Core i7 12th Gen. Processor
3 in. screen size, 1920 x 1080
16 GB RAM, 1 TB SSD
NVIDIA GeForce RTX 3070 Ti GPU
Windows 11 Home Advanced
FHD 144Hz Screen
RGB backlight keyboard
HDMI, USB3, Bluetooth, and Webcam
Model: Katana GF76 12UGSZOK-642UK
Design and Build Quality 
When comparing the MSI Bravo to the MSI Katana, one notable difference lies in their design language. The MSI Katana boasts an assertive and striking aesthetic. Drawing inspiration from the sleek and lethal katana sword, this laptop features razor-sharp lines and a distinctive angular design, setting it apart from its counterparts.The logo on the laptop is discreet and small, making it easy to overlook, which is suitable for those who prefer a laptop with a less prominent aesthetic. Design aside, the black-and-red colour scheme contradicts the subtlety of the logo and contributes to a more aggressive appearance.
If we look at the build quality, the GF76 is primarily made of plastic. However, it is not the flimsy plastic typically found in budget gaming laptops. Rest assured, the laptop has a sturdy and solid feel, particularly around the keyboard and base. Overall, the Katana's quality is good for the price and on par with the Bravo 15.
Display and Visual Experience 
The MSI Katana GF76 has a 17.3-inch Full HD display with a resolution of 1920 x 1080 pixels. The bigger screen size broadens your area of view, increasing immersion during game sessions. Not only is the display limited to an impressive size, but it also comes equipped with an anti-glare coating to minimise distractions caused by reflections. You can run most AAA games comfortably at 1080p resolution, though not at the same frame rates as the Bravo 15.
In terms of refresh rate, the Katana's 144 Hz provides smoother and more fluid motions as compared to the Bravo's 120 Hz. The contrast ratio is also better, exceeding a maximum ratio of 1240:1, which is comparable to many laptops sold at different prices and better than some of the more expensive laptops we have ever tested.
Gaming Features and Performance 
To ensure optimal performance during intensive gaming sessions, the Katana GF76 features advanced features by combining a 12th-gen Intel Core i7 processor with an Nvidia GeForce RTX 3070 Ti GPU, 16GB of RAM, and a 1 TB NVMe PCIe SSD.
Additionally, this laptop also incorporates the latest visual technologies like NVIDIA's Ray Tracing or AMD's FidelityFX, which enhance realism and visuals  in gameplay, multitasking, and streaming.
Over and above, the GeForce RTX 30 Series GPUs provide unparalleled performance for both gamers and creators. Powered by Ampere, NVIDIA's 2nd generation RTX architecture, these GPUs are equipped with new RT Cores, Tensor Cores, and streaming multiprocessors to enable incredibly realistic ray-traced graphics and cutting-edge AI features.
Keyboard and Connectivity Options              
Like the Bravo 15, the MSI Katana has a full-sized keyboard that includes a dedicated numeric keypad with exclusive red illumination, is built on solid metal shielding, and has a key travel of 1.7mm. With the option of per-key RGB lighting, you can personalise each key's colour and effects to your preferences.
Under the hood, the GF76 also offers versatility for different devices with its selection of ports, including an audio combo jack and USB Type-A and Type-C ports. You can use the HDMI 2.0 port to connect your laptop with an additional display or TV and enjoy streaming 4K content at up to 60 frames per second. The availability of a generous Ethernet port ensures the fastest network speeds for uninterrupted online gameplay.
MSI Bravo 15 vs. MSI Katana GF76: A Detailed Comparison 
Specifications / Features 
MSI Bravo 15 
MSI Katana GF76 
Processor 
AMD Ryzen 5 Processor
Intel Core i7 12th Gen. Processor
GPU 
AMD Radeon RX 5500M GPU
NVIDIA GeForce RTX 3070 Ti GPU
Cooling  
Cooler Boost 5 cooling system
Exclusive Cooler Boost 5 Technology
RAM 
8 GB
16 GB
SSD  
256 GB

1 TB

Display Size 
15.6 inches
17.3 inches
Weight 
2.35 kg
2.25 kg
Screen Refresh Rate 
120Hz
144 Hz
 

Keyboard 

Single backlight KB (Red) with numeric
Backlit Keyboard
Connectivity       
USB 3.1

HDMI, USB 2.0
 

Operating system (OS) 

Windows 10 Home
Windows 11 Home Advanced
Screen Resolution 
1920 x 1080
1920 x 1080
Price 
Available under £700
Available under £2000
Wrapping Up! 
MSI Bravo 15 and MSI Katana are cutting-edge models of the latest MSI laptops, offering compelling specifications and features at reasonable prices. Both options have strengths and weaknesses that you must consider whendeciding between the two..
If you are seeking an extended battery life and a more efficient cooling system, then go for the MSI Bravo 15. On the other hand, if you prioritise CPU performance and a bigger screen size, then there's nothing better than the MSI Katana GF76. We strongly recommend that you thoroughly assess your requirements and preferences to make an informed decision.
"If you are seeking to elevate your gameplay to the next level, look no further. Laptop Outlet offers a wide range of MSI gaming laptops with incredible discounts and deals. Explore our website and find your favorite one today!Good Luck!