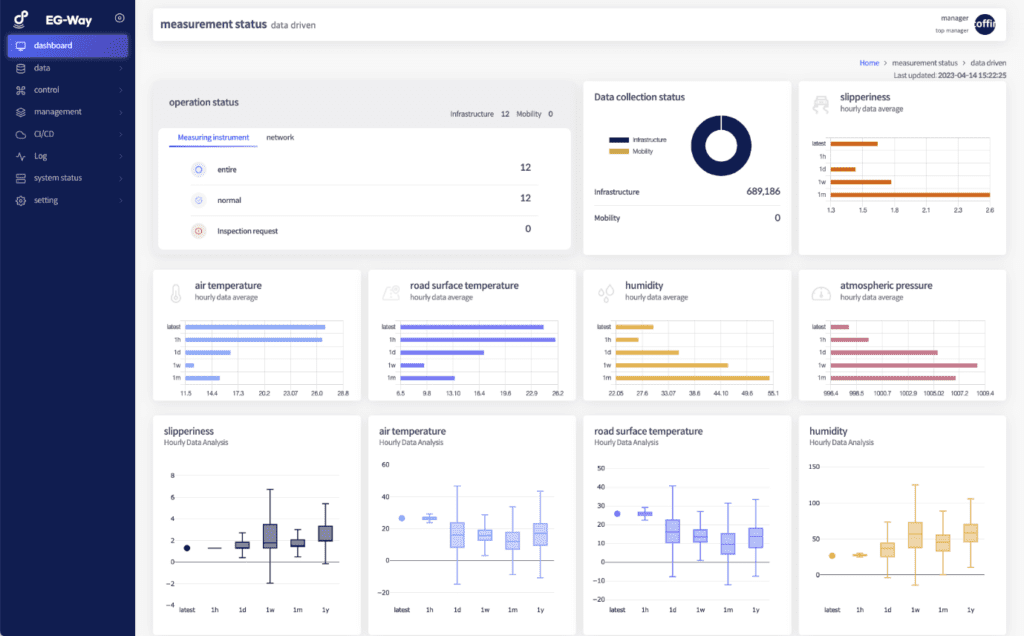 Screenshot of EG-Way Dashboard
MoveAWheeL (CEO Kim Min-Hyun), a deep tech startup specializing in acoustic signal technology, has revealed its participation in the Shinhan Square Bridge Daejeon Accelerator Program and meeting with 500 Global (formerly 500 startups).
MoveAWheeL's "EG-Way" service combines an artificial intelligence-based road condition analysis sensor that utilizes acoustic waves (hereafter referred to as "EG-Way Infra Sensor") to provide real-time information on road slippage and weather conditions to relevant agencies or users. The EG-Way Infra Sensor accurately classifies slip conditions on 10 road surfaces, including black ice, with an accuracy of over 98% and informs the operator. It has already been installed and operated in several locations, with discussions underway for additional installations with various local governments in Chungcheong, South Korea.
In recent years, local governments have been facing challenges with snow on the roads due to climate change, leading to increased snow removal efforts based on forecasts. Despite installing and operating heat wire or salt water injection systems in sections where freezing occurs regularly, passive measures such as site visits and indirect road surface checks by CCTV are still required to operate the equipment. Existing methods have limitations in that it is difficult to take timely action because they do not accurately detect black ice and cannot be checked by humans 24 hours a day. The release of the EG-Way Infra Sensor and EG-Way service, which accurately detects black ice based on acoustic waves and enables timely operation through automation of snow removal devices, is welcomed news for local governments.
During the seed round, MoveAWheeL was evaluated to have a corporate value of $10 million and was recognized for its high growth potential as a mobility company. They showcased their strengths at the 'Web Summit 2022' conference. At the 2022 Environmental Entrepreneurship Competition held by the Ministry of Environment and the Institute of Environment, Industry and Technology, they received the Minister's Award as the best award in the star enterprise category among a total of 231 teams. Additionally, at the 2022 Venture Startup Promotion Achievement Award Ceremony, they surpassed a competition rate of 16.8:1 and were selected as the final winner, receiving the Minister's Commendation consecutively.
Company name: Moveawheel
Contact name: Ron Lee
Email: yoogunlee1994@gmail.com
Website: https://en.mv-w.com/
Country: S.Korea