What Is Motley Fool Rule Breakers?
Motley Fool Rule Breakers is one of the premium services offered by The Motley Fool. It was launched in 2004 as part of Motley Fool's stock picking services, and it focuses on stocks that have long-term potential. The main feature of this service is its seven highly-curated monthly stock recommendations. All of their recommendations align with the Motley Fool's core philosophy of holding stocks for at least 5+ years to build wealth and achieve financial freedom.
With 100,000 monthly subscribers, Rule Breakers is one of Motley Fool's biggest and most successful services, along with Stock Advisor. Both services have a solid record and have consistently beaten the S&P 500 index over 18 years by over 178%.
In this quick Rule Breakers review, I will go over the best features and who it's best suited for. You can check out our full Motley Fool Rule Breakers review for a more in-depth overview of the returns.
Pros & Cons of Motley Fool Rule Breakers
Pros
5 Best Buy Now recommendations every month
2 monthly Growth Stock recommendations
Access foundational stocks to build a diversified portfolio
Email updates and Sell/Buy notifications
Learning resources
178% average returns
Better expected returns than the S&P 500 index
30-day free trial
Cons
Long-term investments (5+ years)
Features & Benefits Of Motley Fool Rule Breakers
1) Access To Foundational Stocks
When you sign-up up with this Motley Fool service, you will gain immediate access to a set of foundational stocks. These stocks are comprised of expertly picked chosen for their high diversity and long-term potential that aligns with the Motley Fool's core philosophy of holding stocks for at least 5+ years and investing regularly to achieve financial freedom.
How Does The Motley Fool Rule Breakers Team Pick Stocks?
David Gardner, one of the founders of Motley Fools, goes in-depth about their 6-step stock-selection process in one of their podcasts. Here's a summary:
Top Dog & First Mover: First, they identify companies that have the potential to shape the future – and companies that are breaking the mold and making a move into a completely new industry.
Sustainable Competitive Advantage: Next, they determine if the company can maintain its rule-breaker spot and offer unique things that can't be found anywhere else.
Strong Price Appreciation: A sudden price appreciation can indicate that the company is moving in the right direction and investors are starting to notice.
Good Management & Venture Backers: If a company has a strong management team plus early venture backers, David, and the team gives it a lot of points; products may change, but if the management team remains, they believe they have a chance to make it big.
Consumer Appeal: Strong branding that generates trust with customers.
Stock Is Perceived As Overvalued: Last but not least is the perceived value of a stock. According to David, there's an excellent reason that this is on the list: if you find a stock that checks the first five boxes, and everybody still thinks it is overvalued for the short term, then it can potentially be an excellent investment for the long term.
2) Monthly Recommendations & Best Buys
The Motley Fool Rule Breakers subscriptions include seven monthly recommendations, divided into 5 Best Buys Now and two growth stocks. In this Motley Fools basics post, we go deeper, but in short, Best Buys Now are stocks that you should acquire as soon as possible – they are very likely to go up in the short term, and the Motley Team of experts project that this is the best time to move in. Growth stocks are long-term opportunities chosen from a pool of 200 already promising stocks. Some of these recommendations include Mercado Libre (MELI), Shopify (SHOP), and Tesla (TSLA).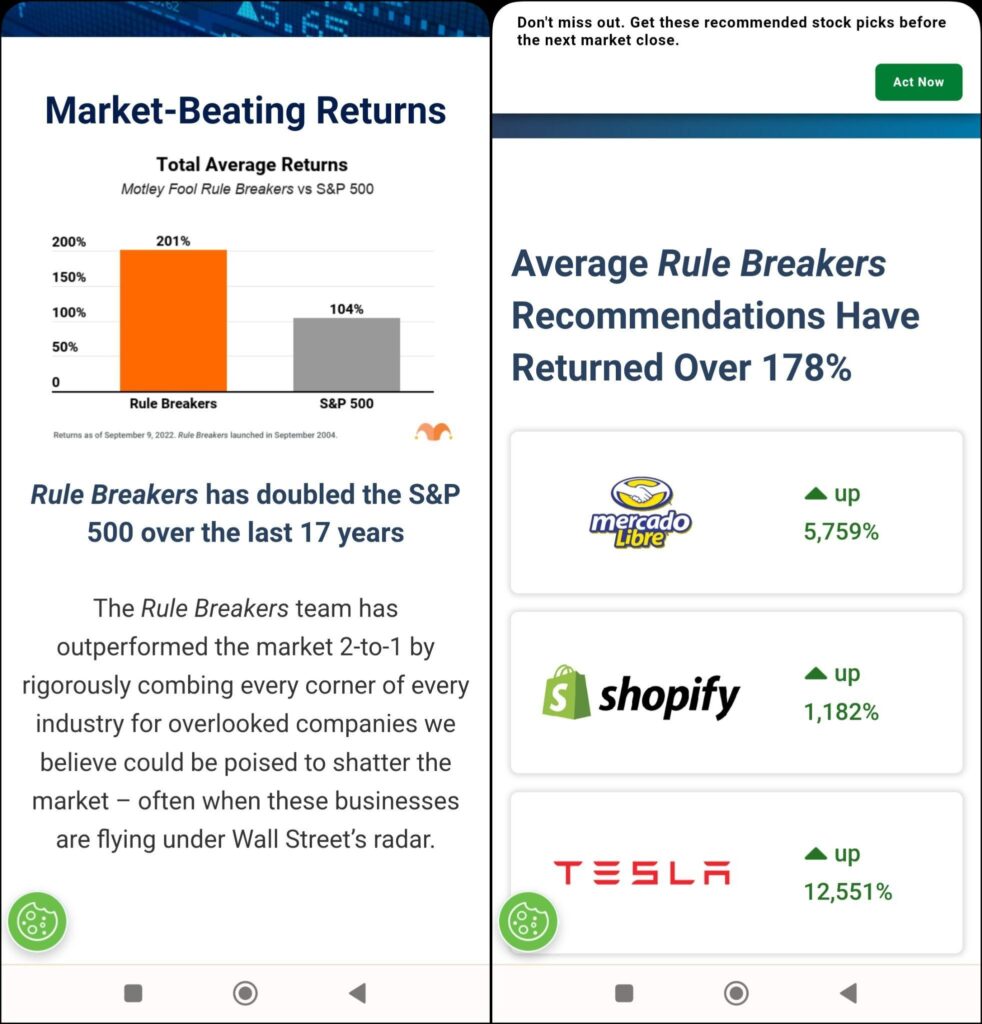 3) Outperforming The S&P 500 Index
Motley Fool services have a track record of consistency. Most of their products beat the S&P 500 index by a wide margin, and Rule Breakers is no exception. Since its inception in 2004, Rule Breakers recommendations have outperformed the S&P 500 by 178%-201%. That's almost twice the returns over 18 years. Compared to Motley Fool Stock Advisor has done even better and averaged 356% over the same period, more than three times the returns.
4) Additional Motley Fool Services
Rule Breakers is just one of the dozens of premium Motley Fool services; you can choose from Stock picking, Especially, and Real Money Portfolio, based on your goals, and make the most out of your Motley Fool subscription. All the services offer access to their 25 foundational stocks, but depending on your pick, you will receive very different monthly recommendations.
Some of their most unique and successful services include:
Motley Fool Stock Advisor
Motley Fool Everlasting Stocks
Motley Fool Real Estate Winners
If you are interested in more than one service, we strongly recommend checking out the Motley Fool Epic Bundle. It includes Rule breakers and all three of these services and comes with a very considerable discount.
5) Educational Resources
In line with all Motley Fool services, you can expect many educational resources to make you a well-rounded investor. On top of regular articles posted on their site, you will receive nine bonus summary reports plus access to David Gardner's podcast. In his podcast – available on Spotify and Apple Podcast – David breaks down financial topics that you will find very interesting, and you will get a glimpse into the mind of a highly experienced investor and answer for yourself the question: Is Rule breakers worth it?
Motley Fool Rule Breakers Fees
Yearly Subscription: $299/year (or $99 for the first year if you use our link)
Sign-Up Process
Signing up for any Motley Fool service is very easy and completely online. All services are available for US citizens; you only need to fill in some of your basic information and a valid address.
To create an account, visit Motley Fool's Rule Breakers website and click the Try Now button. If you use our link, you'll get a 30-day completely free trial and a discount on the yearly subscription: you will only pay $99 for the first year.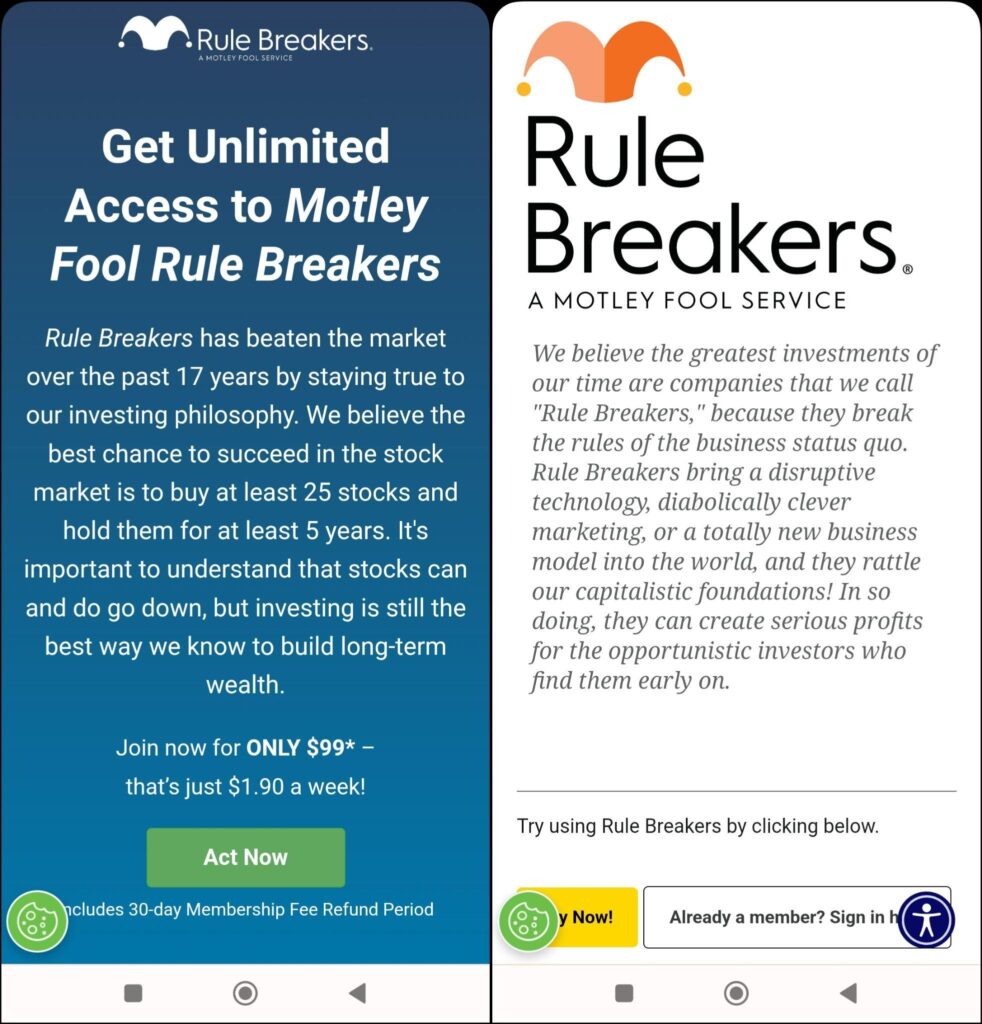 Trustpilot Reviews
Motley Fool Rule Breakers has primarily positive reviews from its users and has an average rating of 3.6 on Trustpilot. Motley Fool has almost 2 million active subscribers, and here's what some of them are saying about the service:
"Since I became a member many years ago, it has been a wonderful experience for both learning and investing. I have been benefiting a lot!" – Penelope S.
"The Motley Fool emails have been good at keeping things in perspective during the current market. I am a limited investor, so often the stocks are not ones I follow but I have found some recommendations that fit my investing style." – Joanna W.
"Overall I think Motley Fool is a useful investment resource. I like how they have expanded the tools available, and the engagement via audio/video presentation." – J.R.
"Without a doubt, MF always provides excellent stock recommendations. My concern is for the novice investor who is experiencing information overload receiving all those recommendations generated by all services either on a weekly or bi-weekly." – Mario G.
If you are still not convinced that this service is for you, we break down all the benefits of stock advisors and tackle the Motley Fool as a company in this post. After reading that, you should have a clearer idea of their goals and answer for yourself the question: Will Rule Breakers help me?
Final Thoughts
Rule Breakers is one of Motley Fool's most successful stock-picking services and newsletter for the investor playing the long game. Their stock picks focus on wealth generation and long-term capital growth, so if you can't afford to lock your investments for the long term, this platform might not be for you. However, if you have the money to spare, it can be one of your best investments – period. Rule Breakers and Stock Advisor are the two most established Motley Fool services, and both have outperformed the S&P 500 index by more than 2x and 3x, respectively, over a very long period. Rule Breakers is an excellent option for both beginners and experienced investors.