What Is Money Metals Exchange?
Founded in 2010 by Stefan Gleason, Money Metals is an online bullion dealer based in the western US and headquartered in Idaho. Money Metals provides an easy way for Americans to gain access to one of the most stable commodities in the market: precious metals. This type of asset is known for maintaining – or even increasing – its value during periods of market downturns, and makes for a good addition to any portfolio.
Money Metals has a selection of six precious metals to choose from; silver, gold, platinum, palladium, rhodium, and copper, and they come in all shapes and sizes. From coins, rounds, jewelry and bars, to bullions and even statues from countries all around the world. In terms of security, Money Metals' vaults are among the most secure, and all assets are insured with Lloyd's of London.
In 2015 Money Metals won Bullion.Directory's prestigious Bullion Dealer of the Year award, recognizing it as the best dealer. Since then, it has remained one of the top dealers in the US.
If you are in a bit of a rush, you can check out our quick summary of Money Metals.
Pros & Cons of Money Metals
Pros
All deposits are insured by Lloyd's of London
Secured with Two-Factor Authentication (2FA)
Access to Collateralized Loans
Low Storage Fees
Set up automatic Monthly Purchases
Very secure
Quick Sign-Up Process
Regularly audited
Cons
Only supports shipping inside the US
Limited customer support availability
High transaction fees when using credit cards
Features & Benefits
1) Access To Collateralized Loans
Money Metals users can use their silver and gold stored in Money Metals' Depository as collateral, with a very attractive Loan-to-Value (LTV) ratio of 75%. That means users can request an advance on a loan for up to 75% of the total value of the collateralized holdings.
Interest rates on loans are 6% of the total amount per year, considerably lower than the industry average, and an average approval time of 72 hours or less. Keep in mind that to request a loan, you need at least $35,000 in assets stored.
Interest rates on loans may vary; double-check the current rates on their webpage.
2) Automatic Monthly Plan & Recurrent Purchases
Money Metals users can sign-up for Money Metals' Monthly Plan and slowly build their holdings with monthly automatic purchases, taking advantage of Dollar-Cost Averaging (DCA). The process is very quick; you can link your bank account and set up automatic debits; alternatively, you can set up Invoices, Pay-by-Check or Auto-Pay.
Some of the benefits of the monthly plan include lower premiums and access to priority customer support. The minimum monthly investment is $100, but you can also set up automatic purchases of a physical amount, in ounces, of the metal. If you're familiar with Acre Gold's monthly plan, it's very similar to that plan; albeit Acre's has a lower minimum starting at $50 that might be best suited for some investors.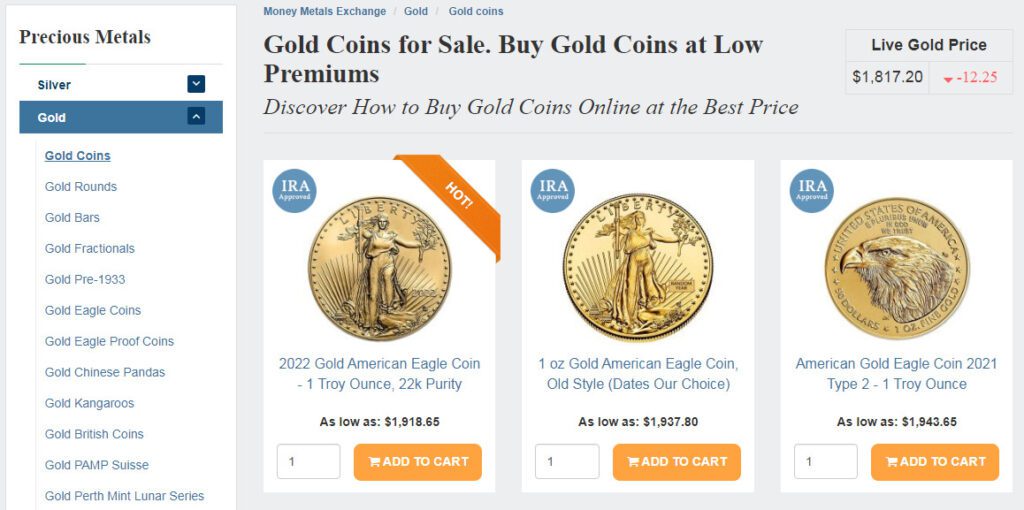 3) Money Metals' Dashboard
After you sign up with Money Metals, you can track all your orders in one place; from purchases and sales to a complete order history detailing your gold, silver, platinum, and palladium holdings. Users can also access real-time price data and change their billing & shipping address, all from the Dashboard.
4) Low Storage Fees
Money Metals Exchange offers very competitive yearly fees for storing your assets based on the total market value of your holdings. The breakdown of the fees is as follows, based on your total holdings in their Depository:
Between $0-$15,999: $96/year
Between $16,000-$99,999: 0.59%/year
Between $100,000-$999,999: 0.49%/year
Between $1,000,000-$2,999,999: 0.39%/year
From $16,000 onwards, the fees change from a flat $96/year to a percentual, tiered-based system. For investors looking to store over $3 million worth of metal, you can reach out to their customer support for even better rates.
Keep in mind their storing service is not limited to users who purchase their metal through Money Metals Exchange – anybody who already owns metal can send it to Money Metals' Depository.
Money Metals Fees
If you're looking to purchase silver or gold, it's a good idea to avoid Credit cards and PayPal; instead, go for one of the alternatives that don't charge additional fees:
Credit Card Fees: 4%
PayPal Fees: 4%
ACH Debit Fees: No additional fee
Bill Pay Fees: No additional fee
Bank Wire Fees: No additional fee (min. $3,000)
Cryptocurrency Fees: No additional fee
Some of the supported cryptocurrencies include Bitcoin (BTC), Bitcoin Cash (BCH), Ethereum (ETH), USD Coin (USDC), and Dash (DASH).
Shipping And Handling Fees
Their fees for shipping and handling your assets are also very reasonable:
Shipping and Handling Fees (<$500 worth of metals): $15
Shipping and Handling Fees (>$500 worth of metals): Free
Important to note is that you can lock in the price of whatever you're buying before you make a purchase – as long as you make the payment within the same day, the transaction will go through with your locked-in price.
Sign-Up Process
Anyone can register and create a Money Metals account; there are no special requirements or lengthy reviews; all you need is your name and a valid email address.
To create an account, visit Money Metals site and click on the Shop Now button. Fill in some of your basic information, and that's it. The process won't take more than 2 minutes.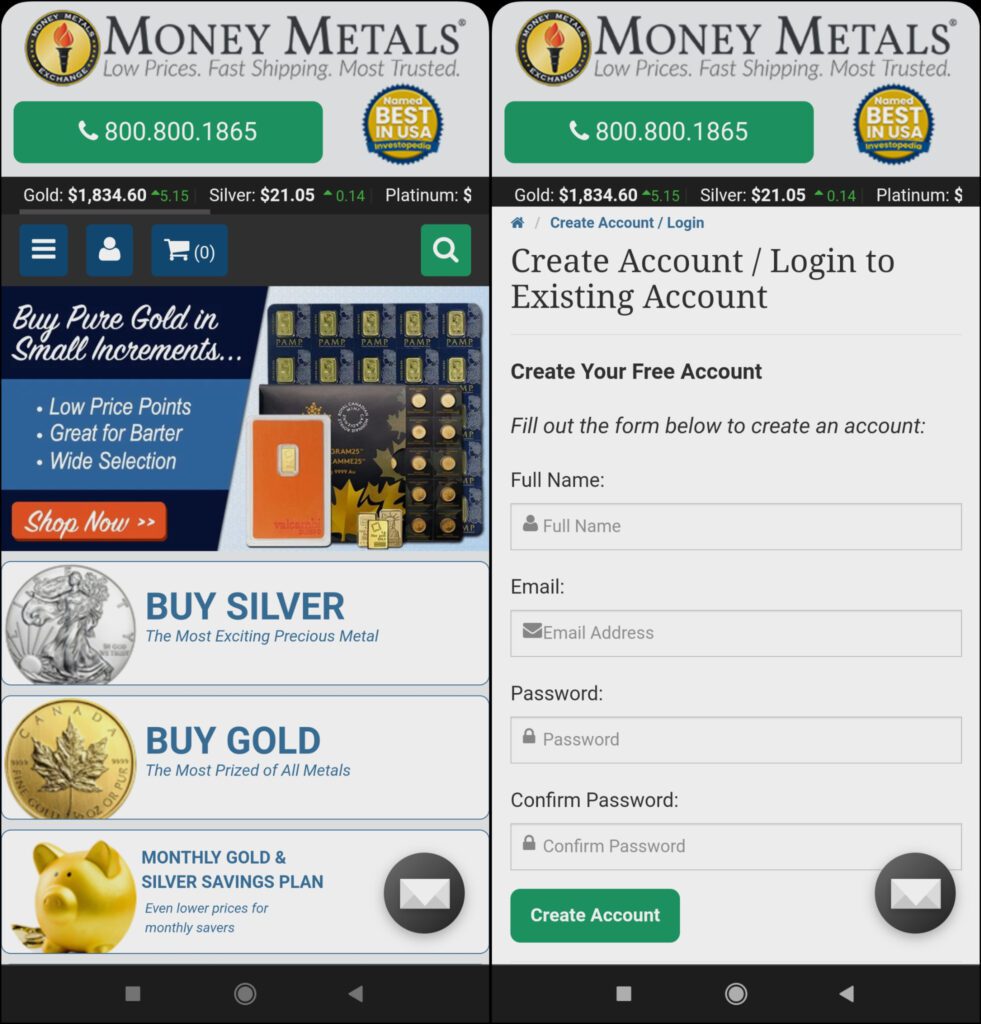 Money Metals Security 
Money Metals' very secure depository building is located in Eagle, Idaho, and strategically close to the sheriff's office. The vault is a custom-made UL-certified Class 3 Vault, and the depository is monitored 24/7. All contents in the vault are completely insured by Lloyd's of London, one of the largest insurance firms in the world.
Some of the benefits of storing your assets in Money Metals' Depository after purchasing them on Money Metals' Exchange include saving on the storing, delivering, and insuring fees of your assets. Money Metals doesn't charge additional fees for storing or insuring if you choose to store your assets in Money Metals' Depository.
All holdings on the Money Metals Depository are audited internally on a weekly basis and by an external auditor yearly.
Customer Support
The customer support representatives at Money Metals are accessible via email, phone, and through a ticket system on their webpage. They also have a very thorough Education Center on their webpage where beginners can find the answer to some of the most common questions.
Final Thoughts
Money Metals is a good option for investors in the US looking to add some stability to their portfolios by investing in safe haven assets. It has competitively low fees, places a high emphasis on security, and has many useful features like collateralized loans and monthly plans. The only downside is for users outside the US – shipping your metallic assets outside the US is not supported, and you may have to rely on external shipping companies, which could prove risky.