Furniture plays an important role in setting the overall tone and feel of your home. The right kind of furniture can transform your living space into a Cozy and comfortable retreat, while the wrong furniture can make your space look cluttered and unwelcoming. Whether you are looking to upgrade your living room, bedroom, or dining room, choosing modern furniture sets can add a touch of sophistication and elegance to your home.
Modern Dining Tables – The Perfect Addition to Your Dining Room
A modern dining table can elevate the look of your dining room and create a welcoming ambiance for your family and friends. Whether you prefer a minimalist design or a more elaborate one, modern dining tables are available in a range of styles and sizes to suit your needs. Some popular choices include the glass dining table, marble dining table, and wooden dining table. You can also opt for a dining table and chairs set for a complete look.
Modern TV Stands, Units & Cabinets – Organize Your Living Room
Modern TV stands, units & cabinets can help you organize your living room and create a clutter-free space. These furniture pieces are not only functional but also add a touch of style to your living room. You can opt for a TV stand with storage drawers, a wall-mounted TV unit, or a sleek TV cabinet. There are a variety of materials available, such as wood, glass, and metal.
A TV unit is an indispensable furniture item in every household. It comes in a diverse range of styles, spanning from sophisticated and timeless to simplistic and contemporary. Nowadays, TV units serve a far more significant role than merely providing a place for your television. They can also be utilized for storing and highlighting various other items, including books, CDs, game consoles, and decorative objects.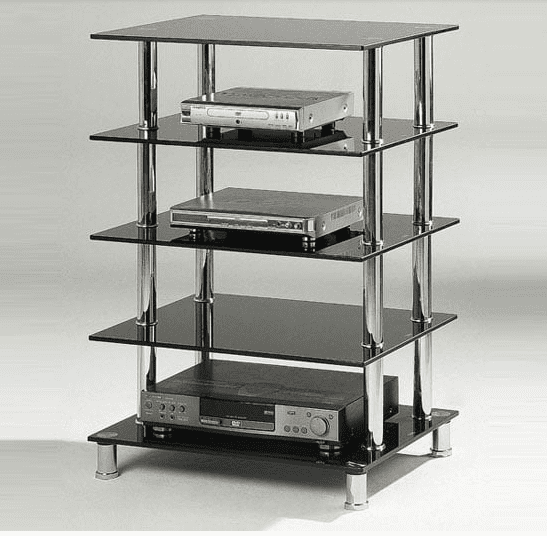 Modern kitchen cabinets have simple and sleek doors without any fancy designs such as raised panels, decorative carvings, or crown moulding. They are made with smooth and streamlined surfaces to emphasize a minimalist style. This straightforward design helps to create an illusion of more space and an open and airy feel in your kitchen.
Benefits Of Modern TV Stands, Units, and Cabinets
Ample storage space for your entertainment devices, keeping your space organized and clutter-free.
Ergonomic designs allow for comfortable viewing angles and reduce neck strain.
Available in a range of materials and finishes, providing versatility and flexibility to match any decor.
Durable and long-lasting, ensuring value for your investment.
Glass Coffee Tables – Add a Touch of Sophistication
Coffee tables made of glass are a popular choice for modern living rooms. They are sleek and sophisticated and can add a touch of elegance to your living room. You can opt for a round glass coffee table, a square glass coffee table, or an oval glass coffee table. Some popular designs include glass coffee tables with metal legs, glass coffee tables with wooden legs, and glass coffee tables with marble accents.
Marble Dining Table Sets for Sale – Affordable Luxury
Marble dining table sets for sale are an affordable way to add a touch of luxury to your dining room. If you desire a table that can last for a long time and withstand wear and tear and you are searching for a more cost-effective option that also looks visually appealing, then marble would be the better selection. Marble is a classic choice for dining tables and is frequently utilized in kitchens. Comprising of magnesium carbonate and calcium carbonate, the marble dining table readily reacts with acids. With proper care, it has the potential to become an integral part of countless cherished dining room memories for years to come.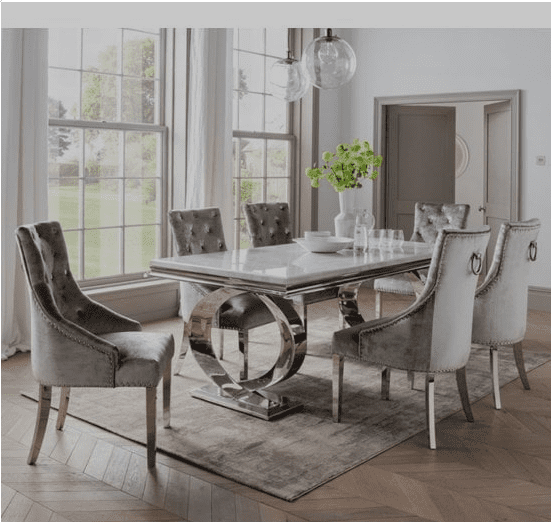 Advantages of Marble Dining Table:
Versatile and can complement any style or setting
Eco-friendly as it is a natural stone and does not require any chemical treatments or processing
Ideal for cooking as its cool surface is perfect for rolling out pastry and its smooth texture is easy to clean and maintain.
Furniture Sale – Get the Best Deals on Modern Furniture Sets
Furniture sales are the perfect opportunity to get the best deals on modern furniture sets. Whether you are looking for a new dining table, a sofa Modern TV Stands, Units & Cabinets, or a bedroom set, you can find a variety of furniture pieces on sale. You can also check out clearance sales or seasonal sales to get even better discounts. Furniture In Fashion offers a wide range of modern living room furniture, marble dining tables and chair sets, Modern tv stands, units, cabinets, and all at affordable prices.
Conclusion:
In conclusion, upgrading your home with modern furniture sets can add a touch of sophistication and elegance to your living space. From modern dining tables and living room furniture sets to bedroom furniture sets and modern TV stands, there are a variety of options to choose from. If you are looking for high-quality and stylish furniture, Furniture in Fashion is a wonderful place to start. They offer a wide range of modern furniture sets, including Marble Dining Table Sets for Sale, at affordable prices. So, go ahead and give your home a fresh look with modern furniture sets and make it a Cozy and comfortable retreat for you and your family.