Go-karting is a popular recreational activity for adults and children alike. The go-karting market has continued to grow, despite setbacks from COVID-19. Allied Market Research estimates that the go-karting industry will reach $154.3 million in value by 2030. This is an impressive milestone for a recreational activity, and there are signs that the market will grow even more substantially in 2022 as a result of FEC facilities reopening from mandated closures.
Shock Trampoline has joined the growing market with its recent merger with Race Parx. Combining Race Parx expertise with Shock's innovative and custom designs, Shock Karting (The Evolution of Speed) is poised to disrupt the industry. Shock Karting has tapped into the mini-karting market to become a leader and a pioneer in mini-karting technology. Shock Trampoline currently serves as the world's leading trampoline manufacturing with its patented impact attenuation technology. By branching into the mini-kart industry, Shock brings the same commitment to offer the best products in the family entertainment market. Despite all of its successes, Shock Karting may very well be Shock's most innovative endeavor yet. 
The mini-karts are known for technological capabilities and inherent safety. Each mini-kart has excellent speed controls, elevated handling performance, and emergency stop capabilities to ensure the safety and security for all riders.
Shock Karting products utilize a variety of proprietary and contemporary technology within both karts and tracks. Specially designed drift-track mats allow for fun and easy drifting and enhance the go-karting experience. Shock Karting utilizes innovative drift track mats that are designed to be material specific, and solely developed for Shock. The drift tracks intuitively combine the design of ski slopes with the kart design. Operators can purchase drift tracks mats for a variety of surfaces, both indoor and outdoor. 
The Co-Founders of Shock Trampoline, Luke & Cody Schueler, had this to say about Karting, "We are very excited about the Raceparx Merger, to offer the world's first mini karting technology to our Shock Karting product line. There are many family entertainment centers with limited space that can add our Karting products to increase their revenue. Most karting attractions are limited to an older karting demographic, where equipment requirements limit the age range to participants 13 and older. With Shock's mini karts, our clients will be able to serve an untapped karting demographic, ages 13 and under." 
While the new demographic is sure to open greater revenue streams, Shock is not stopping at karts for children. The company will be releasing their adult karting line with the same technology incorporated.
Shock Karting's mini-karts and tracks offer investors and consumers unique revenue opportunities. Most tracks can be set up within an hour and require limited handling and maintenance. These tracks can be fitted for permanent use, or even one-time events. This allows Shock Karting to be useful as both an investment piece as well as a one-time provider. The tracks can accommodate a variety of terrains, surfaces, and room shapes and sizes.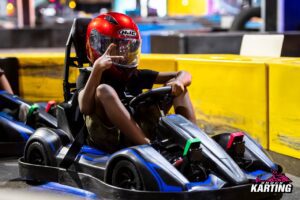 Copyright: Shock Karting
Video Link: 
About Shock
Since 2014, Shock has blazed a trail of FEC innovation. Shock standards have been copied, but never duplicated. From patented safety systems and time management solutions, Shock has spent the last decade on the cutting edge of the FEC industry. With the addition of Shock Karting, the company stands to continue creating novel and unprecedented products.
Media information:
Company name: Shock Karting
Contact name: Zach Skolnik 
Email: zachary@shocktrampoline.com