The emergence of investment apps has resulted in a new generation of investors entering the stock market and beginning to build their wealth. But for many of these investors, it's about more than just money. Similar to consumers choosing to support socially conscious brands, today's investors are also looking to back companies whose values and preferred causes align with their own. This is why IMPACT By Interactive Brokers, is opening the door to ESG (Environmental, Social & Governance) and values aligned investing. In this interview with TechBullion, Eddy Soffer, ESG Manager at Interactive Brokers will be shining more lights on this venture.
Eddy, please provide a brief history on your career in financial services?
I hold a BA in political science from New York University and an MBA in International Business & MA in International Relations from George Washington University. After graduation, I started working in the banking industry for a number of years. While at a conference in Latin America, I first learned how companies within the financial sector could start incorporating sustainability and various other elements of ESG into their overall operations. That was the "a-ha" moment for me. Since then, ESG became a passion for me as it aligned with my personal and professional goals. Ultimately, it led me to Interactive Brokers, where I currently serve as ESG Manager.
What are your specific responsibilities as ESG Manager at Interactive Brokers?
Together with my colleagues we lead Interactive Brokers' ESG strategy & planning through the development of sustainable initiatives and trading products. Since I joined Interactive Brokers in 2019, my key focus was the establishment of the department which incorporated a number of firm wide initiatives as well as the creation and launch of IMPACT by Interactive Brokers, a mobile trading platform for ESG-focused investors. I am excited that our ESG Team has recently expanded, demonstrating the commitment of senior management to the incorporation of sustainability into our overall culture and products.  
ESG is a fairly young market, please describe the importance of each aspect of ESG – Environmental, Social and Governance and how are the current headlines shaping its importance. 
I truly believe these three elements are interconnected and all need to be present to see advancement towards environmental and societal goals. As an example, climate change is forcing global societies to work together towards a solution, including companies and increasingly regulatory bodies. Governance allows for the formal establishment of frameworks and solutions including carbon offsetting and net zero goals. Another example is Diversity, Equity & Inclusion or DE&I as referenced in a number of companies. The result of having diverse backgrounds and opinions in our workforce can help us tackle issues such as climate change and the challenges surrounding Human Capital. Commitments by Executive Management Teams and Boards help to promote the importance of these important sustainable issues.  
Recently we have been seeing ESG on the headlines quite a bit. Even if negative, I think it is good that it is now in the public eye. Just a few years ago, a lot of people were not aware of ESG, now it is on almost everyone's radar. There is still a lot of work to do it to get it all right but if there is a genuine commitment, I strongly feel that there will be lasting benefits to the generations to come and more importantly to our Earth.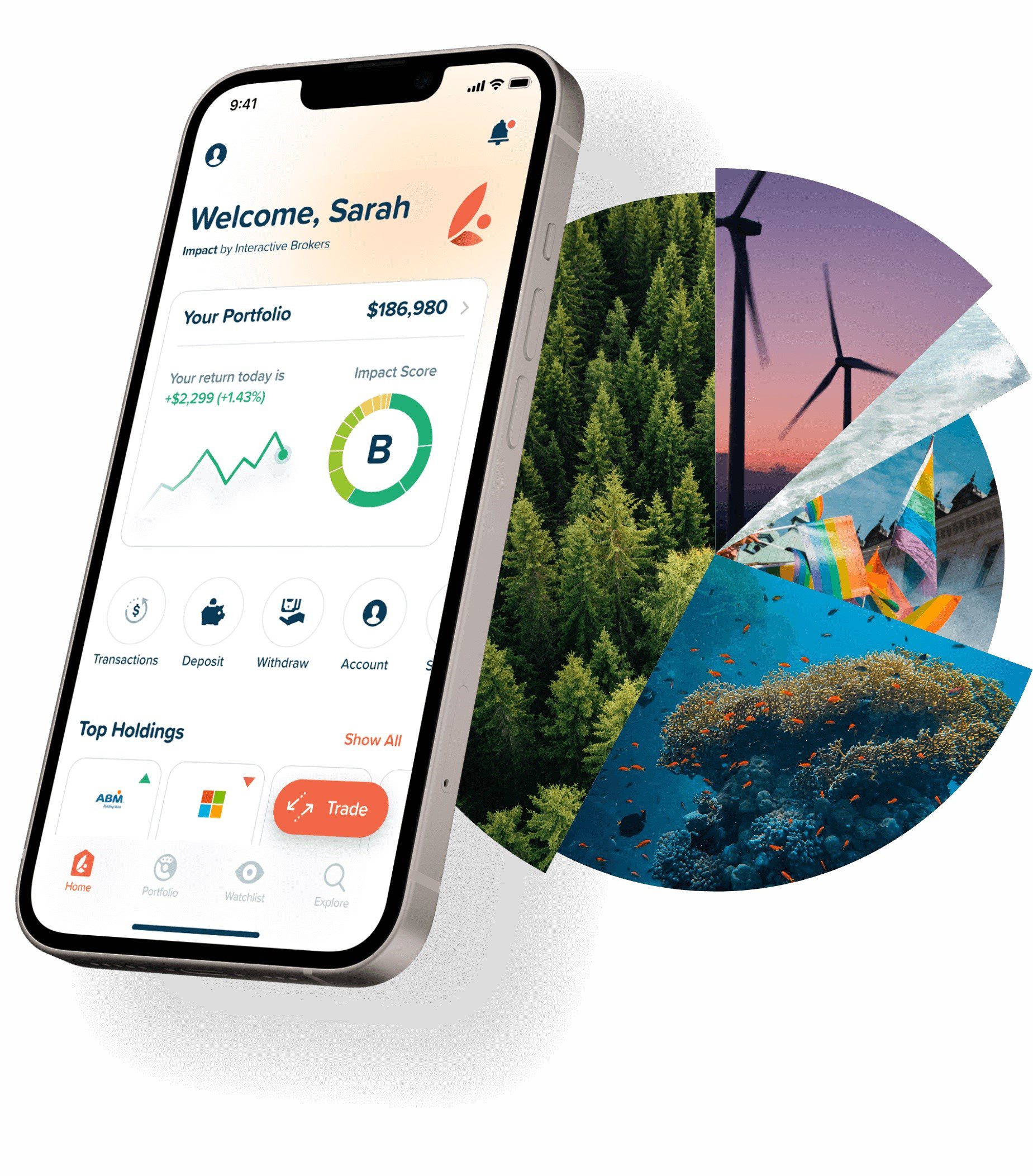 Why are Millennials investing with values vs the market or other influence?
Millennials are leading the ESG movement globally. They are witnessing current events around the world and living through pandemics and wars. I feel they don't want to stand back and inherit the present conditions—they want to genuinely make a big change. Millennials have seen brands respond and change behaviors due to consumer demand. And so, they're speaking their minds loud and clear with the power of their wallets and letting others know that ESG is something they deeply care about.
What benefits will Millennials get by investing with IMPACT, could you give us a walkthrough of how the IMPACT app works? How do investors get started?
The benefits are many! By investing with IMPACT, millennials are helping themselves, their communities and the planet. When an investor gets started on IMPACT, they are introduced to a number of IMPACT values and principles across a variety of ESG categories including environmental sustainability, racial, gender, LGBTQ, and business practices. They immediately get to choose those issues that they care most about. The IMPACT app then suggests companies that rank highly in these categories and provides impact scores on existing portfolios and holdings. The user can then customize their portfolios to align with their values. Ultimately, IMPACT by Interactive Brokers offers a path forward for millennials to begin or continue to build wealth while incorporating environmental and social values into their investments that will have far-reaching effects.
What are the IMPACT values and how were they determined when developing the IMPACT app?
The 13 IMPACT values and principles are: Clean Air, Pure Water, Ocean Life, Land Health, Consumer Safety, Ethical Leadership, Gender Equality, Racial Equality, LGBTQ Inclusion, Company Transparency, Sustainable Product Lifecycle, Mindful Business Models, and Fair Labor & Thriving Communities. 
Investors can also exclude investments based on 10 categories: animal testing, business ethics controversies, corporate political spending and lobbying, energy-intensive, fossil fuels, greenhouse emissions, hazardous waste, high water usage, tobacco, alcohol and gambling, and weapons and gun manufacturers.
When we first started working on the app, we wanted to create a set of personal values that encompass the environment, social and governance components. At the same time, we wanted to focus on material values where our clients can really make an impact through their investments. Through our research, we were inspired by a number of sustainable frameworks and universal goals when creating these values.  
Is there a give back option if Investors want to share their wealth? 
Yes, IMPACT by Interactive Brokers offers a GIVE feature. With as little as $10,  GIVE allows U.S. users to have a unique personalized donor experience in which they can make cash donations to nonprofits that align with their values! All directly from the app.
What differentiates the IMPACT platform from other apps or traditional options?
IMPACT by Interactive Brokers takes a very unique approach to ESG investing. It personalizes the user's sustainable trading experience by allowing them to select their values and then applying a customized lens to their investments. This is especially important since everyone has a different view of what sustainability means to them. Beyond investments, IMPACT helps clients to accelerate their individual sustainable journeys. IMPACT offers exclusive features such as the previously mentioned GIVE, which allows users to give back to our communities, and Carbon Offsets, which lets users purchase carbon credits to offset to help offset their carbon emissions. We are very proud to have been recognized as Top ESG Broker by Broker Chooser, Best ESG Investing Impact by Business Insider and Finalist in Impact Investing Category by Fast Company. 
Is the IMPACT app available in other languages? 
Yes, IMPACT by Interactive Brokers is looking to connect all of our clients around the globe and is available in a number of languages including Spanish, Hebrew, French, Turkish, Arabic, Chinese, among others.
Where can investors get the app and start investing?
To download IMPACT by Interactive Brokers app for iOS or Android visit impact.interactivebrokers.com.