Today, virtual connections occur more often than real-life experiences, and businesses, restaurants specifically, are tasked to find new ways to reach customers, while still staying true to what should be at the heart of any business- providing an excellent experience for their customers.
Joe's Imports is taking a recipe out of the Web3 handbook to provide new opportunities to engage within the establishment and beyond within the metaverse by launching its first-ever NFT membership program. The utility-based ERC-721 Token is the first-of-its-kind in Chicago at a Michelin Bib Gourmand Restaurant that will provide the perfect opportunities for wine lovers and cyber enthusiasts to unite and be part of an inclusive community. Launching September 18th,  Joe's Imports will provide token-gated membership to access exclusive in-person and virtual community experiences.
When Chicago-based Joe's Imports decided to venture into the NFT space, their goal was to locally pioneer the effort three-fold: honor a beloved employee and namesake of the establishment; provide in-person utility options with the membership that expanded beyond traditional NFT offerings within the market, and reach customers everywhere with the virtual option to experience Joe's Imports regardless of where they may be located.
How is the Joe's Imports NFT different from other NFTs in the market?
Joe's Imports, part of Scott Harris Hospitality, is a Michelin Bib Gourmand Recognized establishment. They are pioneering their first-ever NFT within the Metaverse as a restaurant of its high stature and geography in Chicago to provide customers virtual and in-person offerings beyond a traditional artwork-only NFT.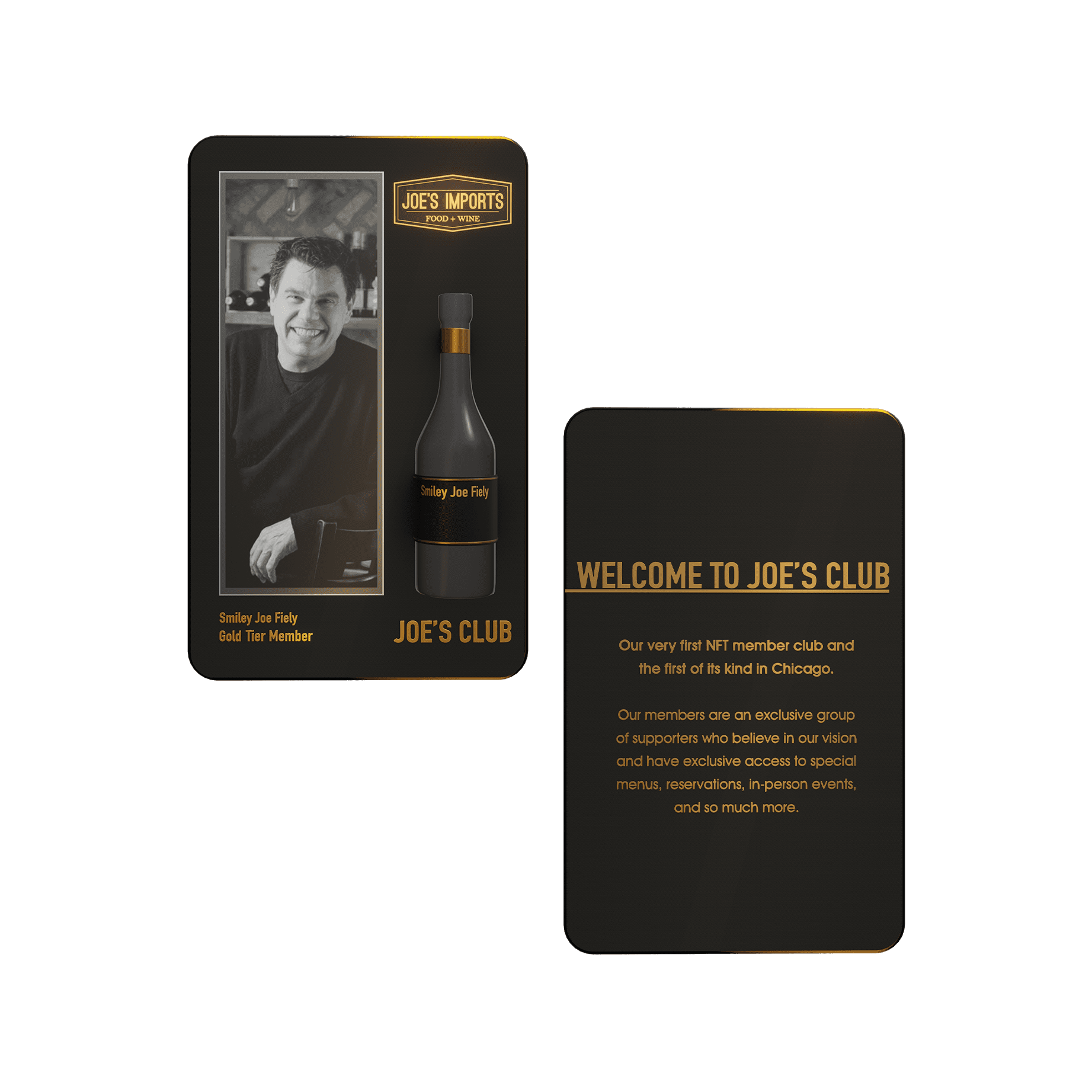 The Joe's Import NFT membership program offers three tiers of participation- Gold, Silver and Bronze with price points ranging from $100 to $1,750 per year.  The program blends in-person customer experiences and uniquely within the metaverse. Affiliated offerings with the NFT include exclusive VIP member-only events, generous discounts on meals and wine, complimentary happy hours, five course food and wine experiences, and a private locker within the Joe's Imports Wine Cellar.
Who is Joe Fiely?
Warmly referred to by customers as "Smiley Joe Fiely," Joe spent his life within the hospitality industry and blended his passion for travel, international cuisine and wine together to bring Joe's Imports to life. As a tenured employee and Wine Director of Scott Harris Hospitality, it was always Joe's dream to have a wine-based membership program. Joe passed away earlier in 2022, but Scott Harris Hospitality wanted to continue Joe's legacy through the NFT artwork and membership offerings, while also giving back a portion of proceeds to the community he loved so much- Chicago.
Why venture into the metaverse?
Scott Harris Hospitality opened their doors for the very first time 30 years ago in Lakeview, Chicago. Since then, the iconic Chicago-group has expanded to nearly 25 locations throughout the Chicago area and San Diego to provide customers with a unique and memorable experience within their establishments. As the world evolves, SHH is always listening to its customers and finding new ways to connect- enter the pioneering of the Joe's Imports NFT. Scott Harris, Founder and CEO of Scott Harris Hospitality says, "We have been serving this community for 30 years, and are always looking for new ways to engage with our customers. The blockchain, and more specifically NFTs, will allow individuals from anywhere in the world to join our ecosystem and partake in our excitement, events, and much more at Joe's Imports. We are embracing this advancement in food, wine, and technology."
With evolved virtual experiences available within the Joe's Imports NFT membership program, people from around the world can experience what makes the Michelin-recognized Joe's Imports unique and memorable, while also keeping the memory of Joe Fiely alive.
The exclusive Joe's Imports NFT information is available now at joesimports.com, and will be live to purchase on 9/18 and 9/19. To celebrate the official launch of the Joe's Imports NFT, VIP members are invited to an exclusive event at Joe's Imports on September 14, 2022. Sign up for the event here.