When compared with April this year, the Ethereum (ETH) price has fallen from around $3579 to a low of approximately $881. However, the cryptocurrency then surged to over $1900 recently. If priced in USDT, the value of many blue-chip NFTs (or non-fungible tokens) would drop by around 3 times their original value.
But the prices of blue-chip NFTs like Clone X, Doodles, Meebits, Moonbirds, and others are still stopping regular users from participating. For instance, the floor prices of Doodles and Moonbirds are 11 ETH and 23 ETH. However, their gains could potentially be around 17248 USDT and 36063 USDT respectively.
MEXC, the comprehensive cryptocurrency trading platform, has introduced an NFT Index to bring down the threshold for consumers to acquire blue-chip NFTs. This is reportedly the first NFT Index introduced by a digital asset exchange.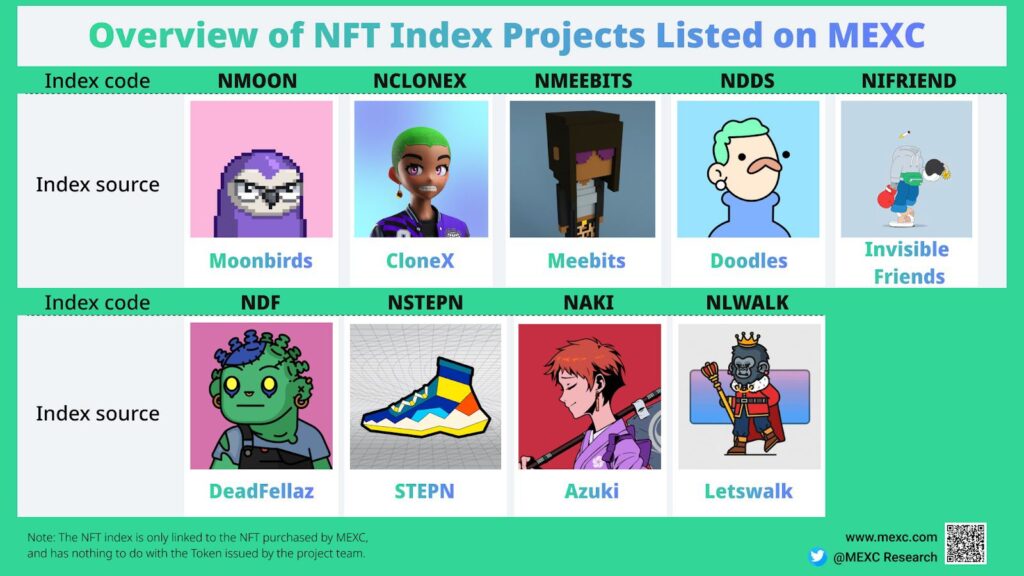 What Exactly Is an NFT Index?
MEXC uses the purchase of a particular amount of a blue-chip NFT collection as its value support, and then divides the acquired NFT into a set amount for indexation. Users just have to trade like a spot in order to get a share of the NFT Index so they can take advantage of related NFT rights at the same time. 
For instance, MEXC buys NFT prior to Moonbirds airdrops the second-generation NFT. And  after MEXC obtains the second-generation NFT airdrop, it will proceed to sell off the second-gen NFT Moonbirds Oddities at an appropriate price. The share of NFT Index positions will get distributed to NMOON holders.
In somewhat the same manner, when an NFT issues a token and airdrops it to NFT holders free-of-cost, MEXC will return the airdrop acquired to the holder, as per the NFT Index position share. Simultaneously, its NFT Index may be purchased and sold at any given time, and also selected to redeem whenever the share reaches a complete NFT exchange.
Let's take NMOON introduced by MEXC to serve as an example. The NFT Index is supported by #5816, #347, #8298 Moonbird that's acquired by MEXCC, and gets split into 10,000,000 Indexes for free purchasing and selling purposes, and the purchase volume reaches 1,000,000 units. Buyers may contact MEXC in order to redeem a complete NFT every week.
MEXC has so far introduced 9 NFT Indexes that are supported by Moonbirds, Clone X, Azuki, Meebits, Doodles, Invisible Friends, etc. They include NMOON, NCLONEX, NAKI, NMEEBITS, NDDS, NIFRIEND, etc. It's worth noting that it's not only the first exchange to launch NFT Indexes, but also the exchange with the highest number of listed blue-chip NFT Indexes.
In addition to MEXC screening blue-chip NFTs and introducing the NFT Index, it has laid out the NFT track as early as 2020. During that particular time, the NFT market was in the early stages of development, however, MEXC had been able to tap high-potential NFT projects and launched them. Projects like GALA, AXS, SAND, MANA, CHZ, and APE have been listed on MEXC.
Among them, MANA was launched back in February 2020, and its highest gain reached 51,900% after launching, meanwhile, other initiatives like AXS, SAND and APE managed to reach the highest gain of 109,968%, 42,300% and 4,900% respectively.
With the emergence of NFT track and NFT in SocialFi, GameFi, Metaverse, Metaverse, NFTfi and the applications in other areas, MEXC has worked on a 4-year plan for over 10 sub-tracks like public chains, DeFi, NFT, DAOs. Among the 2,000+ initiatives introduced by MEXC, in addition to the public chain and DeFi track, NFT track projects have shown steady progress.