Since we moved into a global pandemic in 2020 the turbulent times do not seem to have an end. Current international tensions only add to the growing inflation and suffering of global economies. Crypto has always been known for its democratic and global approach towards finances – becoming a safe haven for your funds in difficult times like this. Where in the crypto market should you look now? Where is the best place to grow your portfolio at this pivotal moment? 
Inflation in the USA during the month of February this year was as high as 7.9% – this is the highest level since the Great Depression. The actual meaning of this figure is that the US Dollar has devalued by at least 7.9% over just one year.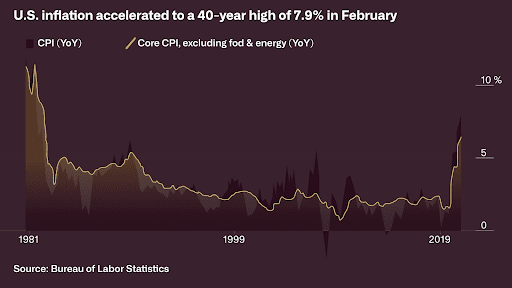 So how can you keep up with such an economic situation? Can the banks offer you any options for at least keeping the value of your fiat currency at pre-inflation levels? Clearly not. The table below demonstrates this with worrying clarity.

This simple math is very straightforward and explains the huge demand for DeFi products that provide yields beating the inflation rate. So then let's look at crypto market trends to see where to head for the most interesting DeFi solutions available today. 
There are several blockchain networks trending currently in the crypto space – one that truly deserves attention is Cardano and its rocketing network adoption and locked value. Cardano is a veteran blockchain protocol which was founded in 2017; it differs from all other chains through its strict academic approach to development and is claimed by some to be the most sustainable blockchain protocol available today. 
In 2021 several important technical updates occured on the network, allowing a new phase of growth for Cardano's nascent DeFi space. The main update we are referring to is the Alonzo 'hard fork', this integration finally established smart-contract features on the Cardano blockchain. The markets reflected this immediately with ADA (Cardano's native token) reaching  over $3 on some exchanges at the beginning of September 2021. 
The hard-fork was followed by a further boom of Cardano-based projects and DeFi exchanges – 2022 is being dubbed by many as the year of adoption for Cardano and some of the projects available on this chain deserve close attention. 
Why does DeFi on Cardano matter?
Cardano is historically known for its large and very loyal community, before the Alonzo hard-fork these holders and supporters were simply holding their Cardano assets with few options available to them in the DeFI space. This explains the need for Cardano based DEXes and their continuous growth recently. Considering that the protocol will be enabling more technical updates this year, the growing number of projects,the value locked on chain and growing community – Cardano-based DEXes could be of interest even to those not yet participating in the Cardano ecosystem. 
What is MeowSwap and how does it differ? 
Among the 23 DeFi exchanges currently available on Cardano, one stands out as truly unique – The MeowSwap DEX. 
MeowSwap was launched in December 2021, and its roadmap suggests long-term plans involving not only the Cardano ecosystem but multiple blockchains, as the technical framework of the DEX allows the building of further trading options with many other crypto assets. 
In contrast to well known and heavily marketed protocols such as SundaeSwap that base themselves on a layer one solution, MeowSwap has chosen a layer two setup. In the current stage of Cardano blockchain development, with high demand and relatively low throughput until updates are made – an L2 solution is much faster than simply using the L1 in terms of transaction speed, meaning that users of MeowSwap do not have to suffer hourly or daily delays on their transactions. L2 implemented using the right architecture can deliver full transparency, reliable speeds, and a variety of instruments for trading options. It seems that the team behind the project has already delivered much of what they promised to achieve in their first two months of development. The right technological fundamentals are the basis for the success of the project, which allows me to say with confidence that MeowSwap is well on its way to the goals established in their roadmap. 
As Cardano DEXes are now racing to develop their products, services, and community engagement plans – The element of competition is undoubtedly there, pushing the projects further and bringing more users to Cardano.  
The MeowSwap team is positioned well in their mission to become the NUMBER ONE Cardano DEX and beyond that; promoting democratic values, transparency and variety of financial instruments via the MeowSwap DEX allowing this freedom to anyone. 
Meanwhile, a year long Yield Farming Campaign was announced by the MeowSwap team on March 20, and details for Staking are expected soon. The team has recently announced that the withdrawal commission of 5% (built into the staking mechanism) will be donated to charity – helping all those citizens around the globe who suffer in war and conflict. 
I personally admire great gestures like this taken by private companies with strong values in their business practices, proving that it is always up to us to use the profits we earn and make the world better when we are able. The Yield Farming Campaign by MeowSwap is a tempting adventure which will last for just twelve months and may serve as a strong hedge for your finances. It is worth checking out and trying out the DEX for trading, or farming, whichever is your current preferred option.