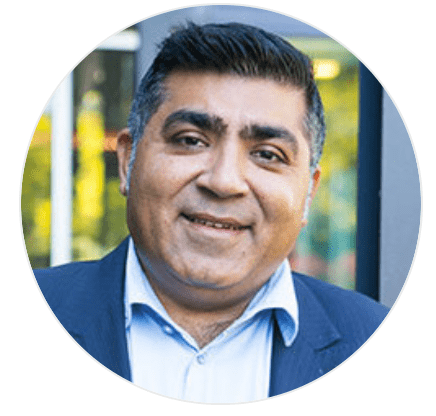 Bob Bagga is the Founder and CEO of BizX, a community of local business owners who buy from and sell to one another without spending cash, within the BizX network.
Your background in bartering and private currency speak very highly of you, could you tell us more about your experience?
During my 20-year career, I've been a pillar of the barter industry, earning international accolades for my work in the private currency and trade industries. My first company, Barter Business Exchange (BBE), was founded when I was only 22. Then, I went on to co-found BizX in 2002, which has grown into the leading trade exchange on the West Coast and has expanded into Seattle, Oakland and Dubai. BizX has also been recognized by Inc Magazine as one of the fastest growing businesses in the US seven different times. Due to my success, I've thankfully been awarded the 2015 Hall of Fame Award by IRTA (International Reciprocal Trade Association), the highest honor awarded by the organization. And I'm also a member of the Young Presidents Organization (YPO) and 40 under 40.
What is BizX?
BizX is on a mission to improve the lives and businesses of our members. Our team is passionate about helping small businesses thrive in their local communities because we understand the experiences and challenges business owners go through.
That said, BizX is meant to be a community. We support over 5,000 small business owners—and we help them engage with other members and use a currency called the BizX dollar, which empowers business owners to trade goods and services with one another without spending any cash.
Another great thing about BizX is that we host various networking and growth hacking events in Seattle, Oakland, San Diego, and Dubai. We empower our community of small business owners to grow and learn from each other because at its core BizX is all about the members.
What are the unique services you offer at BizX and who are your major clients?
At BizX, we offer a few unique services. Some of those are:
1) A community of business owners: When small businesses join BizX, they're joining a community of like-minded people. The BizX network has helped fuel lasting relationships among small business owners—and those relationships are both unique and mutually beneficial. Some BizX members, for example, have created relationships as peers, customers, suppliers or more.
2) Increase in cash flow: Throughout the BizX network, there's a private currency being used called the BizX dollar. This currency empowers local business owners to trade goods and services without spending their own cash. As members earn more BizX dollars, they're empowered to spend it with another member who can provide products, resources, or supplies that will increase their growth.
3) New customers: Our team at BizX offers a sales and marketing channel that provides small businesses with new customers. The cool thing is that our members would've never been exposed to potential new customers had it not been for the BizX network. In addition, these new customers are more likely to be loyal than consumers who are solely looking for deals.
4) Line of credit: BizX allows small business owners to borrow money without having to worry about cash interest. When new members join our community, they are provided with the funds to grow their business—and they don't have to pay it back until our team delivers them new, loyal customers. This is huge because it allows BizX members to increase their spending power without increasing their cash debt. A good example of this can be seen with Seastar Restaurant who was undergoing a renovation that costs more than $1 million. Instead of paying for that expense entirely in cash, Seastar's owner got a BizX line of credit. This allowed the restaurant to keep over $100,000 and off set that cost by spending BizX dollars instead.
5) Employee incentives and perks: BizX allows employers to reward and incentivize their employees without spending any cash. For example, small business owners can reward their employees with BizX dollars, which can be used to book a vacation, pay for their kids' braces, or even get a message. BizX dollars can also be used to provide a bonus or a raise. These are real-life examples of how BizX members have rewarded their employees—and BizX continues to see this unique service offering increase their members' employee engagement and productivity.
Tell us more about trading goods and services in the small business world and how excess capacity plays into that. How does it work?
Small businesses typically operate at around 80 percent of their capacity, which means 20 percent of their goods or services go to waste. If you're a smart business owner, you'll do anything to get rid of this excess capacity. But first you have to identify it. Most small business owners don't know what their excess capacity is, which means they don't know they're richer than they think.
However, excess capacity always comes down to the resources that are going to waste such as un-booked time, open restaurant seats, extra baseball tickets, or unsold advertising space. Once small business owners have identified what their excess capacity is then the next step is to trade it.
For example, maybe you're a restaurant owner that has open seats every day during lunch time. To solve this issue, you think your marketing strategies should be more effective but you don't have the cash to put aside towards better marketing. Well instead of losing sleep wondering how you're going to get the extra cash, you could connect with a small marketing agency and offer free gift cards to your restaurant in exchange for marketing services that could help grow your business.
Ultimately, when small business owners come together and use their excess capacity to fuel the power of trade, it allows them to unlock their full potential and experience massive growth.
Can you provide an example of a client who traded their excess capacity on BizX and saw tangible results?
Our client, Priceless Granite & Quartz, is one of the premier granite and quartz kitchen countertop installation and fabricators in the Pacific Northwest. The company noticed a few gaps in their schedule and wanted to have more clients on their calendar. Since their un-booked time was their excess capacity, they decided to use BizX to find new customers wherever they were lacking.
Word of mouth throughout the BizX community helped Priceless Granite & Quartz increase their customer base. And the BizX dollars they earned were allocated to advertising, printing, and team vacations, which helped the company grow and increase employee engagement.
What are new developments are on the horizon for BizX? Our readers would love to know what to expect for your organization in the future?
There are three new developments on the horizon for BizX:
1) BizX will offer more community tools to allow its members to connect and leverage each other beyond buying and selling. As the BizX community grows and the platform innovates, our company will provide new ways for small business owners to learn from each other and share their experiences.
2) Another new development focuses on BizX's mission to invest into more technology that enables easier discovery and faster payments. This is a top priority for our team and will be very beneficial to our BizX members.  
3) BizX is also looking into blockchain and taking advantage of the latest technologies available. We want to help our small business members grow and operate at max efficiency—and BizX believes that blockchain will accomplish this.
For more information, visit the BizX website: https://www.bizx.com/