Singapore, February 26, 2021 – There is a new DEX (decentralized exchange) king – fast-growing Heco-based MDEX. With a record breaking daily trading volume of USD 5.05 billion on February 24, the young DEX has since overtaken DEX leaders Uniswap, Pancakeswap and Sushiswap and currently ranks as the Number One DEX on Coinmarketcap. At the time of this writing, MDEX boasts an incredible daily trading volume of USD 3.15 billion and has captured 50.09% of the DEX market share.
Implementing a unique 'dual-chain dual-mining' mechanism on the platform, the brand new MDEX burst on the DEX scene on Jan 19, barely over a month ago and has not looked back since. 
Throughout February, the ambitious young DEX has surpassed the DEX king a number of times already in daily trading volumes. However, the most spectacular has been the above mentioned USD 5.05 billion volume on Feb 24.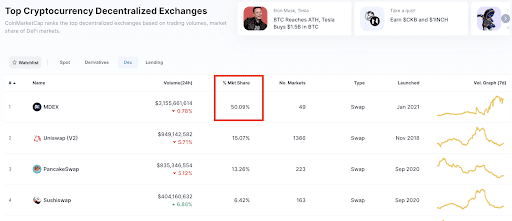 A Burgeoning DEX Market
From mid- to late- 2020, the DeFi markets began to warm up and albeit a slight slowdown in November, has continued its upward surge. Offering decentralized financial alternatives such as decentralized exchanges, credit, insurance, derivatives,  stablecoins, aggregators and other financial services, the DeFi space has been attracting more and more users over.
The total DeFi TVL (Total Value Locked) currently on the Ethereum public chain stands at USD 38 billion, which is a 38-fold increase from a year ago. On the Ethereum chain alone are leading DeFi projects such as MakerDAO, the leading decentralized USD-pegged stablecoin Dai, with a market value of USD 6.3 billion; Aave, the leading credit company, with a market value of USD 5.03 and Uniswap, the leading DEX, with a market value of USD 3.9 billion.
Last year, DEX daily trading volumes were generally under a billion USD and when Uniswap hit that ceiling, it cemented its position as the leading DEX.
MDEX Counters Uniswap Gas Fees and Congestion with Zero Transaction Fees and Fast Transactions
However the high gas fees on Uniswap, due to the congestion on the ETH mainnet, are deterring many DeFi users from using the once leading DEX. Many are looking at alternatives in the DEX space.
The MDEX platform is based on the Huobi Ecological Chain (Heco) and leverages it to deliver low transaction fees and quick delivery times. At the moment, the MDEX.COM transaction fees cost about US 0.1 cents per swap. This means that 1 USDT equivalent of HT (Huobi Token) can support nearly one thousand swaps. 
The dual mining mechanism refers to both liquidity pool and transaction mining which supports trading on MDEX to be able to reduce transaction fees to zero and even to negative fees. How does this work? Excluding slippage losses, because the MDX rewards generated by the MDEX platform for users when they trade and mine are very high, in the end they negate the cost of the fees required for the transactions. 
The MDEX platform has paid out almost USD 200 million in liquidity mining rewards and USD 280 million in transaction mining rewards to users In the past month alone.  
Besides the zero (or even negative) transaction fees, MDEX also boasts fast transaction times. Currently, on the Heco public chain, transaction speeds are about 500 TPS, which translates to about 3 seconds per transaction on the MDEX platform. 
A Simple and User-friendly Interface to Attract Projects and Users 
In addition to the zero-fee and fast transactions, the MDEX platform has high APY for transaction and liquidity mining, combined with low slippage and good depth.
To successfully attract popular DeFi projects on its platform, MDEX boasts a user interface specially designed to facilitate excellent experiences for both projects and users. 
Operations between Huobi Exchange and MDEX are configured to be simple and fast, and as such, MDEX also facilitates many Huobi and Heco-based projects. Huobi family assets (HBTC, HLTC, HBCH, HFIL, HDOT, wHT, HUSD, HPT), Huobi Eco-Chain projects (FILDA, LHB) as well as highly popular DeFi projects on Ethereum (AAVE, UNI,  SNX, LINK, YFI, BAL) have all started liquidity pool mining on MDEX. 
BAGS (Basis Gold Share) is a popular project that originated on the MDEX platform. As the first algorithmic stablecoin protocol on the Heco chain, after it landed on Huobi Global, the BAGS token price jumped from USD 20 to an astounding USD 1,022, an increase of fifty-one times.
For more details about MDEX, please visit the Official Website: https://mdex.com/#/
MDEX Official Channels:
Twitter: https://twitter.com/Mdextech
Telegram: https://t.me/MixDex
Medium: https://mdex.medium.com/