Some car owners may not know the differences between OEM and aftermarket parts. Once you need a replacement part for your vehicle, which is the better option—OEM or Original Equipment Manufacturer parts or aftermarket parts manufactured and/or sourced by a third-party company?
OEM vs. Aftermarket Parts
OEM parts are made by the car's original manufacturer and are made to fit a single vehicle model's particular specifications. Aftermarket parts (which also include performance parts), on the other hand, are typically manufactured by a third-party company and are generally produced at a high volume. These parts are designed to fit the specifications of vehicles of different types.
OEM parts are almost always more expensive than aftermarket parts because they bear the manufacturer's markup. Aftermarket parts are often sourced from the same factory that manufactures and sells those very same parts to the car manufacturer, meaning there is zero difference in quality. However, once someone buys them as OEM parts, they are made to pay more just since the parts bear the markup of the car manufacturer.
Even though OEM costs more most of the time, their quality is often similar to that of an aftermarket part. In some cases, aftermarket parts are better than OEM parts. It all depends on where the parts are coming from, and there is little reason to pay more for OEM parts.
In case you were wondering, both aftermarket and CEM parts are inspected and regulated by CAPA (Certified Automotive Parts Association)
Advantages of Using Aftermarket Parts
Lower Costs and Greater Variety: As mentioned already, aftermarket car parts typically cost less than OEM parts. How much you can save will depend on the brand you are choosing from, so some research regarding your options will come in handy.
With a platform like MbenzGram, shopping for parts is easy since this specialty aftermarket and performance parts e-commerce company offers the best selection of parts coming from the leading brands in the industry. This means that you can complete your comparison shopping all within MbenzGram's official website.
Dozens of different companies are engaged in making aftermarket parts. Some, like NAPA, manufactures all kinds of car parts one can think of, while others specialize in specific parts. This means more variety, a bigger selection, and a greater range of prices.
More Choices in Terms of Insurance and Repair: Most car insurers will only cover aftermarket parts, meaning you'll have a broader range of choices. (i.e., as long as you are okay with aftermarket parts).
Also, you will enjoy much more flexibility as to where to repair your car. Almost all local body shops, auto parts stores, and gas stations will have one or more aftermarket parts that will fit your car. According to America's Car Show, about 80% of independent car repair facilities use aftermarket parts. So, one only needs to make sure that he is dealing with a good mechanic and the aftermarket part fitted in his car is of good quality.
On the other hand, if one were to opt for OEM parts only, he would have very limited choices regarding where he repairs his car. More specifically, he would have to take the car to a dealership or a specialty body mechanic shop. The only other option is to buy OEM parts from online wholesalers such as Amazon, eBay, etc.—just as one would have the option to buy his aftermarket parts online from a platform like MbenzGram.
Advantages of Using OEM Parts
The benefits of using OEM parts include convenience and greater assurance of quality. Once you need to replace a part, you can simply walk into a dealership, and they will have the OEM part you need. You won't have to compare different brands and prices. Also, since OEM auto parts are designed to work exactly like the part that is being replaced, one can enjoy peace of mind and feel at ease in terms of performance and familiarity.
Additionally, most OEM parts will include a one-year warranty. Plus, if the car is repaired at a dealership, you may avail of a separate labor warranty from the dealership as well.
All that said, you can get similar warranties if you are purchasing your aftermarket part from a top-of-the-line brand or having your car repaired from an auto repair facility. As for the quality of the parts, we've already mentioned that high quality aftermarket parts can be just as good or better than OEM parts offered by original car manufacturers.
Performance Parts and Why Would You Need Them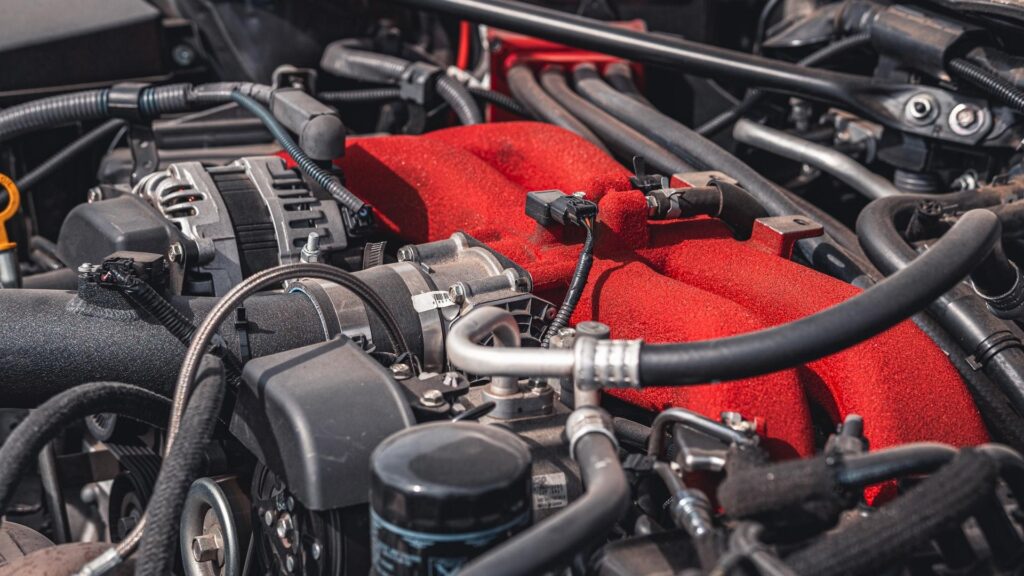 Performance parts refer to aftermarket replacement parts used to replace the factory components or stock parts of a car and improve its performance. Most cars come with somewhat restrictive exhausts and intakes, meaning that their performance is compromised to some extent as well.
To correct the situation, one can install high-quality performance parts, such as better-quality exhausts, intake kits, and air filters. Passionate car enthusiasts often opt for performance parts that improve braking, handling, and acceleration. For example, if one wants to increase a car's acceleration, he needs to add relevant performance parts. On the other hand, sports car enthusiasts are especially particular about their car's braking and handling, in addition to its acceleration.
Like aftermarket parts, performance parts can be easily bought from a huge variety of sources. Unless bought from reputable sources, one may simply end up wasting their money without enjoying any improvement in the car's performance.
MbenzGram: the Go-To Source for All Manners of Aftermarket and Performance Parts
MbenzGram (also known as MB Gram) is an online distribution store for high-grade performance and aftermarket parts. In operation since 2013, the company offers all car enthusiasts one of the very best selections of aftermarket and performance parts for both standard cars and racing cars.
Since they charge a very low commission (compared to online wholesale giants such as Amazon and eBay) to the manufacturers of the parts, MbenzGram can offer their wares at a highly competitive price.
All items purchased at the MbenzGram website also include a 30-day return policy. In addition, the customers enjoy free shipping for all items over $200 in the USA and internationally.
MbenzGram Reviews
One can check customer reviews for MbenzGram on their website and other related platforms. The majority of the reviews we've found are positive, and the website enjoys a 4.43/5 stars rating based on these reviews. The company also enjoys a Trust Score of 76% and a Trust Rank of 80.9/100, both of which will fall into the category of 'Excellent'.