Marine buoys are used for maintaining the position of ship as needed for that particular period. They could also be used in the form of navigation symbols for ascertaining safety on the part of aquaculture vertical and ocean explorers. The oil & gas vertical remains the largest explorer over here during various operations in the form of support vessels, offshore rigs, cargo ships, and floating production vessels. Persistence Market Research has entailed these facts with vision in its latest market study entitled "Marine Buoys Market".
Marine Buoys Market Occupancy – Sub-section-wise
The global marine buoys market, by type spans steel buoy and plastic buoy. By end-user, it's marine & defense, oil & gas, aquaculture, and likewise. Initially steel buoys were preferred as they had a better resistance to severe offshore conditions, but technological advancements have compelled the key players to go for plastic buoys with the desired characteristics. As such, they dominate the marine buoys market as of now and are expected to do the same going forward as well.
The life-expectancy is between 20 and 25 years. On the other hand, oil & gas sector holds the largest market share as there are several exploration activities conducted at various depths like ultra-deep, deep, and shallow. Persistence Market Research has highlighted these findings with future perspectives in its latest market study entitled "Marine Buoys Market".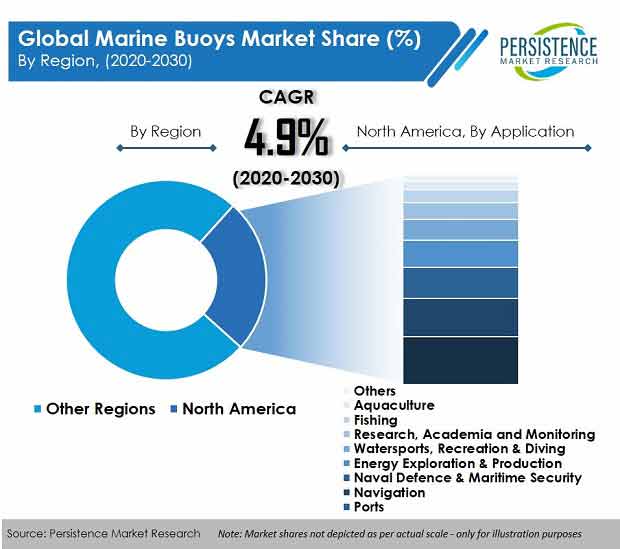 Region-wise Snapshot
North America holds a significant market share due to the flourishing oil & gas sector coupled with robust investments in the defense sector (especially naval defense). The ongoing industrialization would continue to ask for more energy. Coming to Europe, offshore wind ought to drive the demand for mooring buoys. LATAM and MEA are expected to pick up pace due to countries like Peru, Mexico, Brazil, and the UAE planning investment in offshore wind. Also, the fact that they have a strong presence in oil & gas industry can't be ignored. The Asia-Pacific is expected to grow herein from aquaculture point of view. Persistence Market Research has entailed these facts with insights in its latest market study entitled "Marine Buoys Market".
Competitive Buoyancy
Persistence Market Research has profiled the key players in marine buoys market as James Fisher and Sons Plc, Marine Instruments SA, Wealth Marine Pte Ltd., JFC Marine Ltd., Walsh Marine Products, AXYS Technologies Inc., Ocean Scientific International Ltd. (OSIL), A-Laiturit, Pharos Marine Automatic Power, Mediterraneo Senales Maritimas S.L., Zeni Lite Buoy Co., Ltd., Floatex SRL, Fugro N.V., Fendercare Marine Solutions Ltd., Sealite Pty Ltd., and Plastech Industrial Co.
Persistence Market Research has also gone ahead with mentioning about the latest developments in this regard. For instance – Orwell Offshore, in October 2020, did procure a contract related to buoy fabrication with the following dimensions – 10.6 m tall, 16.5 m in diameter, and weighing close to 290 tons. As per the contract, Pinnacle Oil  as is to install that buoy and the rest of the functionalities, i.e. Drydocks World – Dubai to go with fabrication engineering, machining, assembly, mechanical completion, inspection, testing, and loading out of SPM buoy. GISMAN, in September 2020, did announce that it had successfully completed supplies of LED lights, traffic lights, AIS and monitoring system, modular polyethylene buoys, and technical assistance to design tower in Morocco. ANFAL is assisting GISMAN in this project.
GAIN COMPLETE ACCESS TO THE REPORT – https://www.persistencemarketresearch.com/checkout/32280
What's with the future?
The global marine buoys market is all set to grow exclusively in the forecast period – Persistence market Research