Every computer lover wants to experience each computer accessory. Whether it is a headphone, microphones, displays, or keyboards. All the peripherals excite the users because of their utility and advanced features. One of the most important computer accessories is the external keyboard. Since the original keyboards come up with the PCs or laptops don't satisfy the users. This is the main why they spend extra money on these accessories. There is not only a single type of keyboard. Computer users may agree that over the course of the period, the needs increased, and the technology got improved. Now it is your decision what kind of keyboard you want, whether the best 75 percent keyboard in size or maybe less. In this article, you will get to know about different types of keyboards and what type will suit you. Let's uncover.
Importance of keyboards in daily life:
Keyboards are the main input device that is widely used in daily life. Keyboards can be used for various purposes, but most people used keyboards for the expression of their anger. This research says that typing on the keyboard has a connection with your emotions, so whenever you get angry while sitting near the computer or typing, you just start pressing down the buttons hard. Keyboards are the daily drivers as you can't feed or instruct the computer manually, so it is important to have a keyboard in your daily routine. If you have ever gone to the hospital, so you may have seen them typing with rapid speed and they find the products in the record within seconds. This is the magic of keyboards. Additionally, you need to command the laptop or computer only through the keyboards since there is no touch screen over there. You navigate the computer with the help of a keyboard without it you will face certain issues in working. There are different types of keyboards in the market that the manufacturers offer. But you need to find a suitable one for you, so you could comfortably complete your work.
Types of keyboards that are widely popular among users: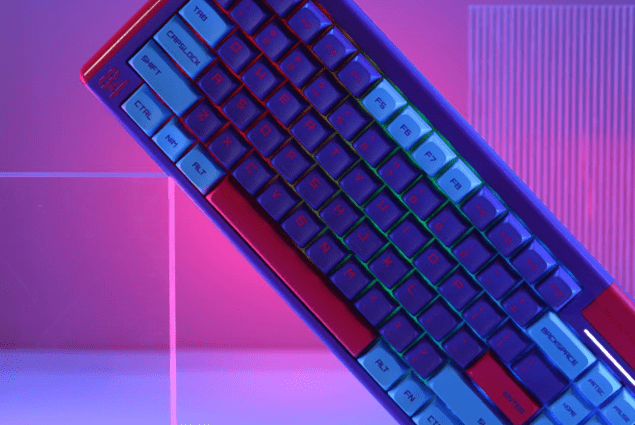 These are the different toes of keyboards that users like to use with their computers. Each keyboard works differently, so the dynamics of using it vary from keyboard to keyboard. There are different sizes, adjustments, and functions in keyboards. You may select the best 75 percent keyboard or more than 75 depending on your requirements. Here is the list of the keyboards.
Wired keyboards
Qwerty keyboards
Numeric keyboards
Mechanical keyboards
Ergonomic keyboards
Wireless keyboard
Membrane keyboards
Wired keyboards:
A wired keyboard is a keyboard that has a wire connection to your computer. These mostly have USB-based connectivity. These are highly reliable keyboards as you don't need to be worried about battery issues and input lags. These keyboards less struggle with interference problems than other keyboards. This type of keyboard doesn't need any battery to function. These keyboards are cheaper than any other keyboards.
Qwerty keyboards:
The qwerty keyboard layout was primarily designed for the convenience of writing telegraphs. These are the old-fashioned keyboards and are one of the oldest keyboards. Typists also used this type of layout for typing documents. Students also learn typing by practicing on these qwerty keyboards. As they are easy to use, and a beginner gets used to them sooner. This keyboard is tried and true and the ideal choice for daily typing.
Numeric keyboards:
The numeric keyboard has a compartment for numeric digits. This type of keyboard has numeric keys as opposed to conventional keyboards. People use this keyboard for various purposes such as typing the data of long sequences of numeric digits swiftly in spreadsheets and others. This keyboard is an ideal choice for people, who use computers for calculations, programming, and all things relate to numbers. Providing your computer with numbers is quite alike to a calculator. Some PCs come up built-in with a numeric keyboard. But a few manufacturers don't provide their users with this facility. They need to buy extra from the market.
Mechanical keyboards:
One of the most advanced and popular keyboards in the current era especially among working professionals and gamers who want their accessories to be flexible and fully customizable. So here is the mechanical keyboard which works through different mechanisms. This type of keyboard is truly customizable, and you can whatever to want to customize this keyboard. They provide great accuracy while typing, unlike any other keyboard. They are more durable and provide a tactile feeling when each key is pressed. They have 3 major types of Linear switches, clicky switches, and tactile switches. You can easily select any type of keyboard you want. If you are a gamer and looking for a better choice with reliable features, so this keyboard is a must.
Ergonomic keyboards:
One of the best types of keyboards which are mainly designed for the comfort of the user. These types of keyboards are highly versatile. Their build is so flexible, that it adjusts to your hand shape in order to reduce the strain on the palms, hands, wrists, and overall movement. For people who get easily tired while typing, this type of keyboard is an ideal choice for those. If you are one of them, use them and experience something different.
Wireless keyboards:
Wireless keyboards are also a great option if you don't want to handle the long complex wire connections. This is a great choice for people who want their accessories to be connected swiftly. These come up with receivers that are connected to the USB port. It automatically sends the radio frequency signals and starts working.
Membrane keyboards:
This keyboard has separate keys, not combined, unlike other keyboards that are covered by a soft plastic transparent layer which have little movement while it is being used. These keyboards provide great portability and act as a proactive layer from dust and other particles trapped.
Conclusions:
All the major types of keyboards have been discussed, now it is your decision, what type of keyboard you use. Read the blog thoroughly and surely you will realize your need which will help you to make your purchase decision.