Make medals and crypto rain down when you spin winning combos and other exciting gameplay in this new farm-themed Play-and-Earn game.
Lucky Farmer, a new farm-themed coin pusher NFT game by GameFi company Digital Entertainment Asset (DEA) has just launched on the PlayMining Web3 entertainment platform. In this new Play-and-Earn (P&E) game, players can enjoy a range of rewarding incentives, such as earning DEAPcoin ($DEP) tokens which can be traded on a number of crypto exchanges or spent on the PlayMining NFT marketplace.
PlayMining offers two kinds of Lucky Farmer NFTs that enhance gameplay. Farmland NFTs can be purchased to give access to special crops and increase the player's chance of winning both in-game medals and DEP. Character NFTs are also available, which allow players to change their avatar and the game's background and music. When certain combinations of farmland and character NFTs are used together, players have an even higher chance of winning the game.
Lucky Farmer is played by spinning a slot machine to make medals rain down. The goal of the game is to collect as many medals as possible, which can be exchanged for DEP tokens. Medals can also be spent on in-game items, farm pet advancement, and entrance to weekly ranking competitions where even more DEP can be won.
Lucky Farmer is an excellent example of how P&E games reward players for their time spent participating in the gaming economy. DEP tokens earned in one PlayMining game can be used to purchase NFTs for other games on the PlayMining GameFi platform, which currently has 2.6 million registered users.
Packed with Cute Farm-themed Features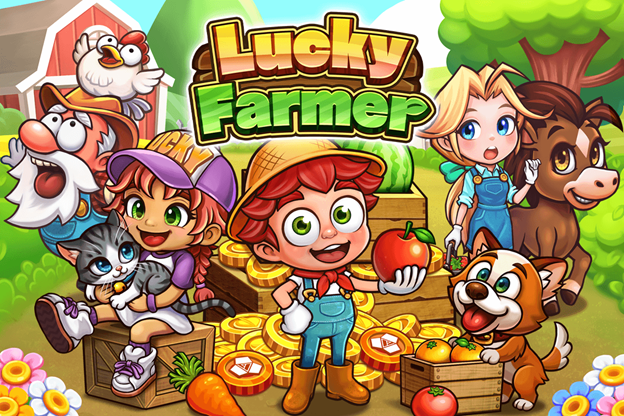 The in-game slot machine gives a range of fun combos that affect gameplay in different ways. Of course, it wouldn't be a slot game without the triple-seven jackpot, which in Lucky Farmer triggers 'Fever Time' causing a flurry of medals to drop at once.
There are also farm pet slot combos that drop crops or eggs onto the field. Pets become friendly when players feed them, making them even more likely to give beneficial rewards. Hatched eggs give the players numbers to play Bingo and 'JACKPOTCHANCE' for even more rewards.
In addition to purchasing NFTs from the PlayMining NFT marketplace, players can use DEP in-game to buy  'Lucky Boxes'. Inside each Lucky, Box is a random NFT or in-game item.
PlayMining GameFi Platform and User Base Continues to Expand
Lucky Farmer joins a number of other NFT games on the PlayMining platform, including Job Tribes, Cookin' Burger, Menya Dragon Ramen, and Graffiti Racer. Both Menya Dragon Ramen and Graffiti Racer are also recent launches, and DEA has a host of other Web3 games in the works.
The PlayMining NFT marketplace sells NFTs for their games, along with artwork NFTs from some well-known anime and video game creators. Notably, PlayMining NFT pays out royalties to the official owners of an NFT's intellectual property (IP), as well as to fan artists. To date, over SG$9 million in royalties has been paid out to creators.
DEA develops its own games but also caters to independent game studios that can launch their games and enjoy the IP monetization capabilities that PlayMining NFT has to offer. A metaverse initiative is also in the works, which will give third-party game developers yet another avenue to expand their IPs. 
PlayMining is expanding its player base all over the world but is especially prevalent in Southeast Asia and Japan. A recent partnership with YGG SEA, a subsidiary of the world's largest P&E gaming guild Yield Guild Games, will see the PlayMining game catalog onboarded to the Southeast Asian GameFi platform yggsea.io. In Japan, DEA has partnerships with both TV Tokyo and Rakuten Group to explore Web3 opportunities, and DEAPcoin was the first P&E token to be approved by the Japanese Financial Service Agency.
According to co-CEO and co-founder Naohito Yoshida, their goal for PlayMining "is to bring more and more third-party studios on board" and grow a game library "that rivals Nintendo". 
Check out Lucky Farmer and follow PlayMining on Twitter, Facebook, Youtube, and join their Discord channel for the latest updates.