Linear Tape-Open or LTO is a magnetic tape data storage technology developed in the 1990s as an open-standard alternative to traditional and proprietary tape formats. To further develop the LTO technology, and to regulate the licenses & certifications, HP, IBM, and Quantum joined hands to form the LTO consortium.
Initially, there were two form factors defined for LTO tapes, but eventually, LTO Ultrium became the most used and produced tape format. It is a single-reel magnetic tape technology with a high storage capacity suitable for backups and archives. The ninth edition of LTO Ultrium was released in September 2021, which elevated the storage capacity of LTO tapes to 18 TB, much higher than the first LTO Ultrium tapes with 100 GB capacity (launched in 2000). Let's learn more about LTO Ultrium, its benefits, and how it works.

How do LTO Ultrium works?
The LTO Ultrium Data Cartridge consists of a ½-inch wide magnetic tape spooled in a reel form, further protected in a cuboid enclosure of predefined dimensions. 
These tapes are sufficiently durable and can easily handle approximately 5000 loads and unload. Admittedly, it's not much compared to the digital storage media, but the long life span of 15-30 years beats its modern rivals when it comes to storing voluminous data for a longer span. 
Most LTO Ultrium tape cartridges use the Linear Tape File System (LTFS) tape format and file system to store data. 
Without LTFS, the data on tape is written in a sequence of files or data blocks separated by filemarks. On the contrary, LTFS uses XML-based index files to organize the data into organized directories. This makes the tape data much more easily recognizable and accessible.
The data is written into tracks on the magnetic tape. These tracks run either linearly or diagonally on the tape and are classified as linear recording and helical recording. 
Older tapes used 8 tracks per wrap, but the number has increased to 32 tracks per wrap in the modern LTO 9 tapes. Although the method of writing remains the same, the storage capacity has increased exponentially. 
LTO Ultrium tape drive
The LTO drive reads the data stored on the tape. Each drive is marked for a particular generation of LTO tape and supports its  immediate predecessor. So, for example, if the drive is marked for LTO 8, it will also support the LTO 7 generation. You can see the external components of an LTO tape drive in the image below.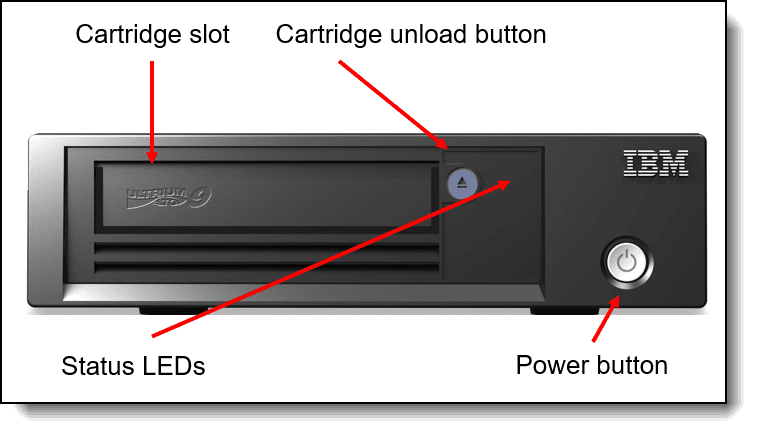 Features of LTO Ultrium tapes
Some of the important features of LTO Ultrium tape are as follows. 
Compression
The LTO tapes can store data in a compressed form, allowing them to store a huge amount of data on a single LTO tape cartridge. While the first-generation LTO tapes can compress data up to 200 GB, the LTO 9 tapes have a compressed storage capacity of 45 TB. The data transfer speed has also improved from 20 Mbps for LTO 1 to 400 Mbps for LTO 9.
WORM (Write Once Read Many)
LTO tapes are a primary choice of organizations for regulatory and data compliance purposes. To make the LTO Ultrium tapes more suitable for this purpose, they come with the WORM or Write Once Read Many feature. This feature prohibits the user from overwriting or destroying the data once stored on the tape. 
LTO WORM feature allows users to store their valuable data in a non-rewritable format. It contains algorithms based on Cartridge Memory accompanied by a low-level encoding that prevents tampering with the data stored on the tape. However, the WORM feature is available only on LTO 3 and later versions.
Encryption
The LTO tape cartridges have sturdy encryption capacities to ensure security and data privacy while storing and transporting the LTO Ultrium cartridges. The encryption feature is specific to each LTO generation released post-LTO 4. The LTO 4 cartridges feature the AES-GCM algorithm implemented at the drive level with a 256-symmetric key. It helps compression before encryption to enhance the tape capacity and ensure optimum performance during data backup. As a result, the LTO tapes include one of the strongest encryption facilities to safeguard your vulnerable and sensitive data.
Partitioning
The partitioning feature is available in LTO 5 and later generations. This feature allows the user to divide the tape cartridge into separate writable sections known as partitions. While the LTO 5 has a capacity of two partitions, the later generations can be partitioned into four sections. The first section is allotted for indexing to tell the tape drive where exactly the data is stored on the tape. Other partitions are used for actual data storage. With LTFS, the indexing information is read by the drive that enables drag and drop feature on the tape, making it similar to a USB flash drive.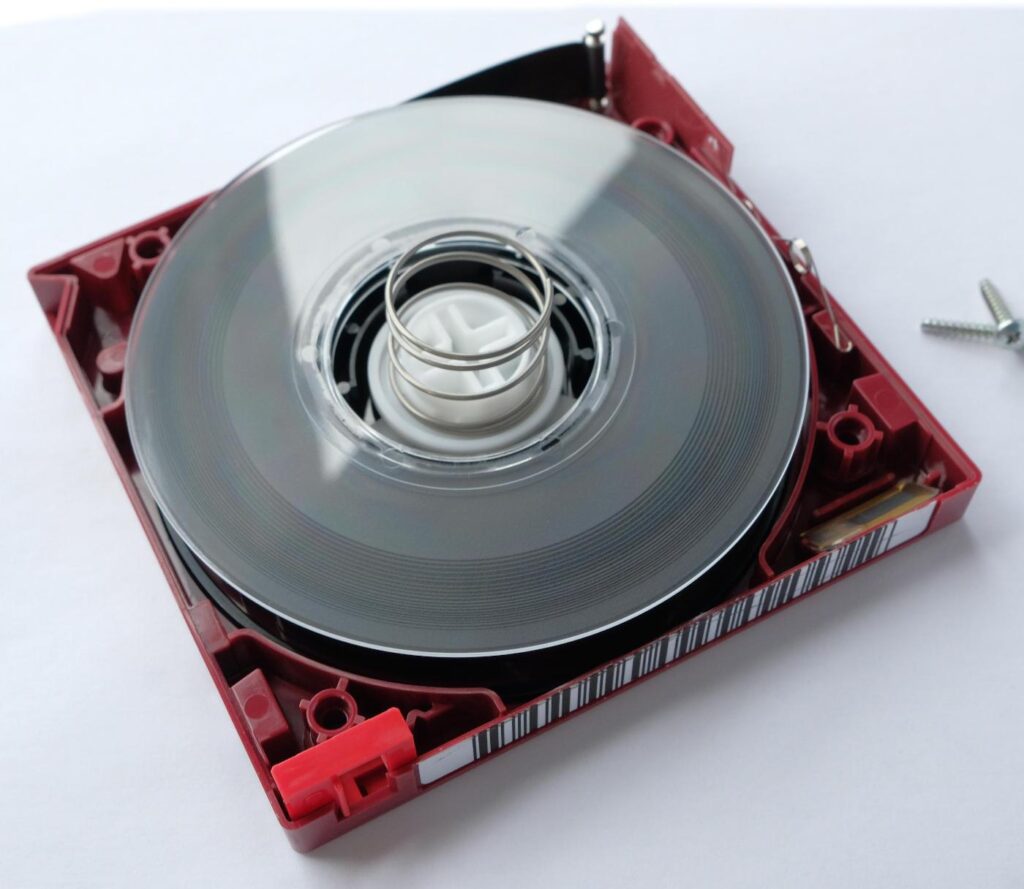 Advantages of LTO Ultrium tape
LTO tapes are preferred by organizations with legal compliance and voluminous data storage needs. In addition, these are cheaper than their modern counterparts and favorable due to their longer life that may stretch in decades. Here are some of the key advantages of using the LTO Ultrium tapes.
Huge storage capacity of up to 18 TB

Long archival storage life of 15-30 years

Comparatively better performance and durability

Provides high data streaming rates of up to 400 MB/s, which is more than double the transfer rate of a conventional HDD with a transfer rate of 160 MB/s.

Multiple products from different vendors are compatible with each other.

Affordable in terms of total ownership cost.

Offers offline data security for sensitive data.

Linear Tape File System allows easy view, archiving, and data sharing.

Allows easy and secure data transfer from one location to other.
Data Recovery on LTO Ultrium tapes
You might have heard tall claims about tape data recovery from multiple data recovery tools. Still, in reality, only a handful of good data recovery tools are available for LTO tapes. However, if you get your hands on a professional tape data recovery software, retrieving any lost data from an LTO tape is quite easy. One effective tape data recovery solution is Stellar Data Recovery for Tape. 
It is an advanced software developed by Stellar's globally trusted data recovery experts. The software is fully compatible with all generations of LTO Ultrium tapes. The software allows a preview of recoverable data and retrieves all types of tape data with the original date and timestamp. Stellar Data Recovery for Tape can recover data from corrupt tape media and supports Windows 11, 10, 8.1, and 7.
Conclusion
The above is a mere glimpse of the advantages that this robust and scalable storage technology has to offer. There are many more advantages, which will magnify as this technology's evolution is still going on. So you may conclude after reading this informative piece that judging LTO tapes as outdated is a misconception. Tell us what you think in the comments below.