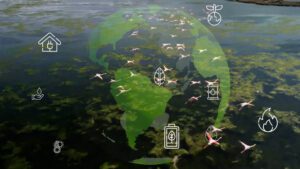 Did you know that you can lower your carbon footprint when you travel, by the choices that you make?
You can lower it quite a bit, but you have to make some wise choices, but the choices that you make can make you more carbon-neutral when you travel.
Global warming is a concern to all of us, but most of the largest companies cause about 715 of all industrial greenhouse gas emissions, but we can still play our part in saving our planet.
And with the Paris Agreement, over 100 nations have gathered and have set limitations for certain counties, and industries to reduce global warming.
We can play our part in reducing global warming, with the vehicles that we drive, the products that we buy, and the vacations that we take, we can all help to reduce the extreme weather patterns that we are now seeing.
How We Travel For Vacations
With the popularity of electric vehicles, and hybrid vehicles traveling by car has become a much better way to lower your carbon footprint.
But almost 30% of all of Europe's CO2  emissions are caused by automobiles, and by 2030 all vehicle manufacturers have to go electric by then.
But if you travel by car for your vacation, a better way to lower your carbon footprint is to travel with friends.
This can help you lower the number of cars on the road, and it is more carbon friendly for all of the passengers.
A good way you can pay for your vacation is to use the equity that you have in your automobile, and companies like TFC can help you to get the money to pay for your vacation.
You can also travel by train, this is a good way to keep your carbon emissions to a minimum, your CO2 emissions when you travel by train are less than one percent.
You can also travel by coach, it is an economical way to travel, and it can also help you to lower your footprint while you travel.
Eco-Friendly Airlines
Traveling by air is a great way but choose a company that is also eco-friendly. There are plenty of eco-friendly airlines, and some are really trying to make a difference.
 Virgin Atlantic is one of the more eco-friendly airlines. They prompt carbon offset programs and invest in them.
 They also offer organic food and use sustainable sources. They are promoting biofuel research. They also have a recycling program, and they are also focused on reducing their own company's carbon footprint.
The airline industry is a major culprit in co2 emissions, but there are a few companies that are promoting Greener Skies.
They are starting to invest in carbon offset programs around the world, are looking into alternative fuels, and are working on being more fuel efficient with all of their planes.
These companies are Air France, Alaska Airlines, KLM, and JetBlue.
Greener Places To Stay
Choosing a greener place to stay will also help you to lower your carbon footprint, it will make a difference if you are choosing a hotel, renting a house, or a furnished apartment.
When you stay in hotels the carbon footprint of the hotel is large, so you will not have control of your carbon neutrality.
When you rent a home or an apartment that is furnished, you will lower your carbon footprint quite considerably.
In a hotel, there is housekeeping, changing the sheets and towels every day, and the hallways are always lit.
In a home or an apartment, you can turn off the lights, and do the laundry when needed, there is just greater control over your whole environment.
Also, you can buy local food and groceries. You will be able to buy locally grown and organic produce. It has become a more eco-friendly choice.
Renting a home or an apartment can be a little more expensive upfront, as you will need to pay for everything in advance, and provide a security deposit.
If you are having difficulty with the extra money, you can use the equity that you have in your vehicle to get it, you can check out this website.
There are also eco-friendly resorts and there many different types of options for you to choose from.
You can go glamping, or stay in solar-powered resorts. They will limit the water usage with pull chain showers, and other energy-efficient ways to operate, but they will help you to lower your carbon footprint while you are on your energy-efficient vacation.
Staying Local and Eating Local
When you rent a local home or an apartment, you will get to feel the location, you will feel like you are a local.
 Visiting the local markets, and eating in the local restaurants will help you to invest in the local economy, and also lower your carbon emissions.
 This is the way to really help the local economy and promote a more sustainable vacation. Your choices of where you can stay will greatly help the environment, and give you a wonderful experience of the local culture that you will not get when you stay in a hotel.
Extend your stay and only visit one location, this will limit the number of flights that you have to take.
As you can see the choice that you make when you travel can greatly reduce your carbon footprint when you travel, we all need to be aware of what we can do to help our planet.
 These choices will help you to feel better about your vacations, and experience a different side to the locations that you are visiting, by not staying in a hotel, flying, or not eating local produce.