Lootex, a GameFi marketplace to buy non-fungible tokens (NFTs) and in-game assets, has extended its partnership with The Sandbox, a metaverse built on Ethereum and Polygon, enabling players to build, own, and monetize their gaming experience. One major aspect of the extended partnership is that Lootex starts to build its Avatar Equipment for the Founder's Badge holders inside of The Sandbox.
The equipment is exclusive, and Lootex users can get it only if they earn a Founder's Badge, which was first announced at the beginning of March 2022. The Founder's Badge demonstrates players' commitment to the Lootex ecosystem, and one way to obtain it is by staking 1000 LOOT tokens or more and locking it for no less than 12 months.
The latest collaboration extends the existing partnership between Lootex and The Sandbox, which started in 2018. This part will see Sebastien Borget, Co-Founder and COO of The Sandbox joining Lootex as advisor and investor: "I'm pleased to support Justine, David Tseng, CEO &Co-Founders, and the Lootex NFT marketplace in their next steps. They have been pioneers in Taiwan, helping new talents to emerge and bring crypto games to a global audience."
This is a win-win for both parties, as Lootex and The Sandbox have many things in common, such as leveraging Ethereum and Polygon networks.
For Lootex, The Sandbox is an important metaverse with great potential. Lootex co-founder and CEO Justine Lu commented on the tighter partnership:
"The Sandbox has one of the most creator-friendly toolkits and game environments. Lootex is proud to be a long-term partner with The Sandbox, and expects to see more game developers and creators utilizing The Sandbox to make the next generation of metaverse assets and games."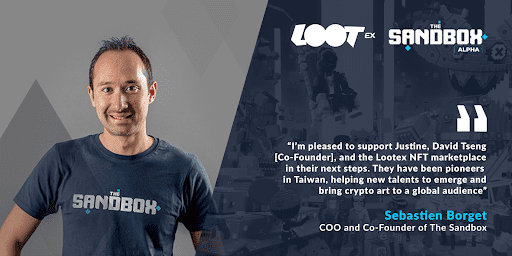 What Is the Founder's Badge on Lootex?
Understanding the Founders Badge is important because it can give you access to The Sandbox Avatar Equipment, which is still in development.
After introducing the proprietary LOOT token back in January, Lootex announced the Founder's Badge to give select users the status of founding members and let them access a variety of favors and perks. The NFT badge represents a 3D anatomically correct heart that comes with an original audio track. There are three variations of the badge:
Purple (level 3) is legendary.

Gold (level 2) is epic.

Silver (level 1) is rare.
It's worth noting that each wallet can hold no more than one Founder's Badge, and the badges are not transferable. The legendary and epic badges can only be acquired before April 24, 2022. 
Badge holders enjoy unique benefits on the Lootex ecosystem, such as being whitelisted for free mints, participating in launchpad presales, and being a part of The Sandbox metaverse.
Gear up for The Sandbox metaverse
The Sandbox equipment is a great way to let players express their style and status within the Sandbox metaverse.
The Sandbox avatar equipment NFTs will be airdropped to the wallets of Lootex members holding Founder's badges, and the first units will be available in the second quarter of 2022.
Preview of Lootex In-game Equipment in The Sandbox (Exclusive to Founder's Badge Holders Only):  
The Purple and Gold NFTs will have a limited supply, but the Silver in-game NFTs will be open to everyone at any time. All players have to do is to stake 1000 $LOOT. New players can receive their founder's badge along with the in-game NFTs at the end of each month.
For Lootex, this is a great start to its metaverse journey. Recently, the GameFi marketplace announced the support for Avalanche, Arbitrum, and Cronos blockchain, consolidating its multi-chain NFT marketplace narrative.
About The Sandbox
The Sandbox, a subsidiary of Animoca Brands, is one of the decentralized virtual worlds that has been fueling the recent growth of virtual real estate demand having partnered with major IPs and brands including Warner Music Group, Ubisoft, The Rabbids, Gucci Vault, The Walking Dead, Snoop Dogg, Adidas, Deadmau5, Steve Aoki, Richie Hawtin, The Smurfs, Care Bears, Atari, ZEPETO, CryptoKitties, and more.

Building on existing The Sandbox IP that has more than 40 million global installs on mobile, The Sandbox metaverse offers players and creators a decentralized and intuitive platform to create immersive 3D worlds and game experiences and to safely store, trade, and monetize their creations. For more information, please visit www.sandbox.game and follow the regular updates on Twitter, Medium, and Discord.
About Lootex
Lootex is a player-centric, cross-chain NFT trading platform that shares the latest blockchain game info. It is devoted to building a gamer-centric game asset marketplace where anyone can easily browse and trade game assets across multiple blockchains.