Many of the traditional lenders still struggle with digitalization. For a bank that results in lengthy approval procedures, uncompetitive interest rates, tedious paperwork, and legacy interfaces. And while ten years ago that may have worked, today borrower has a choice.
To successfully compete, banks have to go digital and keep up with the speed of innovation in their own marketplace. With the right software – that's not a challenge to scared of. Today, we take a look at TurnKey Lender Enterprise, an intelligent banking software solution for automation of lending processes in large-scale financial institutions.
Intro to TurnKey Lender Enterprise
The key differentiators of TurnKey Lender Enterprise are its unmatched flexibility and the time-to-market this system allows banks to achieve. The solution consists of modules that are fully autonomous and can be used both independently of each other to address the specific needs of a business or as an end-to-end solution.
TurnKey Lender's work with enterprises such as HSBC, Citi, Boeing, LG, and Bank of America has helped the company create the Enterprise solutions that would have the agility of a SaaS and capabilities of a custom system.
By default, the solution focuses on credit decisioning and loan origination because these are the portions of a loan's life cycle that banks struggle with the most. The default options in TurnKey Lender Enterprise for Banks include but aren't limited to:
AI-driven credit decisioning

Loan origination automation

Loan servicing automation

Loan collection automation
Solution details
The platform was built to ensure flexibility, scalability, security, customizability, and ease of integration. Let's look at what enables each of these characteristics in this solution.
Flexibility
Banks need to continuously adjust business flows based on market changes and regulatory updates. Few solutions on the market, though, can automate portions or the entirety of the lending process for large-scale organizations. Mostly, such solutions require extensive source code editing in order to alter business logic, and editing the source code of a lending platform is a laborious undertaking.
Changing one element requires dozens of codependent system elements to be fixed. With most automation systems, this leads to constant maintenance work on the backend and ongoing expenses for business analysis and software development.
By contrast, TurnKey Lender's Business Logic Builder enables the full customization of a system's business flows from a single interface (see Figure 1). No matter how complex an organization's business logic is, it can be built within the simple drag-and-drop interface. Any changes to the structure automatically apply to the whole system, without the need to write a line of code.
Figure 1. Turnkey Leder's Business Logic Builder
Scalability
By default, the TurnKey Lender for Banks can process 100+ loan applications at a time. Regardless of the volume of data, TurnKey Lender can be adjusted to meet the needs of the organization.
Hewlett Packard ran a thorough performance test on the TurnKey Lender platform. This is what they stated:
The solution is cost-effective and highly efficient. Once deployed, it is operational on day one, and the customer does not need to worry about day-to-day operations such as backups, etc.
TurnKey Lender offers an easy path to use a lending automation platform coupled with a decision-management platform. Overall, the platform presents a flexible configuration choice on a highly scalable and reliable infrastructure.
The full report is available here.
Security
The TurnKey Lender information security and management system strictly adheres to ISO 27001:2013 (registration number SG81563E) and 9001:2015 (Quality Management Systems Requirements, registration number SIC.02.040.1709). Platform architecture conforms to NIST and OWASP security guidelines.
Customizability
After decades of work with enterprise-level lending businesses, Turnkey Lender has developed extensive expertise in neural network models' development. TurnKey Lender uses an AI-driven decisioning engine powered by deep neural networks, machine learning algorithms, and a proprietary customizable scorecard. The software is fully customizable according to an organization's specific needs, helping make the fastest and most accurate credit decisions in the industry.
The decisioning engine takes into account the criteria for borrower evaluation set in the scorecard. The application analysis takes seconds and provides the risk manager with a single metric needed to make a loan decision (see Figure 2).
Figure 2. Turnkey Lender decisioning engine results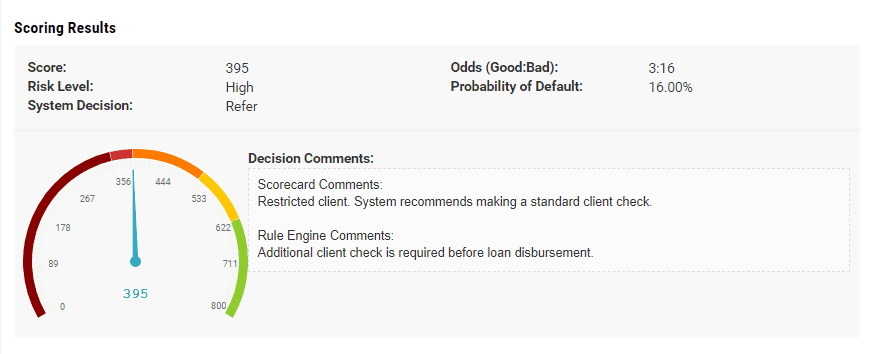 If an organization decides to investigate an applicant, they can do so in a dedicated screen with all the borrower data in one place.
Ease of integration
TurnKey Lender for Banks was designed for organizations that have a core banking system in place but are lacking one or more parts (e.g., intelligent automated loan origination). While the backend architecture of each organization differs, making any integration process complex, TurnKey Lender has extensive experience solving complicated software problems and integrating our modules with banking systems as if they were created for each other.
With TurnKey Lender, there is no need to pay for our end-to-end lending platform if an organization just needs loan decisioning, origination, or servicing. If at any point an organization needs to enhance its existing system with additional functionality from Turnkey Lender, that can be easily accomplished.
Key benefits of TurnKey Lender for Banks
Enables AI-powered loan decisioning and origination

Provides intuitive interfaces for employees and borrowers

Eliminates human error in credit decisioning

Improves customer lifetime value

Increases operational efficiency while cutting costs

Decreases paperwork and streamlines workflows
This is just a sneak peek under the hood of TurnKey Lender Enterprise for Banks. It would take much more time to give a full review of the solution. Plus, each operation's specific needs differ. To address that and show you what the solution can do for you in particular, TurnKey Lender offers free personalized demos of its Enterprise solution. You can get in touch with the team to discuss your lending automation needs here.