What Is Lear Capital?
Founded in 1997, Lear Capital is one of the largest precious metals dealers in the US, with support for the most stable precious metals and excellent reviews on sites like Trustpilot. With Lear Capital, you can purchase and store gold, silver, and platinum and use your existing IRA to put your retirement money to work.
Lear Capital offers plenty of high-quality products, including dozens of IRA-eligible bars and bullion coins – with the required purity of 99.5% –plus coins and rare statues worldwide. Lear Capital also supports most IRAs, and you can create an SDIRA with any of their partners and enjoy benefits like no storage or set-up fees, price match, and personalized reports on your assets.
In this quick Lear Capital summary, I will go over all the best features of this platform. If you want to read a more in-depth analysis, check out our full Lear Capital review.
Pros & Cons of Lear Capital
Pros
Invest in high-quality gold, silver, and platinum
Simple to use platform
Price Match Guarantee
Free price evaluation for your precious metals
Fully insured by London underwriters
Invest in precious metals using tax-advantaged IRAs
Cons
$5,000 minimum investment
Limited offering of precious metals
Invest In Precious Metals With Your IRA Account
With Lear Capital, you can create a new IRA – or rollover from an existing IRA account – and enjoy the same tax benefits as you invest in the three most stable precious metal investments: gold, silver, and platinum. Here are the steps to get your account set up and ready:
Visit Lear Capital's website
On the top left, open the IRA menu and click Open or Rollover
Fill in some of your basic information
Select an opening amount for your investment
Fund your Lear Capital account
After you've entered your information, a Lear Capital rep will contact you and guide you through the whole process, step by step. Some of the benefits of setting up an SDIRA with Lear Capital include:
No storage or set-up fees
Personalized reports
Price match
Free metal evaluation from competitors
Free gold & silver investing guide
Safely Invest In Gold, Silver, & Platinum
Lear Capital mainly focuses on bars and bullion coins, with dozens of options worldwide. Keep in mind that the only coins and bars that qualify for IRA tax-advantaged accounts must have a purity of at least 99.5%. Some of the options listed in the Lear Capital vaults are:
Gold American Eagles
Canadian Maple Leaf Gold Coins
Silver American Eagle
Canadian Maple Leaf Silver Coins
If you don't find what you're looking for, you can always try a platform like Money Metals Exchange. It has slightly higher fees, but offers access to a wider range of metals, including rhodium and copper.
Compare Competitor's Prices From The Lear Capital Dashboard
With Lear Capital, you don't have to purchase to access some useful features. For starters, the Free Price Evaluation tool is available to all users – all you need is to create an account. Through this Free Price Evaluation, Lear Capital will conduct metal analysis and tests on your assets – even those bought from other metals dealers or inherited. You'll get detailed pricing on each unique metal asset.
The Price Match Guarantee means you'll always get the best price when purchasing precious metals. This is how it works: you first find an asset you'd like to buy and make an order. Shortly after, Lear Capital will send you an invoice – after you receive it, you'll have 24 hours to confirm the purchase or find a better price. If you find a better price, Lear Capital will match it or offer an even lower price. If you're not satisfied at any point, you can cancel your order at no cost.
Lear Capital Security
Lear Capital is partnered with the IRS-approved Delaware Depository Services Company (DDSC), an industry-leading IRS depository since 1999. Additionally, Lear Capital offers a complete insurance policy – through their partnership with London Underwriters –that covers 100% of the assets stored in the Delaware Depository vault. Insured categories include physical loss and damage – fire, floods, earthquakes, or any other event.
Get Your Precious Metals Shipped In The US
Lear Capital works in tandem with all the major couriers in the US, including US mail, Express Mail, and FedEx. All packages are fully insured while in transit and require a signature upon delivery. Delivery times vary, but usually, you can get your precious metal in as little as 2-3 business days.
Lear Capital Fees
Lear Capital IRA: $200/year (plus a one-time set-up fee of $280)
Gold & Platinum Shipping: $24 per shipment (plus $1 per $1,000 spent)
Silver Shipping Fees: $24 per shipment (plus $13 per $1,000 spent):
Keep in mind that based on your initial deposit – $50k or less, $75k or less, or more than $75k – you can get the storage fees waived – 1 year, two years, or three years – respectively.
Sign-Up Process
Anyone can register and create a Lear Capital account, but the company mainly focuses on US citizens. There are no special requirements to create an account; you can get started in minutes, and you only need some of your basic information. Here are the steps:
Visit Lear Capital's website
On the top left, click Online Orders
Click Register Now
Fill in some of your basic information
If you use our link to sign up, you'll get a free 1.5 oz silver coin alongside your first qualifying purchase. Additionally, you'll have the option to join Lear Capital's referral program and earn an additional 1.5 oz silver coin for each referral – make sure they mention you when prompted as to who referred them.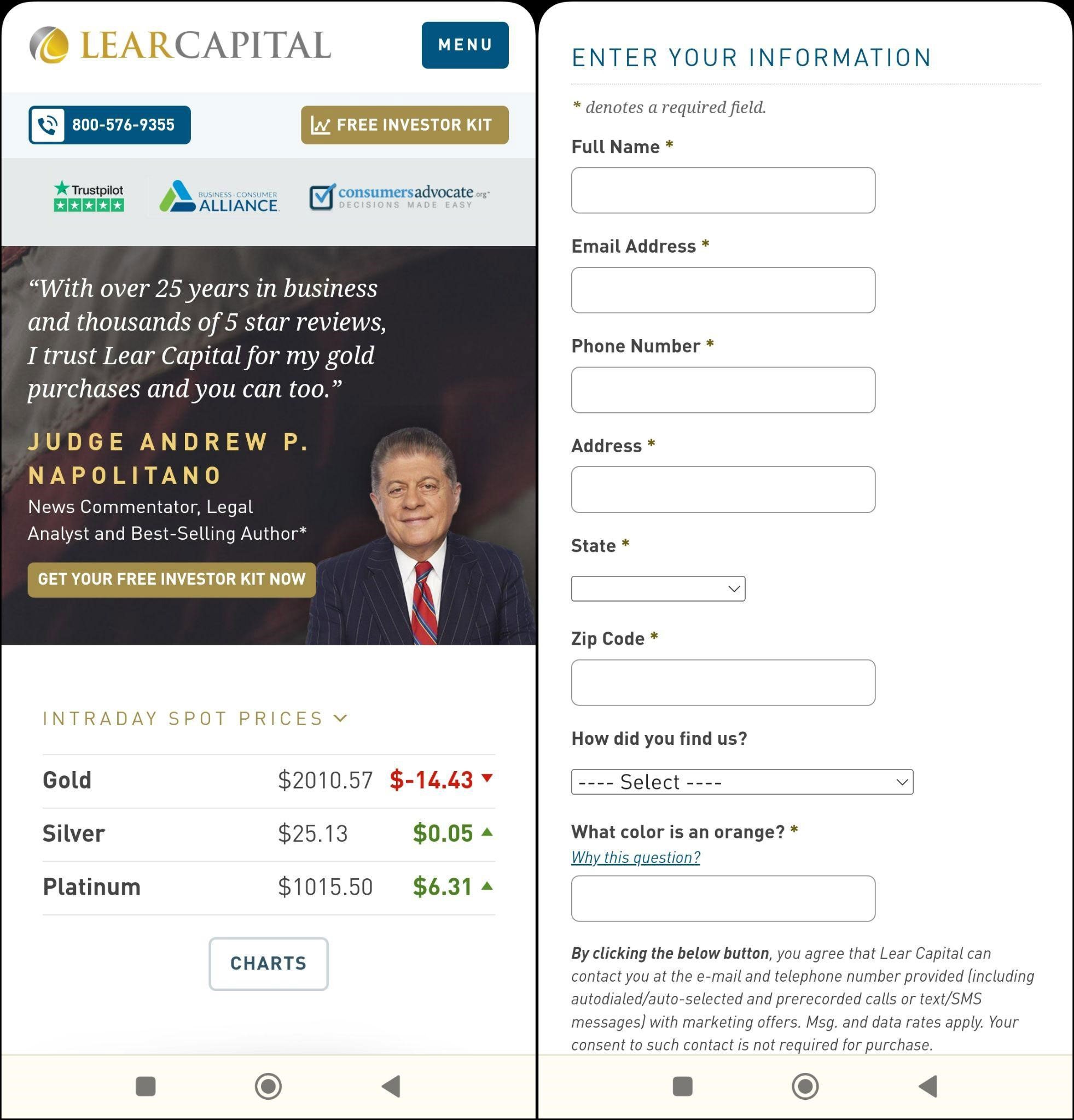 Lear Capital Trustpilot Reviews
Lear Capital has excellent reviews from its users, and it holds an average rating of 4.9 on Trustpilot. Here's what some of those users have to say about Lear Capital:
"This was our first purchase of precious metals, and while we had done some research, we didn't know much about it. Debbie was invaluable in explaining the process and answering all our questions. Her follow-through from start to finish gave us every confidence that our every expectation would be met. ." – Bill P.
"The staff is always professional and available to answer questions and concerns no matter how busy they are. Also, they make the transition from a 401K to precious metals IRA very easy for the customer—very fair deal on the selling price of metals.." – Johnny G.
"My first-time customer experience was pleasant and exciting. I never bought gold before! My representative Maxwell was reassuring and genuinely attentive in guiding me through my transaction every step of the way.." – Patricia P.
"I cannot say enough about the staff at Lear Capital. I had never made any investment in my life, but they walked me through it like I was a VIP. Several times I told them I wasn't ready and had to think about it – and they never dismissed me, but continued to answer questions and give me good information to read.." – Nancy J.
Final Thoughts
Lear Capital is an excellent investing platform if you're looking to put your retirement money to work. If you already have an IRA, you can rollover your funds, and if you don't, you can create an IRA with Lear Capital; their customer supports reps will take care of everything for you. With Lear Capital, you can have your assets sent to you anywhere in the US in as little as 2-3 days. Investing in precious metals is a great way to protect your retirement money against inflation, and there is no better option than Lear Capital for US investors.