GetProspect brings to you, the fastest way to prospect with a LinkedIn email finder. A Leads finder tool for multi-task B2B sales, recruiting, and marketing managers. CEO Dmytro Shulga will be sharing more details with us in this interview with TechBullion.
Please tell us your name and a little more about yourself?
My name is Dmytro Shulga, and I am a passionate digital entrepreneur. I created my first commercial website in 2006 at the age of 17. When I began to get more and more orders, in 2012 founded a small web studio named SAiT. One day I started dreaming about my own digital products. 
After a couple of failed projects, in 2016 was created a simple app that finds work emails. Since then, GetProspect has never stopped growing and evolving more users. Today we're proud to be the platform used by more than 50,000 active users worldwide.
What is GetProspect, and what services do you provide?
GetProspect (GP) is one of the web-based lead generation tools that provides work emails of the Prospects = persons/employees of specific companies who are supposed to be valuable as a lead to start selling your particular product or service. 
What makes GetProspect online lead finder unique and better than other online lead finder tools in the market?
GP is a lead generation system that is more like an industrial-scale conveyor or sales lead generation combine designed for convenient and effort-saving regular searches. Whether you need 5/500/50 000 emails every month for the sales funnel — the prospecting will take near the same time and much less cost per one email.
We cut off all unneeded actions and optimize the rest. Chrome extension, Google Sheets add-on, data-export settings, bulk search, and verification features — all this saves you several hours a week.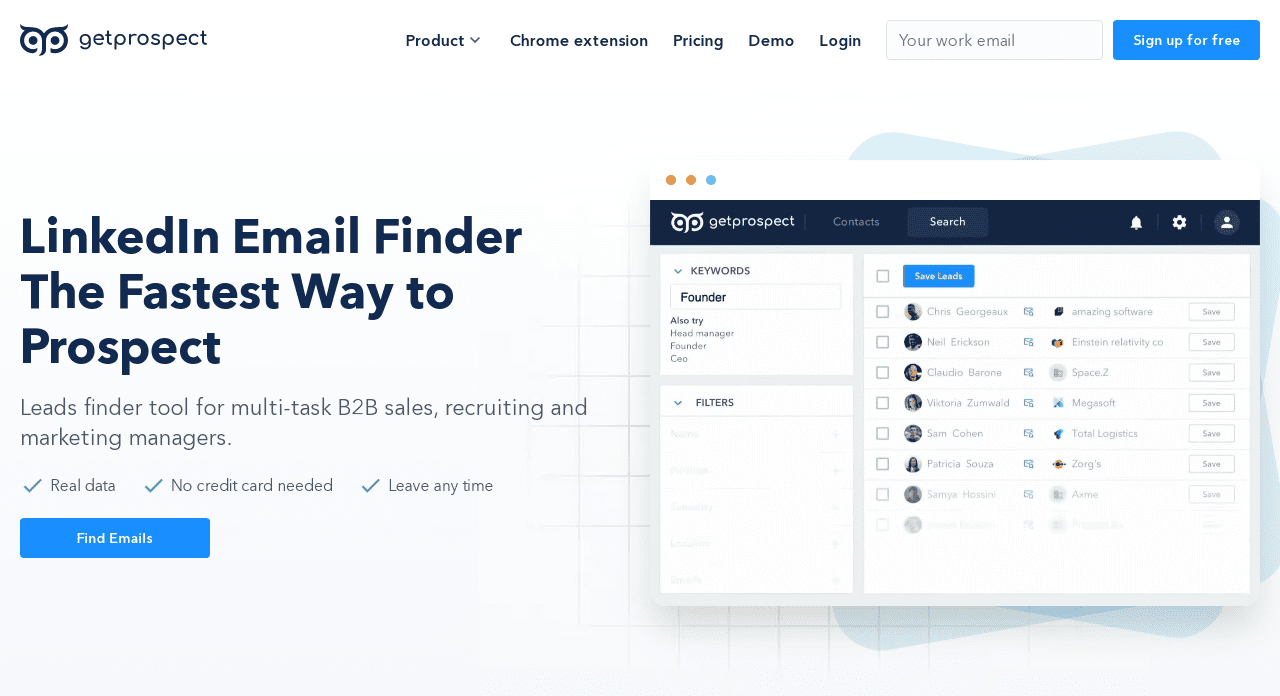 How does sales lead generation work in a B2B company?
Define who is your ideal customer. 

Understand how to help them progress with your product. 

Leverage leads finder software. 

Get to know them better and contact them in places where they regularly spend time online or offline with relevant and engaging content. 

Build relationships and trust. 

Make the offer that covers one of their most urgent needs. 
How to automate lead generation with GetProspect? 
Save your ICP characteristics in template search via b2b database
Segment your prospects with lists and folders: by industry, position, or other common attributes and behavioral patterns
Create additional custom fields to enrich your opportunities with valuable personalized data
Use chrome extension to fill the lists of prospects with new emails while surfing LinkedIn
Create email templates for different groups of prospects. Use variables to inject personalized data into messages
Send emails with your offer, track results, make 3-5 follow-ups.
Who is GetProspect lead generation software for, who are your customers, and what values should they expect?
Our customers are salespeople (SDR, AE, BDR, etc.), marketing, recruiting managers and teams, freelancers, consultants, project managers. 
Whether it's a one-man-army in a newborn startup or multi-role dedicated teams in a worldwide operating corp — if they know whom to find, they will find for sure. If they don't know — GP makes their chances higher by offering simple profiling and search workflow, as well as high-quality email verification algorithms. 
Why are lead management platforms important today? How is GetProspect meeting the demand?
Today you need to combine a personalized approach with the maximum scale reasonable for your business specifics. Both are much easier to achieve by using automation tools and platforms instead of «manual» work. 
GP leads finder allows you to scale the search of quality leads from scratch (ICP) up to any number. It is applicable for precise ABM sales and cold mass outreach.
What do we need to pay attention to when sales prospecting and cold emailing?
For sales prospecting, we need to focus on the search of the target audience only. Not spraying efforts to grab all possible contacts. Focus on the ideal customer will help you:
– save time needed to group similar contacts;
– more effortless look for mutual patterns for personalization;
– with more sales qualified leads and a better conversion rate.
For cold emailing, focus on deliverability, personalized, engaging, short and valuable pitch, and follow-ups.
What are the methods for calculating prospect leads to ensure a good ROI? What is the state of lead acquisition today?
One of the methods I know consists of the following steps:
Define your ROI goals taking into account previous data. 

Based on the figure, define your profit goal. 

Calculate the number and size of customers you need to reach the goal.

Take your average conversion from prospect lead to the customer (usually 15-20% is pretty good).

So, for 10 customers, you need at least 150-200 prospect leads in a year.
80% of companies with annual revenue > $250k generate 50-100 prospect leads per month — lead acquisition benchmark from Hubspot's Demand Generation Benchmark Report 2015.
What are you currently working on at GetProspect? What is next on your roadmap?
The next major update will be turning our service into an emailing platform so users can fulfill the whole workflow in one lead generation tool, without export-import of data.
We are constantly polishing search and verification algorithms to provide a higher overall discovery rate with a larger portion of 100% valid emails. Our B2B database growth is also among the top priorities we are working on now. 
Do you have any available opportunities for investors and partners at GetProspect?
For now, we have a referral program for our users. If they invite potential users to GP, they get 30% fee for all their payments. Once there is a sufficient amount of money, you can use it to pay for a GP paid plan.  
For more information, visit the website: Getprospect.com