Are you looking for an affordable human hair wig but confused by the different options? do not worry; We are here to make the choice easy for you. Other wigs are used for different purposes. First, it is important to explain why you want to use a wig.
However, it is your preference, but there are basically two types of human hair wigs: a lace front wig and a headband wig. Both are different types of wigs with different features.
Want to know more about them? Below we have discussed both types in detail.
What is a lace front wig?
The cheap lace front wigs are one of the best human hair wigs to use. As a result, they are one of the best-selling wig types in the industry.
Lace front wigs, called lace wigs, are made using lace for the scalp, and strands of hair are woven into it. The lace on the scalp has a small opening which makes the wig breathable and comfortable to wear. This is one of the best products that has entered the wig industry.
Lace front wigs work best if you want to hide baldness or improve the volume of your hair. It is one of the most comfortable wig types to wear for a long time.
Lace front wigs are among the top wigs that are widely used by professionals. Be it a fashion show or after party, women love to wear lace front wigs to enhance their look.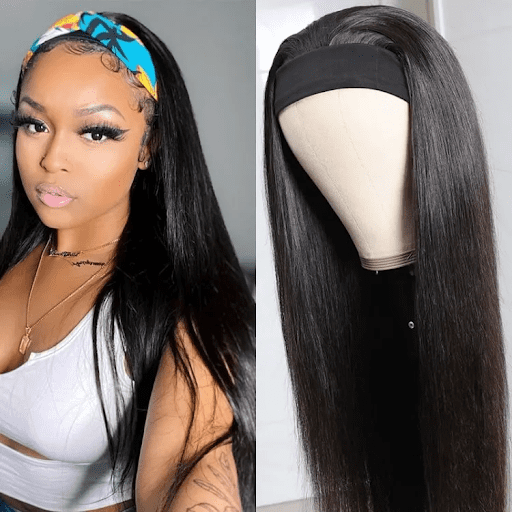 What is a headband wig?
Headband wigs made from human hair are the most convenient wigs. Looking for a wig to wear everyday, a headband is the answer. They are widely used in the modeling industry.
It is perfect for women who want to cover their bald forehead. However, it adds immense volume to your hair and makes it look very thick.
The purpose of headband wigs is not to add length, but its main purpose is to add volume to the hair. In addition, they are safe and easy to wear. You won't need glue or any other adhesive to wear headband wigs.
The difference between a lace front wig and a headband wig
Now that you know a lot about both types of human hair wigs, it is better to understand the comparison between the two. So we will discuss the differences in depth so that you can decide which one to choose.
The half circle trim of the lace front wig is breathable and very light to wear. Also, the lace tone of the wig can be close to the skin tone, making it difficult for others to see if you are wearing a wig. Also, a lace front wig adds volume and adds length.
For headband wigs, the front part of the wig is a headband, and it can give a chic look. But, apart from that, the headband also covers your hairline. So what if you don't want to put a headband on your head but still want to add volume to your hair?
The front of a lace wig is made up of a trim that covers from one ear to the other. On the other hand, the back of a lace wig uses a thicker material but is still comfortable to wear.
Also, the front part of the headband wig is made by using different types and styles of headbands. So, you can choose from a variety of headband designs that suit you. Also, the back is made of a hair cap with no trim.
As a lace front wig sticks or attaches to your hairline, you have a variety of ways to style your hair. You can part your hair on either side. It is up to you which style to use and carry.
However, a headband wig offers the least style you can do to your hair. By wearing a headband wig, all the hair will be brushed back. This allows you to expand the range of your hair type. We don't see many women parting their hair at the back of a headband wig.
Human hair wigs are affordable and high quality. Because of the different features and benefits you can get from a lace front wig, it is slightly more expensive than a headband wig. However, we do offer affordable luxury wigs. So, be it a headband wig or a lace front wig, get the best quality wigs at an affordable price.
Which is better, a lace front wig or headband wig?
To be honest, both types of wigs are great to wear if you are looking for a natural human hair wig. Just knowing why you are wearing a wig will make it easier to tell which one is best for them.
If you want to wear a wig on a daily basis, a headband wig would be the choice. It is easy and quick to wear.
On the other hand, you can wear a lace front wig for a special occasion and if you don't want a headband on your hairline. Both are excellent, and it's up to you which one you prefer.
Last words
This was your complete guide to lace front wigs and headband wigs. We hope the details we have shared will make it easier for you to make your decision now.
The best option to wear a natural human hair wig is: lace front wig or headband. It gives your hair a better look and matches your hair color.
Every woman loves to try new looks and deserves to wear high quality accessories. Every woman wishes for a good hair day, and they deserve it. So invest in a wig and enjoy the latest style and look.