There is no doubt on how cryptocurrencies and blockchain technology have made a great impact on  the way people buy and sale online. The speed and its efficiency is what drives the digital tokens. Even with the high level of global adoption, from individuals to the largest of financial institutions, cryptocurrencies still struggle with mass adoption. 
CHAI is a Korean mobile payment app that has partnered with the futuristic blockchain payment system, Terra. The CHAI app has been designed specifically for easy and quick adoption of blockchain technology, keeping in mind that many people are not technologically sound to understand the complexity of the technology. CHAI makes it very simple so that anyone can start using the app to pay for their online shopping experience with cryptos.
With a well designed infrastructure and a proper User interface, the app offers the following benefits:
Easy Adoption

: Any one with a bank account can link it with the CHAI app and start using the blockchain application for purchasing online.

Acceptance

: The CHAI app is accepted by two major ecommerce platforms, including TMON, giving users of the app hundreds of thousands of items to choose and purchase from.

Everyday Items

: The app, coupled with the online stores, allow people to buy anything, including every day items. According to the sales figures, the most bought items include coffee, clothes and even baby diapers.

Breaking Stereotypes

: Normally, technology oriented systems and their use are attributed to men, particularly the geek or nerd type. CHAI shows that this is not the case. Most of the users of CHAI app are females. They women range from their late 30s to early 40s. A field dominated by men has mom's taking over.

Partner Bank

: The app has collaborated with 15 major banks, allowing people to easily transfer fiat funds to the application and vice versa.

Happy Merchants

: Sellers and eCommerce stores benefit a lot from the use of blockchain technology. On an average, traditional money transfer systems can charge anywhere from 2 to 3% of the transaction, which is normally borne by the seller. CHAI has a very low transaction fee.

Security

: Online transactions are usually prone to fraud and phishing and that is why many people try to avoid it. CHAI app leverages blockchain so that users data and funds are extremely secure and free from chances of fraud.
These and other benefits have made CHAI extremely popular amongst users.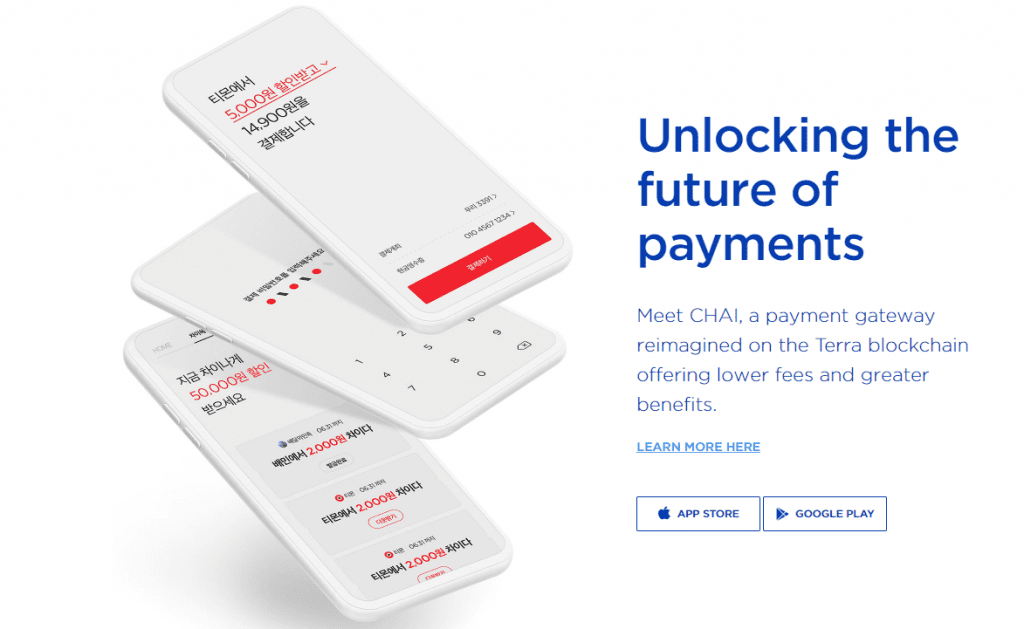 40 Days and 40 Nights
Terra's CHAI app has garnered immense interest since its launch. In its first 40 days, the app has been downloaded more than 240,000 times, with users actively operating the application to make purchases. With such a high number of downloads, the CHAI app has been propelled to the top positions on both Android's Google Play and Apple's AppStore. Currently, the application stands on the 4th position on the Android market an 13th on the Apple's own store.
Through the CHAI app, users have made more than 380,000 transactions so far, with the number drastically rising. Daniel Shin, Co Founder of Tera, the blockchain system behind the CHAI app, said, 
"We are proud to be bringing blockchain into people's daily lives. Just 40 days after launching, Terra's blockchain technology has been used to power 380,000 transactions for more than 240,000 users. In fact, the other day, we saw a record-high daily transaction volume of 1 billion KRW, which implies a $300 million transaction volume run rate," and, "The blockchain industry has struggled to gain a large user base, which is why these numbers are extremely meaningful and show that penetrating a mainstream market is not an impossible mission for the blockchain world. We are excited to continue to grow by integrating with the rest of our eCommerce partners and become the major driving force for blockchain mass adoption."
About Terra
Terra is a blockchain system that is designed to power the future of payment system. Using blockchain, the ecosystem offers unparalleled speed, lower transaction costs and a high level of security.
The Terra system understands the many issues current blockchain and cryptocurrency owners and users face and have constructed their ecology to counter this. The blockchain firm offers a price-stable digital currency so users do not have to worry about the extreme fluctuations normal cryptocurrencies are subject to. The company offers a bridge that connects the digital economy with real world applications.
Terra is backed by Luna, a mining token which in turn powers the Terra's DPoS blockchain. Miners are provided a stable mining reward from the transactions and they in return provide stability to the tokens.
For more information, visit https://terra.money/.