The crypto world is as innovative and exciting as it's fickle and dynamic. Understanding the market needs and keeping up with the latest trends and changes is crucial if we want to advance and reach new heights. 
KICK.IO has big plans for the upcoming year, and one, in particular, will definitely make a significant change for both the platform and our users. 
The dawn of cross-chain bridges
Since its inception, blockchain technology has come forward as one of the most reliable ways of virtual asset transfer without third-party players. And now, this far-reaching technology is going even further. Instead of keeping within the limits of one blockchain – cross-chain bridges will help move away from segregation and tribalism to blockchain interoperability. 
And KICK.IO is not far behind – we're expanding beyond Cardano. We believe that the implementation of cross-chain solutions is the future. Cardano is our home, and our goal is to stay Cardano-centric. However, introducing KICK.IO to other blockchains will be a fundamental part of our road ahead.
One of our key missions is to create a safe and inclusive environment for everyone to launch projects, vote, and be a part of our soon-to-be-upgraded project endorsement system. That's exactly why KICK.IO will start operating on different blockchains. 
This will allow us to take a step further towards a more unified and diverse ecosystem. It'll also help better accommodate changing needs and improve existing ways of communication and transfer processes between blockchains. And cross-chain bridges aren't the only novelty feature KICK.IO will incorporate – there's quite a bit more to look forward to in the upcoming year. 
Website update and a new endorsement system in 2022 Q2  
This quarter we'll focus on three main points: UX/UI updates, a new 5 Tier endorsement system, and listing KICK tokens in a centralized exchange. The website update will help solve navigational obstacles as well as reflect our new focus. 
KICK.IO is currently the only platform that doesn't limit its users and gives everyone an equal opportunity to buy into projects regardless of their monetary contribution. The 5 Tier endorsement system will help to consolidate this further. Instead of the existing 5% rewards rate, users will gain 7,5%, making their payout go up by 30% regardless of the Tier they choose.
And finally, the KICK token CEX listing process will significantly improve trading as it will allow trading tokens right here on KICK.IO.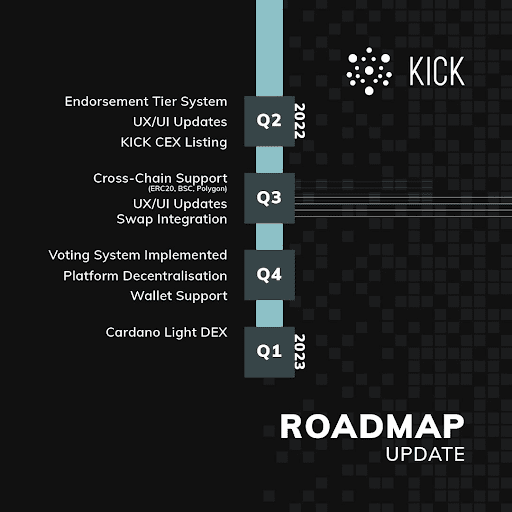 KICK.IO to build cross-chain bridges in 2022 Q3
This will be a crucial quarter for us. Aside from wrapping up and launching our website update, KICK.IO will also introduce cross-chain support that will include ERC20 , BSC, and Polygon. It's an important step forwards as this will help create a more cohesive ecosystem and open up new opportunities. 
Another important feature we plan to present is swap integration. As we seek to make KICK.IO a unifying platform, introducing the ability to swap different tokens and coins on our platform will both simplify the process and save time. 
2022 Q4 – platform decentralization
Aiming high and pushing ourselves forward is part of KICK.IO. That's why we'll move to completely decentralize our platform and introduce wallet support. 
Another key aspect we'll work on during this quarter will be the implementation of the voting system. This will give our users the opportunity to have a more meaningful impact on our ecosystem by voting on which new projects should be included on the platform.
Cardano Light DEX implementation in 2023 Q1 
The last step in our current roadmap encompasses changes to the Cardano blockchain. With the launch of a light version of decentralized trading, people will be able to trade tokens.
Conclusion
KICK.IO has big plans for this year – we're passionate about technological advancement that benefits everyone. Introducing KICK.IO to other blockchains will be a huge step in the right direction. So stay tuned for more news!
About KICK.IO
Twitter | Telegram | Medium | Website