Kate Parkhomenko, also known as @katprada, has made a big name in the real estate industry with her services. She did not gain this recognition overnight but had to work hard to be where she is today. Kate's extensive social network and natural ability to initiate conversations make her an invaluable resource to the real estate industry. She is best known for Residential Resale Properties & Pre Construction Low Rise and Condos. She likes working with clients who look forward to buying and selling single-family homes, condos, townhouses, multi-family residences, and multi-unit buildings. Anyone who has known Kate says that her passion for her work reflects through her eyes; that is what makes her different from the rest. 
An Insight into Kate's Early Life
Kate belonged to two different nations, which was not easy for her. Her Ukrainian Father and Russian mother had several conflicts. Her father could not accompany them to Canada, where Kate and her mother were starting a new life. As an eleven-year-old kid, it was an overwhelming time for her. The whole immigration process was made even worse by her mother, who was preoccupied with her own life's transitions. She decided to send Kate back to her grandparents in Russia.
When Kate moved to Russia, she felt like an outcast. She was hit with the unpleasant reality of not knowing the language and adapting to a "new" culture. Despite that, she joined school while relearning Russian, made new friends, endured the ghetto, and earned a music degree. All of this was made possible with the help of her grandparents. Although they were surviving on a pension, they made sure Kate's brought up was done right. Her grandmother taught her the value of neatness and order, while her grandfather preached to her the values of honesty, perseverance, and fairness. 
After completely settling into her new home in Russia, Kate's mother decided to ruin that for her. One night she called Kate's grandparents and asked them to send her back to Toronto. This was again a significant shift in Kate's life as she had to leave her school, her red diploma, her friends, and the love of her life. Due to extreme pressure, she finally returned to Canada when she was just 15. She couldn't get along well with her mother and constantly moved from friend to friend to avoid going "home." She then decided to rent a room with several other young people. It was pretty challenging to live on her own, so she started working at a retail store and, during the process, met her husband through a website he had built to audition people for a talent show.
Marriage Being Kate's Savior
When Kate met her husband, she didn't realize it would change her life for good. His mother became a light source for her, and she started looking up to her as her own. With the encouragement of her husband's family, she persisted through college and earned a degree in accounting and finance. It was a huge moment for her. 
Kate's Experience with Corporate Life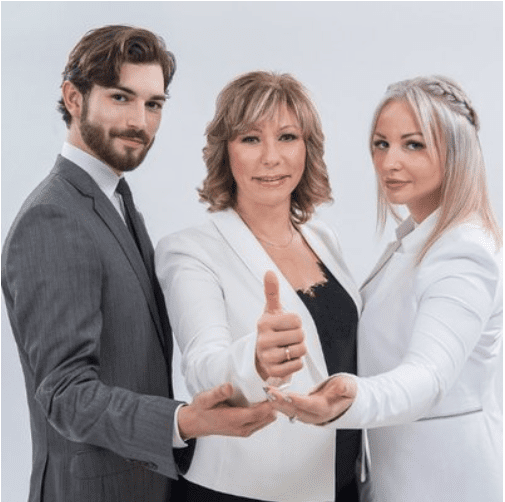 When she got her Accounting and Finance degree, she was given a routine pay raise of 0.25$ per hour for outstanding achievements while climbing the corporate ladder. She was also offered a larger office with a view rather than a cubicle. It served as a wake up call as she knew in her heart that she was capable of so much more, and the 9 to 5 corporate life was not it. Knowing someone else had authority over her life didn't sit well with her. Kate wanted to use her time according to her will and utilize her optimism to inspire others. She just had one word on her mind, and that was "Freedom."
Getting Into the Real Estate Industry
Everything fell into place when Olga, her husband's mom, suggested Kate acquire a real estate license. She was a little skeptical about it at first but decided to follow her intuition anyway. Like many others, Kate also had a tough time getting started in real estate during the first several years, mainly because of her education and experience levels. People didn't take her seriously, but her drive pushed her through every obstacle she faced. Throughout her professional development, she realized failure was inevitable, so embracing it and learning from it was the only option. 
Building a Brand, "ParkHOMEnko"
Creating a Name for Yourself in the market is one of the most important things to do. In the past several years, Kate established herself as a company and started to grow her staff. She learned a lot about maintaining a social media presence. She says, "One's existence is predicated on one's online visibility; without it, one does not exist." 
At first, it was pretty hard to manage the Business While Looking After the Family, but Kate found her strength in this challenge. Her survival skills are top-notch, and she feels grateful for the hardships she endured in her youth. Many brokers refer to Kate as the "Dancing Queen" as she's always smiling and spreading cheerful vibes. 
Awards and Accolades
Throughout her journey as a real estate agent, Kate has won numerous awards, including the Daniels Corporation's Top Performing Team Award, Milborne Platinum Award, Baker Platinum Top Broker, Marlin Spring Top Broker, Homelife Pinnacle, Prestige, Super Elite Club among many others. Not only this, but she has earned a reputation as a Platinum Agent among numerous advertising firms and builders.
Kate's Journey So Far…
Kate has been in business for 15 years now. Speaking in front of an audience is the strength that has helped her come this far. She has done several Pre Construction projects, and many Marketing firms and builders have made her a Platinum Access Agent for their new project inventory in the Greater Toronto Area and beyond. She says, "The greatest success we've had is not maintaining a steady revenue but the fact that our customers not only return but also recommend us to their friends and family."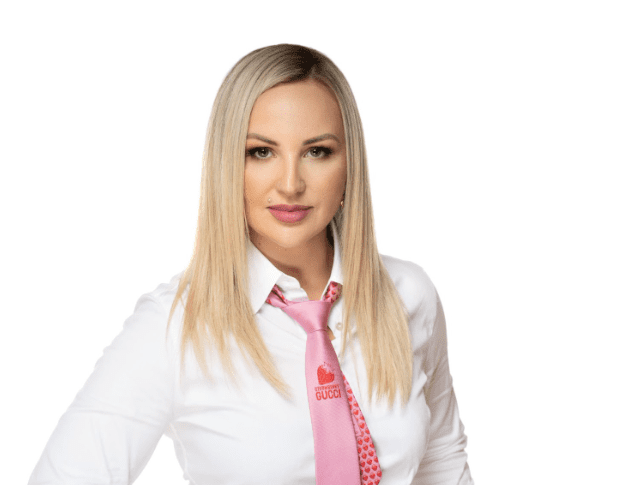 Her clients greatly appreciate truthfulness as she is known for giving out honest views. She is now one of the partners in "ParkHOMEnko" a rapidly expanding family built Real Estate company, and a trusted advisor to many. In the corporate world, Kate Parkhomenko is a boss lady who has done $100,000,000 in sales and believes in open lines of communication, reliable service, and complete honesty. 
Feel free to connect with Kate if you wish to know more about her and what she has in store for you:
Instagram: @KatPrada
Company's Instagram: @Parkhomenko.CA
LinkedIn: @KateParkhomenko
Facebook: @KateParkhomenko
TikTok: @Parkhomenko.CA