Whether it's the release of a new iPhone, an update to the iOS version, or the upgrade of functionality, Apple devices are always on the minds of consumers. However, along with the advancement of functions and devices, there will inevitably be some system problems, software errors or potential glitches. To better guard our iPhone, iPad and iPod, an iOS system recovery is required, which easily guides us to repair possible issues with few clicks. Then here comes the question: which one is the best in the market? After the test, we here pick up Joyoshare UltFix iOS System Recovery, showing a detailed review about it and demonstrating how it works for you.
Main iOS System Recovery Features of Joyoshare UltFix:
1) Dual Repair Mode to Guarantee High Success Rate
Issues that're related to your iOS devices can be various. Joyoshare UltFix classifies them into two categories, one is "Basic Issue", such as iPhone stuck in DFU mode, stuck in Recovery mode, stuck on Apple logo, boot loop, white screen, black screen, stuck in headphone mode, stuck on preparing for Restore, etc. This series of software problems can be troubleshooted under "Standard Mode" with No data loss. The other is "Serious Issue", like iPhone is disabled connect to iTunes, iPhone is locked, iPhone screen passcode forgotten and so forth, which can be resolved via "Advanced Mode". Combing different repairing modes together, you can have a higher success rate to get out of your trouble.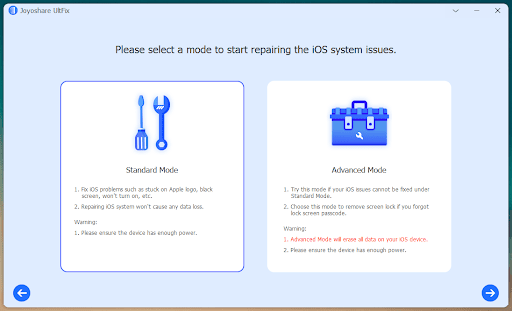 2) Free Option to Exit and Enter Recovery Mode
Based on our user experience, our iPhones can easily get stuck in Recovery mode. Don't worry. To deal with such kind of common problem, Joyoshare UltFix iOS System Recovery provides free option to exit Recovery mode with one simple click. Besides, you can make the full use of it to automatically go into Recovery mode without referring to operating manual. This feature actually brings great convenience for you.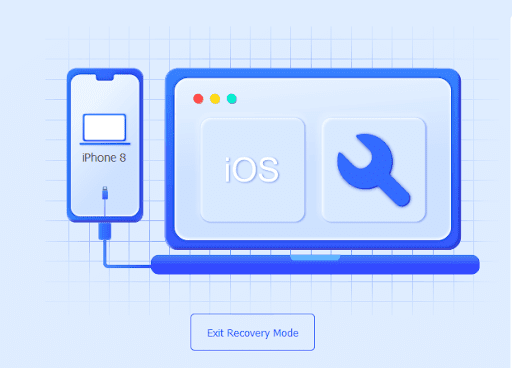 3) No Data Loss during System Recovery Process
As a dedicated iOS repair tool, Joyoshare UltFix is capable of tackling 150+ issues without causing data loss. Standard mode can be applied to a huge arrange of software-related problems. If it fails to repair or what your device encounters is serious, you can back up your data in advance and then resort to advanced mode.
4) Upgrade and Downgrade iOS Version
Joyoshare UltFix iOS system recovery is able to support the latest iOS versions. If you cannot update your iOS software to the newest version or downgrade to a previous version, you can ask this program for help. It detects your device, shows all available iOS versions and allows you to download effortlessly.
Compatibility: 
iPhone: iPhone 13 Pro Max, iPhone 13 Pro, iPhone 13, iPhone 13 mini, iPhone 12 Pro Max, iPhone 12 Pro, iPhone 12, iPhone 12 Mini, iPhone 11, iPhone 11 Pro, iPhone 11 Pro Max, iPhone XS, iPhone XS Max, iPhone XR, iPhone X, iPhone 8 Plus, iPhone 8, iPhone 7 Plus, iPhone 7, iPhone SE, iPhone 6s Plus, iPhone 6s, iPhone 6 Plus, iPhone 6, iPhone 5s, iPhone 5c, iPhone 5, iPhone 4s, iPhone 4
iPad: All models of iPad Pro, iPad Air, iPad mini, and iPad
iPod touch: iPod touch 7, iPod touch 6, iPod touch 5, iPod touch 4, iPod touch 3, iPod touch 2
Note: Joyoshare UltFix keeps its compatibility up to date. If there is a release of new iDevice or iOS version, like iPhone 14 and iOS 16, it will sync related info and match them without problem.
Pricing:
This program has a reasonable pricing model and guarantees lifetime usage. Here are the details:
Single license is priced at $39.95 for lifetime use with 1 iDevice and unlimited PCs

Family license is priced at $49.95 for lifetime use with 2-5 iDevices and unlimited PCs

Multi-User license is priced at $69.95 for lifetime use with 6-10 iDevices and unlimited PCs

What Else Joyoshare UltFix Offers?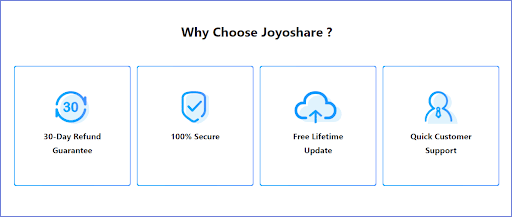 How to Fix iOS System No Data Loss with Joyoshare UltFix
This iOS system recovery is compatible with both Windows and Mac operating system. You can download the latest version of it to your computer and finish installation. Afterward, simply follow steps here to repair your system errors.
Step 1: Run Joyoshare UltFix and connect iOS device, like iPhone to PC or Mac. Click on "Start" button to continue.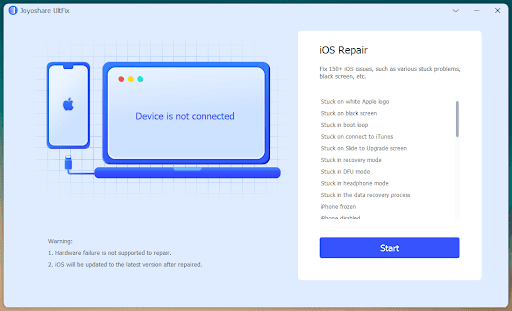 Step 2: Select "Standard Mode" to ensure no data loss. You will have to manually boot your device into either Recovery Mode or DFU Mode. Once it's entered, click on the right arrow to go on next step.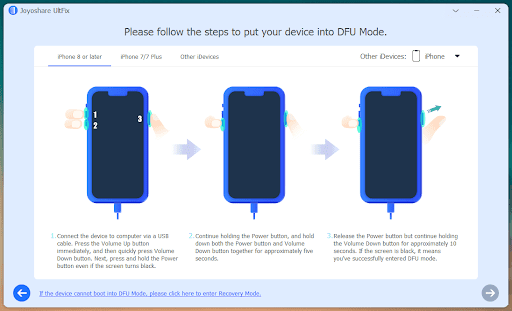 Step 3: Here you need to check and confirm your device information. Then Download a matchable firmware package. To save time, you can also select it from your local folder or copy to download from browser.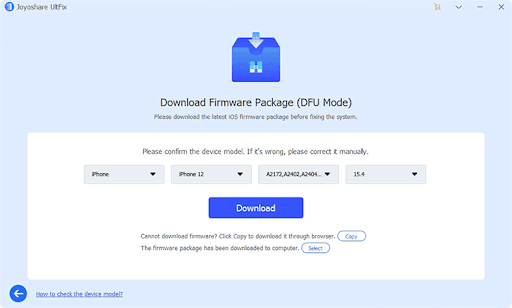 Step 4: After downloading the firmware package, you can click on the "Repair" option to fix your iOS system. Keep your device connected all the time until the whole process finishes.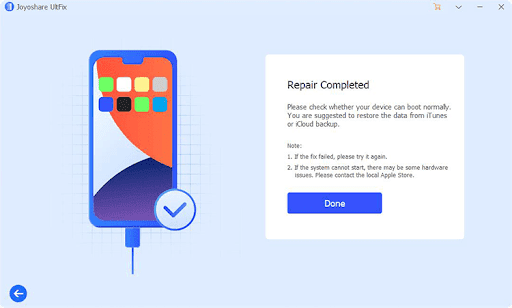 Conclusion
As you can see, Joyoshare UltFix can do well in repairing types of software errors and get your system back to normal. If you think it's expensive to repair device in Apple Store, then this is a good option. There is no risk of data loss and the operation is simple. Good news is that you can get it recently from Joyoshare promotion with high discount, up to 40% for single and 60% for bundle. Just give it a try now!