As the summer season arrives in the UK region, it's time to engage in fun outdoor activities and soak up the sun to create unforgettable memories. Whether you are planning a camping trip, an RV adventure, or simply enjoying a day out, the summer holiday offers an ideal chance to bask in nature's beauty. To make sure you are well-equipped for your outdoor adventures, having a portable power solution is crucial.
The seasoned brand Jackery has recently unveiled its most anticipated sale event for the summer holidays of 2023, which comes with lots of discounts, exclusive deals, and more. Jackery is well-known for its portable power solutions and provides many high-quality products, including solar power stations, to make your outdoor trips more enjoyable. Read on to learn about the brand's summer holidays sale.
Jackery's Summer Holiday Sale
The exclusive summer holidays 2023 sale from Jackery brings a lot of great deals for outdoor enthusiasts. This year's sale offers many discounts and exclusive deals on virtually all of the brand's popular offerings that are designed to enhance your summer adventure experience. Not only do you enjoy discounted prices on solar-powered products from Jackery, but when you spend £500 or more, you also get a chance to enter their exciting lucky draw for a £30 Airbnb gift card. Just remember, a subscription is required to participate.
During this limited-time summer holidays 2023 event, many products from the brand are being sold at discounted prices. These include portable power stations, solar panels, and solar generators. Each category has several premium-grade products offered at unbeatable prices. With great discounts, this 2023 summer holiday event is an ideal time to invest in Jackery's reliable portable power solutions to enrich your outdoor escapades. Read on to learn the details and discount information about these popular product categories.
Unleash the Power of Jackery Portable Power Stations in Summer Holidays 2023
Get ready to make the most of your summer holidays with the incredible portable power banks from Jackery! Whether you're embarking on a camping trip, going on a beach vacation, or simply enjoying some outdoor activities, Jackery's power stations can be your reliable companion to keep your devices charged and ensure you have all the power you need. Here are some of their key features:
Compact Design and Versatile Functionality
Jackery portable power stations are professionally designed to cater to modern outdoor enthusiasts. With a compact form factor, they can easily fit into your camping gear, RV compartments, or even your emergency preparedness kit. The modern and stylish design of the camping battery does not sacrifice functionality and ensures that you have access to power wherever you go. Whether you are charging your smartphones or laptops or powering essential medical devices during emergencies, these high-performance portable power stations are the ultimate companions for all your power needs.
Diverse Power Outputs and Capacities
Versatility is the trademark of Jackery portable power stations. These devices enable you to connect and charge a variety of gadgets at the same time equipped with various power capacities and outputs. From USB ports for smaller devices to AC outlets for larger appliances, Jackery portable power stations provide a seamless power distribution experience. Whether you are powering up your camera for stunning outdoor shots or running a mini-fridge to keep your drinks cold, these versatile products have you covered.
Ideal for Camping, RV Trips, Emergencies
The adaptability of Jackery portable power stations makes them a must-have for many different scenarios. For summer camping, these power stations ensure that your devices stay charged and hence, allow you to capture memories, stay connected, and navigate with ease. For RV trips, Jackery power stations ensure that your on-the-go lifestyle stays powered up so you can relish the familiarities of home while exploring the open road. The portable power stations are also very beneficial in emergencies. They provide reliable power for communication, medical devices, and essential appliances.
Product Recommendation: Jackery Explorer 1000 Portable Power Station
Amongst the many products in the portable power station category, the Jackery Explorer 1000 Portable Power Station is the most popular choice. This versatile product is now available at a 30% discounted price during the summer holidays 2023 sale. With 1002Wh capacity, 1000W power output, multiple USB-C, USB, DC car port, etc. output ports, and a compact design, the Jackery Explorer 1000 Portable Power Station is the perfect companion for all your outdoor adventures.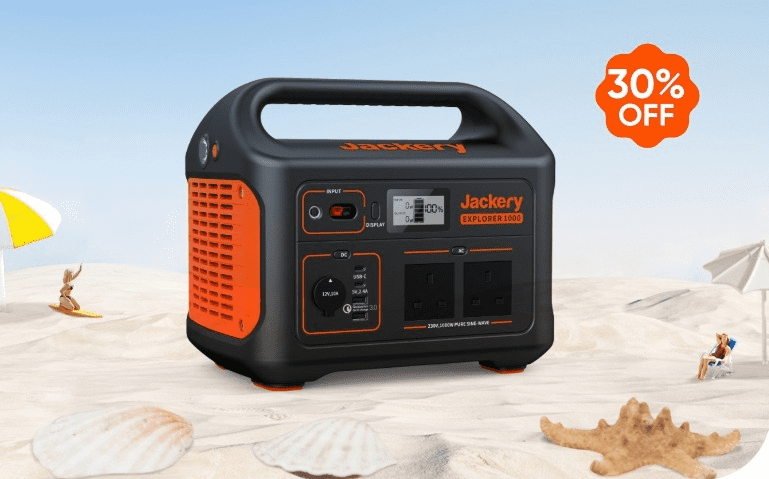 Harnessing Solar Energy With Jackery Solar Panels in Summer Holidays 2023
Jackery's premium-grade solar panels harness the power of the sun to provide clean, sustainable energy. Available at a discounted price during the summer holidays 2023 event, these panels allow you to recharge your devices using solar power while minimizing your carbon footprint. Their ease of use and portability make them a key addition to any outdoor adventure. The primary characteristics of Jackery solar panels include the following:
Harnessing Solar Energy for Recharging
Jackery solar panels allow you to utilize the sun's abundant and renewable energy source. By harnessing sunlight and converting it into usable energy, these high-quality panels provide a sustainable solution for keeping your devices charged. Whether you are enjoying a picnic in the park, lounging at a campsite, or embarking on a cross-country road trip, these solar panels offer a reliable source of power that is efficient as well as eco-friendly
Eco-Friendly and Sustainable Power Source
The world today is focused on sustainability, and Jackery solar panels play their part in promoting eco-friendliness. By harnessing the power of the sun using these panels, you reduce your reliance on non-renewable energy sources and hence, minimize your carbon footprint. Jackery's high-performance solar panels contribute to a greener future while offering the convenience of portable power wherever you go.
Portability and Ease of Use
Jackery solar panels are designed with your convenience in mind. Portable and lightweight, they can be easily folded and carried along on your outdoor adventures. Whether you are hiking to a remote campsite or setting up a base at a festival, these solar panels effortlessly adapt to your needs. Their user-friendly design ensures a quick, hassle-free setup so you can relish your summer outdoor pursuits.
Product Recommendation: Jackery SolarSaga 80W Solar Panel
In the solar panel category, Jackery offers many quality products. One of the top-selling products from the brand is the Jackery SolarSaga 80W Solar Panel. It is a dual-sided panel that boasts enhanced solar efficiency, dust and water resistance, extensive compatibility, and easy assembly. The solar panel is the perfect balance of power and portability. During the summer holidays 2023 event, you can get the Jackery SolarSaga 80W Solar Panel at an incredible 30% discounted price.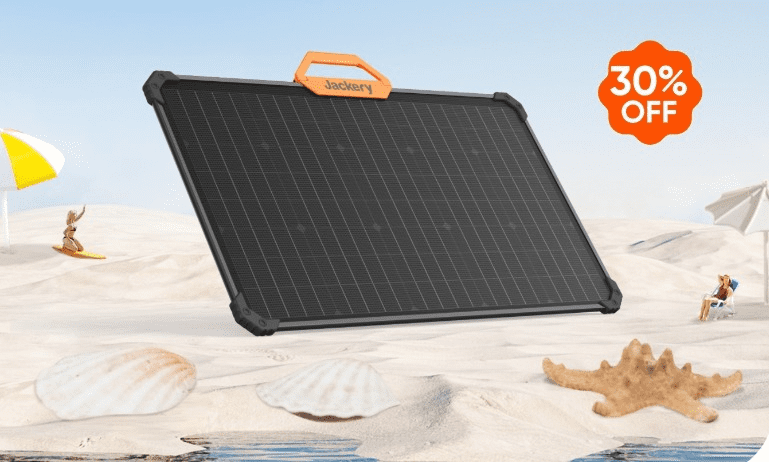 Uninterrupted Power With Jackery Solar Generators
Regarding providing consistent and reliable solar power, Jackery's high-performance solar generators are unmatched. They are particularly suitable for outdoor use in remote locations. Their ability to efficiently use fuel and operate silently renders them extremely valuable for long outdoor journeys and gatherings. Available at a discounted price during the summer holidays 2023 event, the key characteristics of Jackery solar generators include (but are not limited to) the following:
Consistent Power in Remote Locations
Jackery solar generators are the best companion for individuals that often embark on outdoor adventures. Especially in remote and off-grid locations, these solar generators prove to be invaluable as they provide a consistent and reliable source of power to ensure that you are never left in the dark. Whether you are participating in outdoor events, setting up camp in the wilderness, or exploring hidden trails, Jackery solar generators keep your devices charged and your experience illuminated.
Quiet Operation and Fuel Efficiency
Unlike traditional generators, Jackery solar generators produce minimal noise and hence, create a peaceful outdoor environment. Powered by the sun, these generators eliminate the need for noisy engines or refuelling. In this way, they allow you to enjoy the tranquillity of nature without disruptions.
Essential for Extended Outdoor Trips, Events
For extended outdoor events and trips, Jackery solar generators provide much-needed power. They serve as a dependable provider of sustainable energy, perfect for multi-day camping trips, outdoor festivals, and even family gatherings. The camping battery solar allows you to make sure that you have enough power to keep your lights on, your devices charged, and your festivities well-lit, all without compromising the serenity of your outdoor setting.
Product Recommendation: Jackery Solar Generator 1000 Pro
In the solar generator category, the Jackery Solar Generator 1000 Pro is a recommended choice, especially considering the summer holidays 2023 event, during which it is being sold at a 25% discounted price. Jackery Solar Generator 1000 Pro is a premium-grade product that boasts a 1.8h ultra-charging system, 1002Wh capacity, 1000W power output, foldable handle design, charging ports compatible with various devices, and all-round safety with a superb Battery Management System (BMS). With discounted price during Jackery 2023 summer holiday sale, it's a deal that adds unmatched value to your outdoor experience.
How to Make the Most of the Jackery Summer Holiday Sale
The summer holidays 2023 sale presents a great opportunity to acquire top-tier portable power solutions by Jackery at unbeatable prices. By understanding key aspects of the sale event, you can make the most of this summer holiday sale event. Here are the key aspects to keep in mind.
Sale Duration, Promotions, Purchasing Information
The Jackery summer holidays 2023 is a limited-time event (10-16 August). It is recommended that you mark your calendar and set reminders to make sure that you don't miss out on the incredible deals, discounts, and exclusive offers that await.
Keep a close eye on Jackery's official UK website for updates. This is because promotions may change throughout the duration of the summer holidays 2023 sale. By staying informed, you can strategically time your purchases to maximize your savings.
Jackery's user-friendly website makes navigating the sale a breeze. It is recommended that you browse the wide variety of discounted products offered during the summer holidays of 2023, read detailed specifications, and compare different models to find the perfect fit for your needs. Once you have made your selection, follow the intuitive purchasing process to secure your chosen products at discounted prices. Don't hesitate to reach out to Jackery's customer support if you have any questions or need assistance during the purchasing process.
Tips for Optimizing Purchases
When it comes to making the most of Jackery's summer holidays 2023 sale and grabbing the best deals, a little strategy goes a long way. The following are some simple tips that will help you make sure that your purchases are suitable for your outdoor plans and power needs.
Before you dive into the summer holidays 2023 sale, identify your power requirements and priorities. Understanding your needs will help you make educated decisions that align with your outdoor activities.
Keep an eye out for bundle offers at the summer holidays 2023 sale. Bundling a portable power station with solar panels, for instance, can provide a comprehensive power solution for your RV or camping trips. The bundles often come with additional discounts.
Anticipate the power needs of your upcoming adventures. Consider the devices you will be using, their power requirements, and the duration of your trips. Then choose a Jackery power solution that matches your needs.
Conclusion
Jackery's most anticipated summer holidays 2023 sale is currently live. It is the best time of the year to browse and purchase dependable Jackery portable power solutions, as the summer sale event comes with lots of discounts, gift offers, and deals. At the event, you can explore a wide range of discounted portable power stations, solar panels, and solar generators that are specifically designed for outdoor adventures. The above-listed top product recommendations will supercharge your summers and allow you to enjoy exclusive deals at the same time. Visit Jackery's website for more information about the 2023 summer holiday sale and explore the brand's reliable portable power solutions.