What Is Morningstar?
Launched in 1984 by Joe Mansueto, Morningstar is a US-based financial services provider headquartered in Chicago, Illinois. Morningstar is usually marketed for self-directed investors who can make the most out of all the research tools, but it also offers managed investments and actionable Morningstar Ratings.
Morningstar is one of the most established research platforms in the world, with more than 146,000 subscribers across 29 countries, including the US and Canada. Morningstar offers data on many assets, including stocks, ETFs, funds, and more.
What Is The Morningstar Premium Membership
Morningstar has three main categories of premium products: Individual Investor, Professional, and Managed Investment products. Each Morningstar premium product is designed for a different type of investor. Here's the summary:
Managed Investment products are ideal for beginners and include services like Morningstar Managed Portfolios and Morningstar Retirement Manager. Morningstar Professional products offer advanced research tools for institutional marketing professionals. If you are a self-directed investor, the Individual Investor product will cover all your research needs, including powerful tools and access to independent research, plus regular newsletters with in-depth analysis of investing opportunities.
Is The Morningstar Subscription Cost Worth It?
Yes – whether you're an experienced investor looking for the best stock and ETF screeners plus highly curated investments, or a beginner looking for actionable recommendations through their 5-star tier system, Morningstar has got something for you. Morningstar offers dozens of premade screeners for all types of securities, including stocks, funds, bonds, and ETFs. Some of the screeners available, sorted by security, include:
Stocks, Funds, And ETFs: Five Star Stocks, Medalist ETFs, and Undervalued Stocks screeners.
Bond Funds: Bond Index Funds, Foreign Bond Funds, and High-Yield Bonds screeners.
Retirement Funds: Inflation-Fighters, and Target-Date Funds screeners.
How Much Is A Basic Membership To Morningstar?
Morningstar Individual Investor Subscription: $34.95/month (or $249/year)
Morningstar's subscription cost is competitively low, and if you sign up for an annual plan, you can get up to 41% off compared to the monthly subscription. Keep in mind you will need to sign up and create an account for the most up-to-date pricing.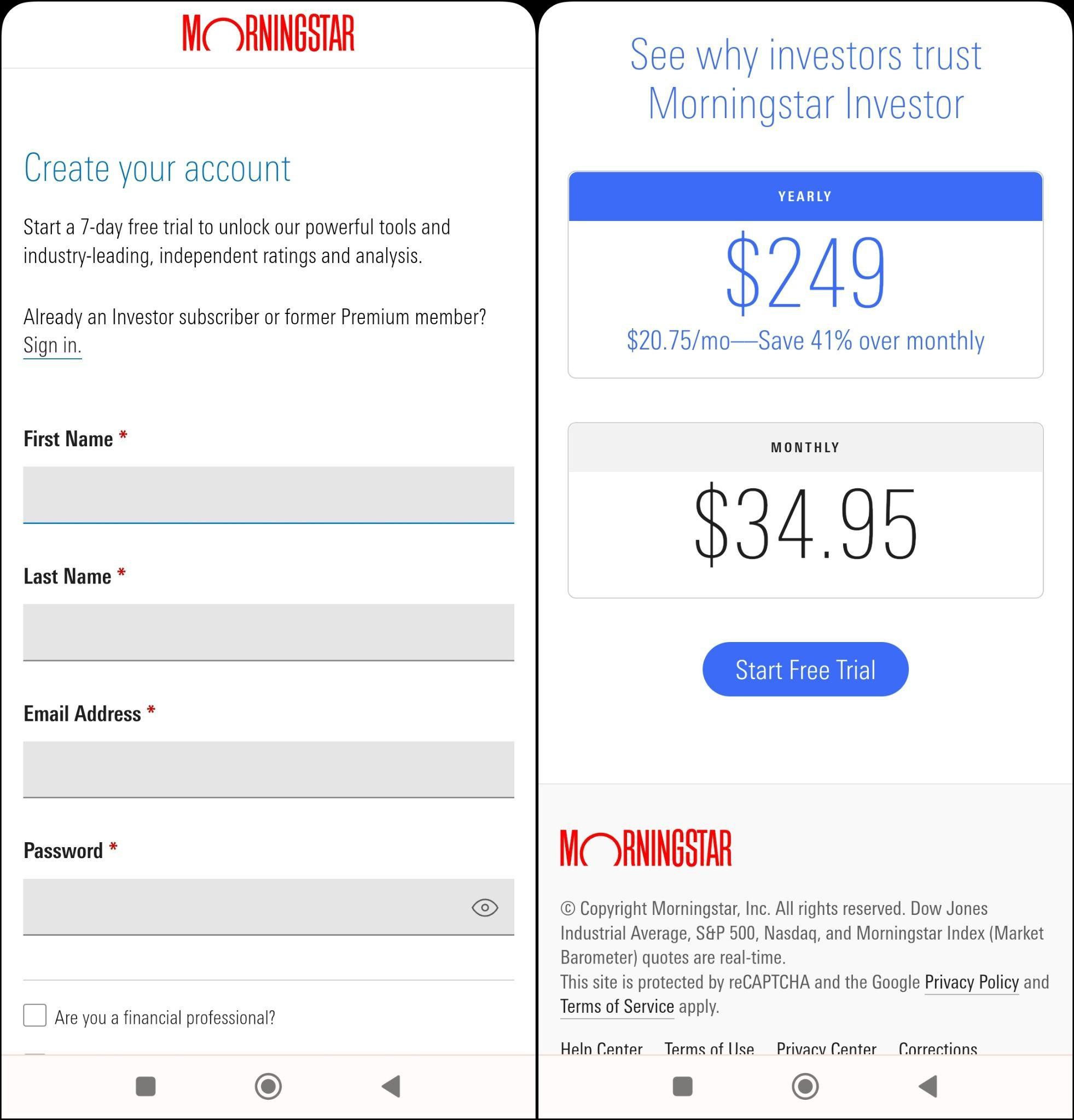 How Can I Get Morningstar For Free?
New investors can get Morningstar for free through Morningstar's 7-day free trial. However, you will need to create your account using this link to access the trial and get up to 41% off the monthly subscription. Morningstar is available in 29 countries worldwide, including the US, Canada, and Australia.
Here are the steps to sign up for Morningstar's free trial:
Visit Morningstar's website
On the top right, click Get 7 Days Free
Click Start Free Trial
Fill in some of your basic information to get started
You can cancel your subscription anytime during the trial, and you won't get charged.
Which Is Better, Morningstar Or Motley Fool?
Morningstar and The Motley Fool are both excellent stock research platforms. Morningstar is better for its tracking, data-collecting, and advanced tools for self-directed investors. At the same time, The Motley Fool has an edge when it comes to the variety of services available and actionable data.
If you're still unsure which one is best for you, here are our recommendations:
If you're not looking for a paid subscription and want to test basic features and get a feel for these types of platforms, we recommend Morningstar's free basic plan
If you're looking to start investing seriously but are looking for actionable information as opposed to self-directed tools, we recommend any of The Motley Fool's services
If you're an experienced self-directed investor looking for the best research tools, you should consider the Morningstar Investor subscription
We recommend checking out our full Motley Fool vs. Morningstar side-by-side comparison for a more in-depth analysis.
Can I Trust Morningstar Ratings
Morningstar Ratings are a trustworthy and complete analytical system that ranks funds' risk-adjusted returns relative to similar funds. Some of the metrics used to rank funds and stocks include:
Historical performance
Volatility
Performance compared to its peers
Undervalued vs. Overvalued
The ranking starts from 1-star to 5-star, with 5 stars representing the top 10% of performers and 1-star the 10% of worst performers. Keep in mind that for fund ratings, there is no external input from analysts, and the ratings are calculated once every month. For stocks, ratings are calculated daily, and there is external input from expert analysts.
You can read more about their ranking system in our full Morningstar review.
Can I Cancel My Morningstar Subscription?
Yes, you can cancel your Morningstar subscription at any time by login into your account and navigating to the subscription tab. Here are the steps:
Login into your account
Navigate to the My account menu
Click Cancel Subscription
Follow the instructions
After you cancel your subscription, you will still have full access to your account until the end of the billing month; then, you'll get a prorated refund for the remainder of your membership plan. The refund will be deposited to your linked credit card within 3-5 business days.