In search of security plugins for your site? Already browsed through the popular versions like Sitelock in the market, and still a bit unsatisfied with what's being offered?
We won't blame you, especially with the reviews coming in of Sitelock that seem to be less than flattering. But, is there an alternative that you can use for your site which has proved its mettle? Yes, there is!
Sitelock – and the negative reviews
When website owners face a hacking attempt, they expect their security plugin to provide at least three steps of service – cleaning up the hack, figuring out the source of infection and/or the backdoor from where the hacker entered, and fixing this vulnerability, or recommending steps to be taken by the user.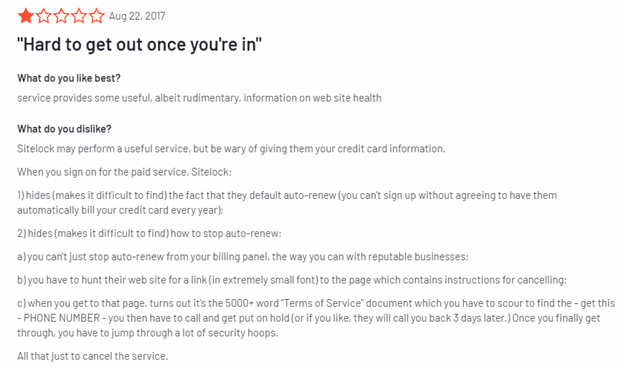 If your security plugin continuously monitors your website security and provides a list of security risks and vulnerabilities that need to be dealt with, that's the ultimate sweet spot. It raises a normal question – Is Sitelock Security worth its price compared to features?
Sitelock's reputation on the first step is mediocre at best, and severely lacking on the next two. They focus on providing temporary solutions, and forego permanent repairs and strengthening measures for website security. Determining how you've been hacked is the first – and last – step to protecting yourself from such attacks in the future, and this is where they stumble.
One customer accused Sitelock of 'predatory sales tactics'. What irked this customer, and many others, is the payment of a fee for their service in monitoring and protecting the website from malware and hacking attempts and then, additional payment for the removal of the malware in case of actual infection. As aggressive as Sitelock is in getting you to join their list of paying members in the beginning, they are surprisingly nonchalant when it comes to resolving the issue when the site's infected in reality, no matter the effectiveness of the services provided or if you're a paying customer or not.
The customer service department of Sitelock faces targeted criticism for continuously trying to sell their products instead of resolving the complaints or malware concerns of the members. It seems that all they're concerned with is getting more people on their members' list and continuously making them spend money, with no benefits given for those paying the minimal fee for protection.
Furthermore, the selling point of Sitelock is its stubborn advertising. They have tied up with a lot of web hosting platforms such as GoDaddy, Hostgator, etc, which allows them to be pushed as an alternative to the users of these platforms. Beginners in the field will tend to believe these suggestions and sign up, no questions asked; some others may sign up just for the sake of having a security plugin. The real problem arises when you get hacked and you realize that it's more of an issue getting resolved than getting hacked in the first place.
A possible alternative – Astra Security?
Recently, we came across the Astra Security security plugin. They seem to be knowledgeable in online security matters, have a list of issues they claim to be working against, and supportive features like 24×7 customer support. They focus on the concept of '360 degrees security' that deals with common issues of malware, credit card hacks, phishing scams, SEO spam, SQLi and XSS attacks, brute force attacks, and over 1250+ threats online.
They also claim to focus on PHP-based websites, most compatible with CMS platforms like WordPress, Drupal, Joomla, Magento, etc. A couple of other security features they offer include vulnerability assessments and penetration testing, AI or Machine Learning-based techniques, whitelisting or blacklisting, etc. They offer both free and paid versions, so it remains to see if the paid version is worth it.
Of course, everything on paper may seem as rosy as Sitelock, so it is better to dig a little deeper to know what others think about this security plugin.
Reviews of Astra Security users
Overall, the positive reviews seem promising, and not of the promotional or paid nature like most Sitelock reviews are accused to be. Lots of users prefer this plugin over the previous ones they have used, appreciate that the experts at Astra Security don't just rely on automated processes but on manual reviewing of every detail comprehensively to find out threats and vulnerabilities, and the features it offers.
A user claimed that they faced DDoS attacks, and by activating the security plugin and contacting customer support, they stayed on-line, blocked the IP addresses, and stayed on the case in case it made a comeback.
There are also negative reviews, but these focus more on the lack of availability of Astra Security on all platforms and the desire for more clarity on the dashboard feature.
Attacks happen, and no security plugin can claim that they will stop these once and for all, but the steps are taken for resolution and permanent protection is what makes one security plugin different from the other.