What Is Seeking Alpha
Founded in 2004, Seeking Alpha is an investment research platform and newsletter that relies on the combined knowledge of its community to find the best investing opportunities. David Jackson launched it as a way to offer all investors access to very valuable content, from stocks, mutual funds, and ETFs to cryptocurrencies and commodities.
Seeking Alpha has 15,800 unique contributors and publishes 280 articles every day about all things financial. With Seeking Alpha, you'll have access to all the essential research tools like real-time alerts and chartings tools, plus unique features like the Seeking Alpha Author Performance and Stock Quant Ratings, so you can follow the best contributors and gain insights into their investments. Seeking Alpha also makes it very easy to sync your favorite brokerage and start investing right from the Seeking Alpha dashboard. This is a very unique feature that competitors like The Motley Fool can't offer – you can check some other differences between the platforms in our Seeking Alpha vs. Motley Fool review.
How Much Can You Make On Seeking Alpha?
Since its debut in 2004, Seeking Alpha's recommendations have outperformed the S&P 500 index handily. They estimate that if you had invested $10,000 in 2004 in Seeking Alpha Strong Buy picks, you would have around $160,000 today. That is 25% better than the S&P 500 index, on average, every year.
What Is The Difference Between Seeking Alpha Premium And PRO?
Starting with the similarities, both Seeking Alpha Premium and Seeking Alpha PRO include basic features like:
Access to stock analysis & prices
Set up email alerts
Real-time news & updates
Charting tools
Wall Street Ratings
The Seeking Alpha Premium subscription offers Seeking Alpha's proprietary Quant Ratings & Factor Grades, Stock Dividend grades, and Seeking Alpha Author Rating & Performance so you can follow the most successful contributors and take advantage of short-lived opportunities. Here's a summary:
Unlimited access to Premium content
Seeking Alpha Author Ratings
Seeking Alpha Author Performance
Stock Quant Ratings
Stock Dividend Grades
Access to the Seeking Alpha Mobile App
The Seeking Alpha PRO subscription includes everything from the basic and Premium plans and adds VIP services like:
Highly curated Top Ideas
Access to exclusive newsletters & PRO content
Short ideas portal
Comprehensive Ideas Screener & Ideas Filter
You can learn more about the features in our full Seeking Alpha review.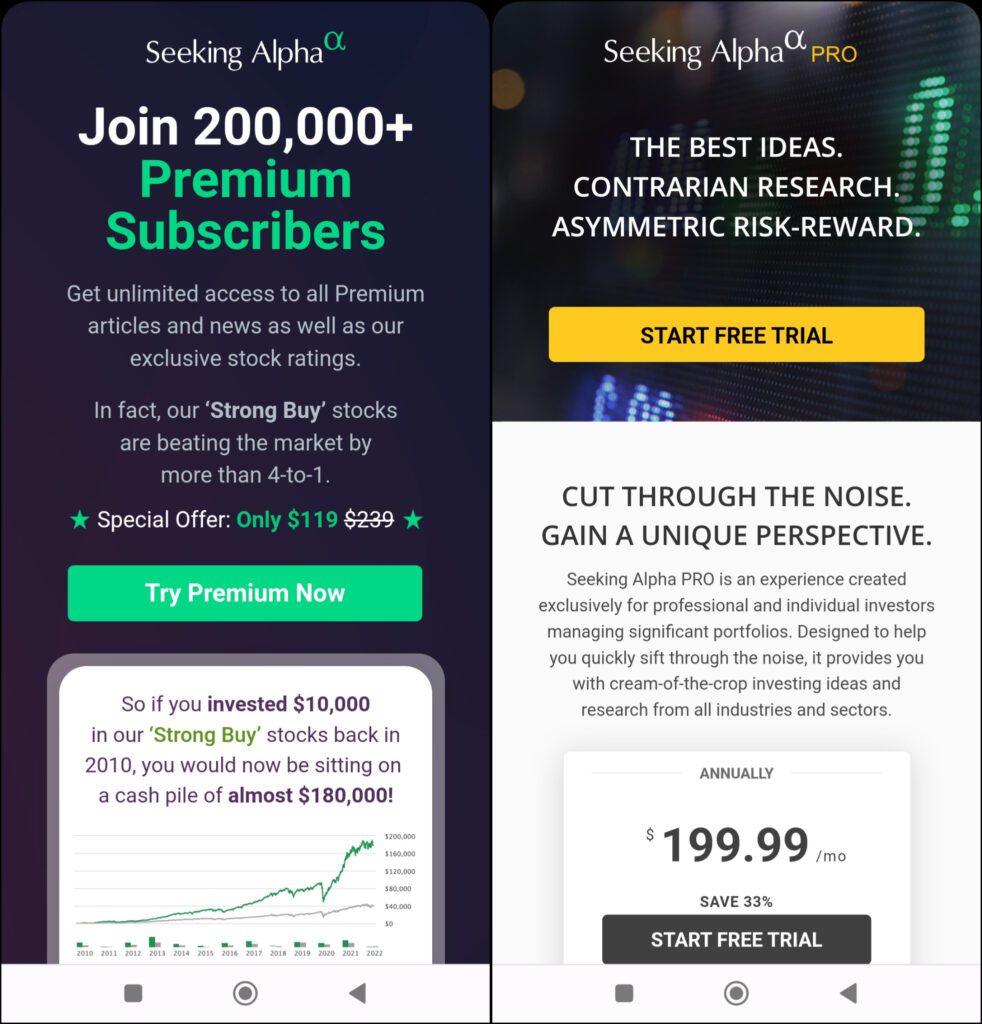 Is Seeking Alpha Cost Worth It?
Yes – no matter how much you're willing to spend, Seeking Alpha has a plan for you. There are three plans: Basic, Premium, and PRO. Here are the fees (assuming you use our promo link to sign up):
Basic Plan: Free
Premium Plan: $119/year (or $29.99/month)
PRO Plan: $2,400/year (or $299.99/month)
If you sign up with our link, you will get a 30% discount on the PRO plan and a 50% discount on the Premium plan, plus a 14-day money-back guaranteed trial.
Keep in mind the regular price for the PRO plan is $3,600/year, but with our link, you will pay only $2,400, and the regular price for the Premium plan is $239/year, but with our link, you will only pay $119.
Is It Safe To Link Seeking Alpha With Your Brokerage Account?
Since its inception in 2004, thousands of users have synced their brokerage with their Seeking Alpha account. It's completely safe, and Seeking Alpha will never have direct access to your credentials – everything goes through Plaid, one of the largest and most secure data transfer networks in the US.
The major benefit of syncing your account is how easily you can do all your research from the Seeking Alpha platform and make a purchase without ever leaving the dashboard. You can also link up as many brokerages as you want, so it's a great way to keep track of all your investments in one place. Still, you may wonder – is Seeking Alpha cost worth it?
Can Anyone Write For Seeking Alpha?
It depends – anyone can write an article for Seeking Alpha, but it's up to the editorial team to decide if it has the quality they're looking for. If you're looking to get started writing for Seeking Alpha. Here are the steps to send your first article:
Visit the Seeking Alpha website
Log in to your account
Click Become a Contributor
Open the submission interface and upload your article
It will take a couple of days for the editorial team to get back to you, but you will get a response about whether you're approved. Keep in mind only exclusive articles can be monetized – that means they can't be published anywhere else, whether online or offline. You can select if you want your article to be exclusive or not right before you upload the article through the submission interface.
Depending on your article, you can get anywhere from $40-$60 per article or $10 per thousand pageviews if approved by the editorial team.
How Many Subscribers Does Seeking Alpha Have?
Seeking Alpha has more than 20 million unique monthly visitors, and more than 2.6 million investors subscribed to one of their premium plans. Free users can access a limited number of articles every month, while premium users don't have any limitations. Seeking Alpha is very reliable and boasts 15,800+ qualified contributors, and publishes 280 articles every day.
Can You Get Seeking Alpha For Free?
Yes – If you use our Premium Subscription Coupon when signing up for Seeking Alpha, you will have full access to a 14-day trial. As long as you cancel the subscription before the period ends, you will get your money back guaranteed.