What Is FNRP?
Based in New Jersey, First National Realty Partners – also known as FNRP – is a real estate investing platform that focuses on a particular type of real estate asset: essential needs-anchored properties like grocery stores. As of late 2022, FNRP holds dozens of high-quality properties you can choose from, with annual returns ranging from 12%-18%.
First National Realty Partners was founded in 2015 by Anthony Grosso and Christopher Palermo, and it's only available for accredited investors who can make an initial investment of at least $50,000. FNRP has thousands of partners and active investors, plus tenant agreements with very established companies like Whole Foods and Kroger.
How Much Can You Make On FNRP?
First National Realty Partners properties offer accredited investors access to 51 properties valued at more than $1 billion. Since FNRP's inception in 2015, they have averaged annual returns ranging from 12%-18%, easily beating the S&P 500 index in the same period.
The First National Realy Partners team researches thousands of properties but lists only highly vetted grocery-anchored (or other essential needs-anchored) retail properties. FNRP pays cash distributions quarterly. Here is the full list of the best real estate crowdfunding platforms in the US based on returns, flexibility, and minimum investments.
How Does FNRP Choose Properties?
First National Realty Partners focuses on grocery-anchored – or other essential needs-anchored – retail properties, primarily in market centers with growth potential. Some of the key parameters they research before listing a property include:
Population density (at least 100,000)
Average household income (at least $65,000)
Minimum deal size ($15 million)
For the population density and household income, they consider a 5-mile radius, which is what the research team at FNRP has determined is the optimal distance between grocery stores and households. This strategy has been very successful, and as of late 2022, FNRP holds 51 high-quality properties after researching thousands of deals. We go deeper into the whole vetting process and how FNRP has been so successful in our full FNRP review.
How Much Does It Cost To Join FNRP?
First National Realty Partners is not for everyone. To sign up for this platform and start investing, you must provide proof of your accreditation and make an initial deposit of $50,000. Here's how the four-step process goes from reviewing to collecting cash distributions:
Review offerings and choose an investment
Attend a LIVE deal webinar
Make an investment
Collect quarterly distributions
The LIVE deal webinar is a 30 minutes presentation from the First National Realty Partners team, where they break down all the benefits of that particular property. All investors can participate, ask questions, and have them answered in real-time. You can fund your investments via wire transfers or checks or use your retirement account through a self-directed IRA custodian – the team at FNRP will guide you through the whole process. We detail the whole process from checking your accreditation to applying here.
How Can You Track Your Investments In FNRP?
After you make an initial investment, you will have access to the Investor Portal, where you can track any changes and receive key reports plus tax forms, in addition to quarterly summaries and monthly leasing updates.
How Many Investors Does FNRP Have?
First National Realty Partners has more than 1,650 active investors, and hundreds of partnerships across the US. Tenants include large companies like Walgreen, Whole Foods, Walmart, and more.
Is FNRP Worth Subscribing To?
First National Realty Partners is definitely worth subscribing to. The major limitation is that it requires accreditation, and the minimum investment can be prohibitively high for new investors. FNRP may be worth it for you:
If you're looking to invest in specialized grocery-anchored properties with a solid track record of returns
If you want to diversify your real estate investments
If you're looking for institutional-grade deals leveraging brands like Whole Foods and Kroger
If you don't want to worry about managing a property on your own and would rather let the experts do it while you collect quarterly cash distributions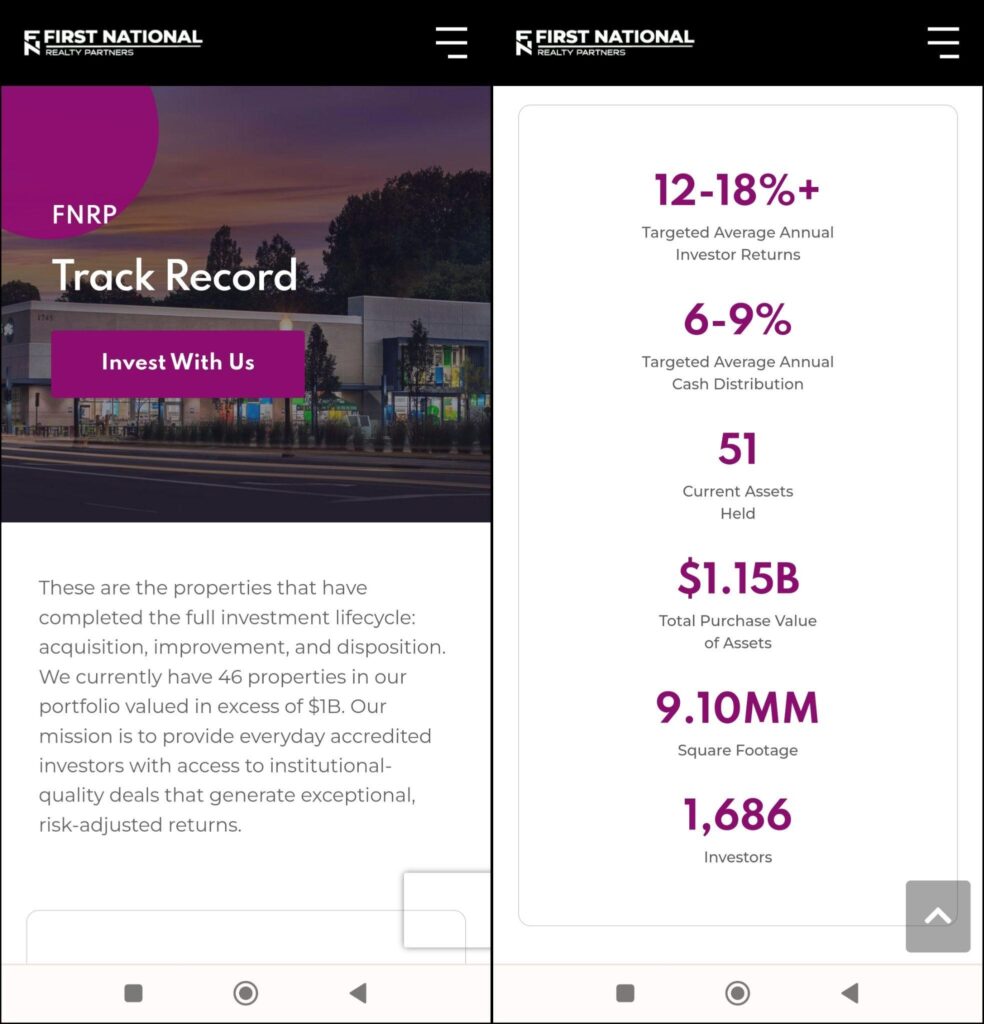 Is FNRP Legit?
Yes, FNRP is completely legit; it has excellent reviews from its users and holds an average rating of 4.56 on BBB. Here's what some of those users have to say about FNRP:
"I signed the multiple deals with FNRP and really am impressed with the overall org structure, detailed offering memorandum, access to a direct account manager to talk about any general or specific question, who respond back very professionally." – Manoj T.
"I had done one deal with them with a couple of quarters under my belt. So far it seems very good, great communication and updates." – Manish K.
"The accountability and pipeline of deals are much better than I anticipated." – Greg B.
"First National Realty Partners LLC is a first-class company. They are straight shooters and deliver what they claim. We are very happy with our investments with them and look forward to further investments in the future." – Willis L.
If you are not entirely convinced that this particular service is for you and would like to read more, here are some alternatives to FNRP.