In today's highly volatile business environments, it is essential for organizations to adapt to market changes quickly. Organizations need to assess multiple factors before they can take the right action that will steer them in the right direction. Of course, all these changes need to be done while ensuring that the organization continues to grow and that losses are curbed. Business analysts (BAs) are indispensable in today's world because they manage this very process.
CBAP which stands for Certified Business Analysis Professional is a Business Analyst certification offered by the International Institute of Business Analysis (IIBA) based in Canada.

Figure 1: The 3 main Business Analyst certifications offered by IIBA
CBAP certification is level 3 certification meant for individuals that already have extensive business analysis experience.
A CBAP Certified Business Analysis Professional is usually ranked between intermediate and senior level, and has over five years' experience, preferably with some of this experience leading other BAs. A CBAP certified business analyst has a significant edge with an employer not only because the certification is widely recognized in the industry but also because CBAP professionals can be trusted with critical projects. The simple reason for this is that they are expected to have already demonstrated their skill, expertise, and commitment to the profession.
Career benefits of taking CBAP certification
BA certifications help the individual to chart a career path and also standardize their skills and expectations in a BA role. A certification provides a baseline that organizations can use to prove that a candidate understands the BA role, as well as generally expected duties and responsibilities. The certifications also validate that a candidate has experience as a BA and that they have all the required training and knowledge for the level.
There are several benefits that candidates can get from a CBAP certification. Some of the main ones are as follows:
Broader perspective: The CBAP course teaches several techniques and approaches for solving problems including thinking out of, and inside the box.

Widely recognized for demonstrable knowledge: a CBAP certified individual doesn't need much proof besides the certification to demonstrate that they have knowledge and skills to be a competent business analyst.

Become a member and participant in a reputable professional group: This is important for networking, as a resource base for solving and helping to address challenges, and for global recognition by other peers in the industry

Commitment to the industry: Individuals that hold a CBAP certificate are recognized as having a commitment to the business analysis career path. As such, they have a lot of credibility with employers in the IT and business community.

Speak the language of a BA professional: With CBAP training and certification, you become adept and eloquent at simply disseminating complex BA concepts so that other professionals and non-professionals in an organization can easily understand. As such, a BAs currency in an organization is greatly enhanced

Career advancement and a salary bump: With CBAP certification an individual can immediately get a salary increase not just because they have more knowledge and experience but also because they will work on critical organization projects and programs.

Job satisfaction: Individuals with a CBAP certification tend to be happier individuals because they have the tools and confidence to dispense of all their duties with the skill, knowledge, and professionalism that is expected of them. All this translates into high levels of job satisfaction among CBAP certified professionals.
Who should take CBAP?
At the most basic level, CBAP is best suited for individuals with an inherent ability and keen interest to analyze data and, most importantly, translate the analyzed data into strategic action.
More specifically, those who take CBAP certification should be:
People with significant experience in BA

Holders of a CCBA certificate (Certification of Capability in Business Analysis)

Product Managers

Trainers

Non-BA consultants

Hybrid BA professionals, including Project Manager, Change/Transformation Managers, Quality Assurance (QA) Testers, Designers, and professionals.
How to pursue CBAP certification
Exam prerequisites
To qualify for the CBAP exam, applicants must first do the following:
The applicant must have at least 10 years' work experience in a BA including a minimum of 7,500 verifiable hours within this 10-year period

Within the above 7,500 hours of experience, the applicant must have a minimum of 900 hours in 4 of the 6 BABOK® Guide Knowledge Areas, (a total of 3,600 hours minimum out of the required 7,500 hours)

The applicant must have earned at least 35-hours of professional development in BA related areas within the last 4 years

The applicant must have at least two professional references from another CBAP recipient, a career manager, or client.

Successful candidates must sign and abide by the IIBA and CBAP  Code of Ethics

The applicant must agree to IIBA and CBAP Terms and Conditions
CBAP certification cost
Non-refundable and non-transferable application fee: $125

Exam fee: $325 (members), $450 (non-members)

Retake fee: $250 (members), $375 (non-members)

Renewal fee: $85 (members), $120 (non-members)
The CBAP exam
The CBAP exam is three-and-a-half-hours long and includes 120 multiple-choice questions that are based on the situational analysis of case studies. The required content and knowledge are mostly derived from BABOK, who are the custodians of the Global Best Practices for Business Analysis.
Upon passing the exam, candidates are awarded designation as a 'Certified Business Analysis Professional.' As of early 2018, a total of 8,025 individuals have received CBAP designation worldwide.
Recertification
After receiving the CBAP certification for the first time, an individual will need to be recertified every 3 years. They can do so by reporting a minimum of 60 hours of either; continued professional BA development, pro-bono BA work for a non-profit, or business journal authorship within the 3-years.
How CBAP training is helpful
If you want to pursue CBAP Certification, or any other business analyst certification online, you have to ensure that you give the course the necessary time and attention.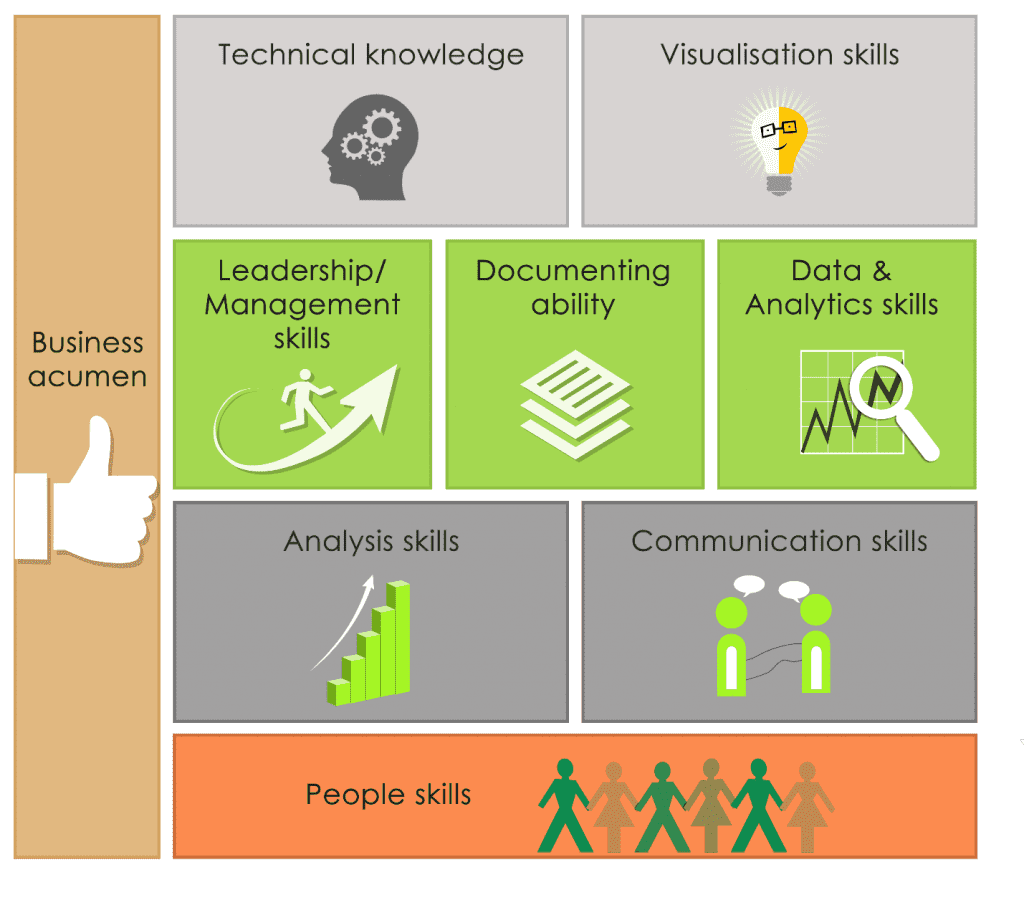 Figure 2: Business Analyst skillset
The benefit of taking a course is that you will have all the necessary guidance and mentorship that you need without having to do it all on your own, which can take a lot of time and effort. Additionally, by taking a well-structured course with the best instructors, you are all but guaranteed in becoming a designated CBAP professional in the shortest time possible.
Job opportunities and salary trends for CBAP certified professionals
USA
Average CBAP salary: $87K
Average salary by skill/specialty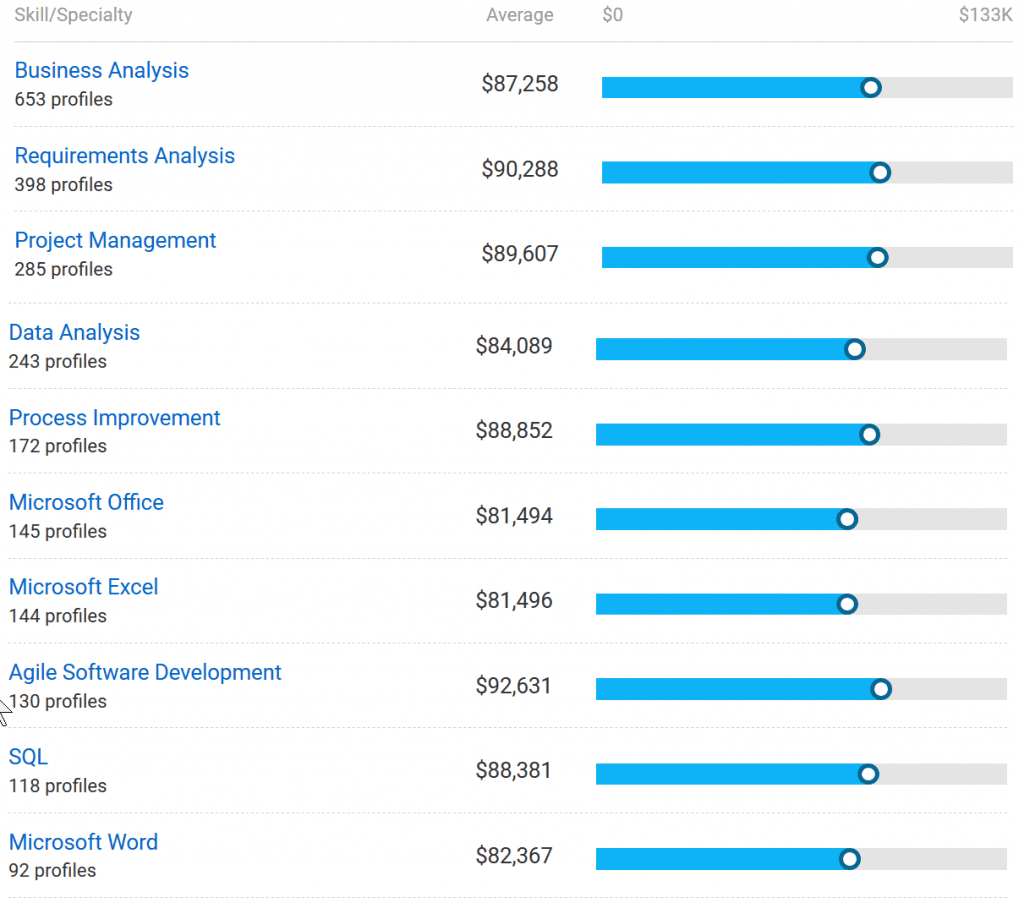 Top employers/companies hiring
Deloitte Consulting LLP $103,000 – $155,431

UnitedHealth Group $78,513 – $90,455

CSRA Inc. $139,274 – $145,633

Accenture $70,468 – $91,135

Principal Financial Group $109,000
Other stats
Years of Experience
Less than 1 year 0%

1-4 years 14%

5-9 years31%

10-19 years 40%

20 years or more 15%
Gender
Female:  47%   $56,858 – $103,296

Male:  53%    $63,162 – $106,534
INDIA
Average CBAP salary: Rs 1M
Average salary by skill/specialty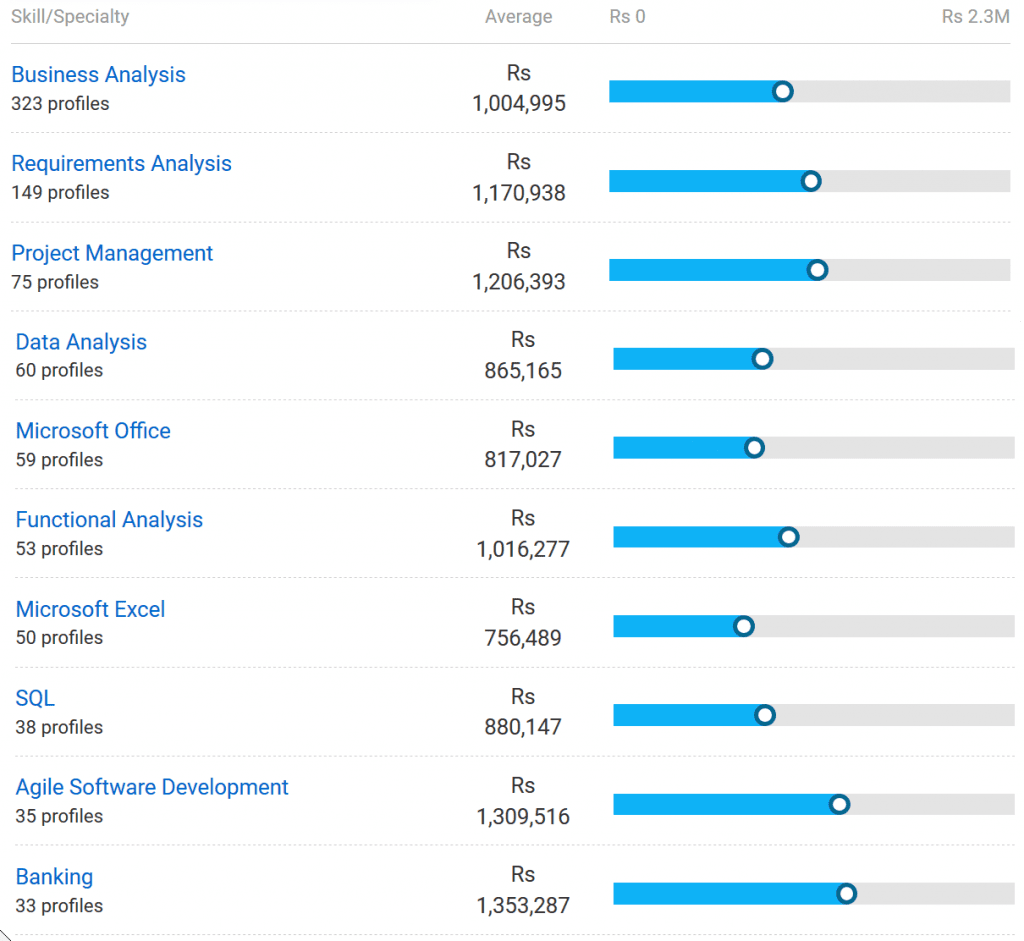 Top employers/companies hiring
Accenture Technology Solutions Rs 386,407 – Rs 1,002,985

Tata Consultancy Services Limited Rs 661,313 – Rs 1,006,174

EY (Ernst & Young) Rs 1,076,985 – Rs 1,619,645

HCL Technologies Ltd. Rs 310,000 – Rs 1,450,000

J.P. Morgan Chase & Co. (JPMCC) Rs 1,350,000 – Rs 2,850,000
Other stats
Popular Cities
Bangalore, Karnataka Rs 375,379 – Rs 1,499,986

Pune, Maharashtra Rs 432,776 – Rs 1,544,965

Mumbai, Maharashtra Rs 367,663 – Rs 1,542,633

Chennai, Tamil Nadu Rs 285,852 – Rs 1,473,924

Hyderabad, Andhra Pradesh Rs 342,550 – Rs 1,458,159
Years of Experience
Less than 1 year 3%

1-4 years 24%

5-9 years41%

10-19 years 30%

20 years or more 2%
Gender
Female:  16%   Rs 297,988 – Rs 1,331,137

Male:  84%    Rs 407,457 – Rs 1,631,376
Australia
Average CBAP salary: AU$101
Average salary by skill/specialty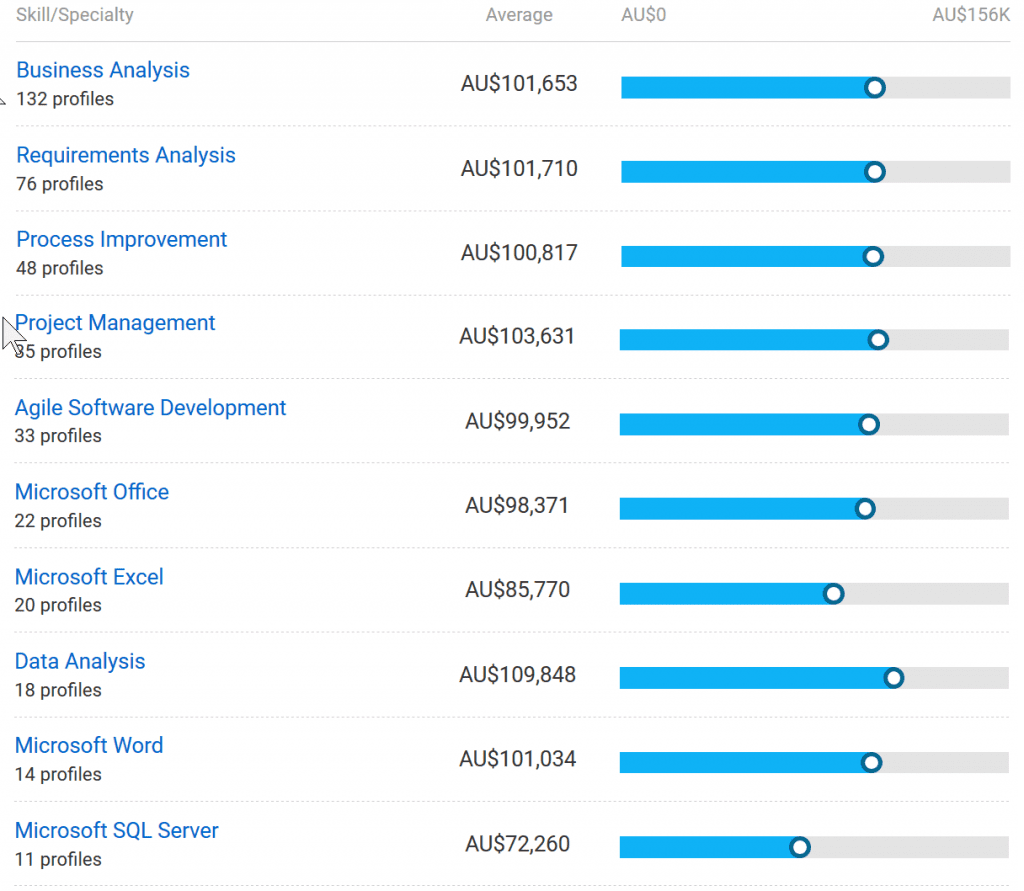 Top employers/companies hiring
SMS Management & Technology AU$122,084

International Business Machines (IBM) Corp. AU$111,000

Deloitte AU$177,465

NBN Co AU$124,800

Pegasus AU$104,498
Other stats
Years of Experience
Less than 1 year 2%

1-4 years 18%

5-9 years28%

10-19 years 45%

20 years or more 7%
Gender
Female:  39%   AU$52,608 – AU$122,903

Male:  61%    AU$59,910 – AU$121,000
South Africa
Average CBAP salary: R582K
Average salary by skill/specialty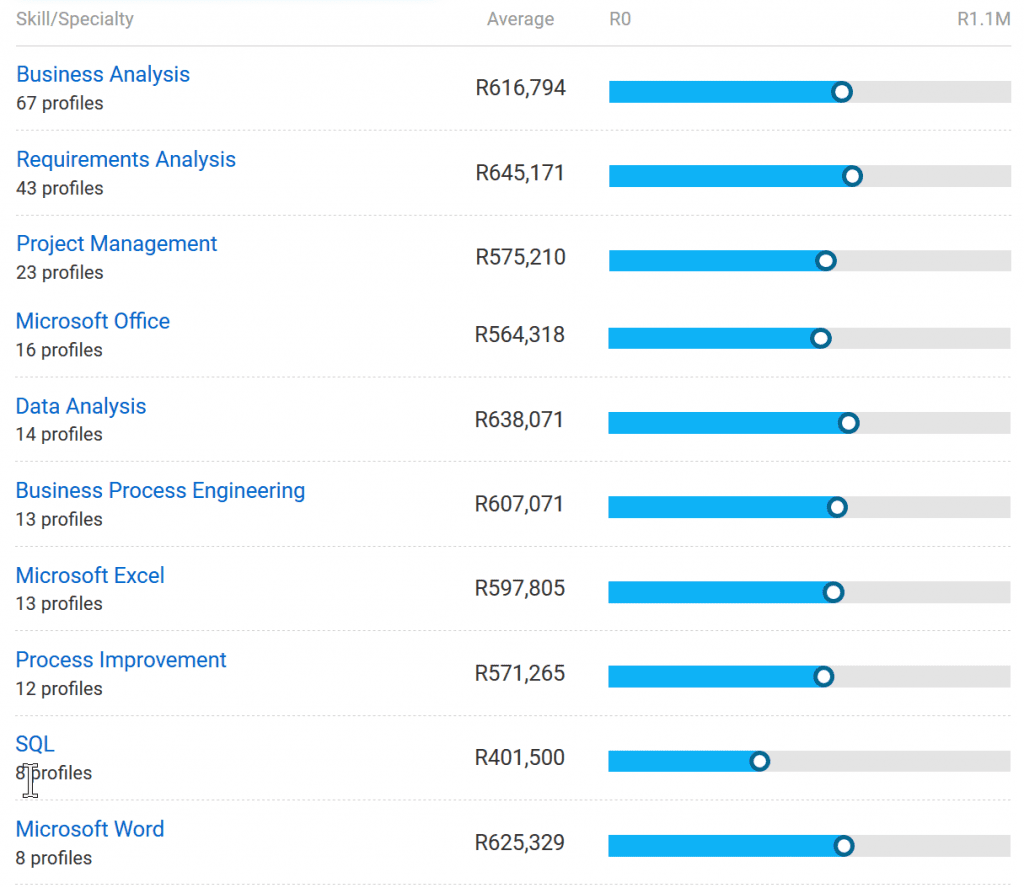 Top employers/companies hiring
Standard Bank R957,500

Multichoice R732,503

EOH R349,170

Sanlam R399,000

Capitec Bank R772,500
Other stats
Years of Experience
Less than 1 year 1%

1-4 years 24%

5-9 years30%

10-19 years 36%

20 years or more 9%
Gender
Female:  42%   R284,842 – R697,671

Male:  58%    R311,303 – R706,730