iPhone offers great reliability software-wise since the iOS is very well optimized. However, one issue people commonly face is their storage space running out quickly. All the apps, songs, images, and other files you put on your iPhone take up a lot of space, and you may also face the "iPhone storage full stuck on Apple logo" issue. For some users, this issue renders their iPhone useless, but here we will discuss the 11 working ways to fix the problem quickly.
Why My iPhone Gets Stuck on The Apple Logo When Storage is Full?
One of the biggest cons of having an iPhone is that you don't get any slots to add expandable storage cards. Although you get iCloud storage, the free one is limited to 5GB, and purchasing more can be costly for some users. So, if you decide to stick to the built-in storage space, it may get full quickly, and eventually, you will get the "iPhone stuck on Apple logo storage full" problem your way.
There could be several reasons you get this issue, and the most common reason is that iPhones start misbehaving when their storage gets exhausted. Another reason for such problems is an outdated iOS version that cannot be updated due to a lack of storage space. Knowing what is causing this issue will be extremely helpful in finding the right solution.
How to Fix an iPhone Getting Stuck on The Apple Logo Storage Full?
If your iPhone storage full stuck on spinning wheel or its Apple logo, try one of the solutions below. These are 100% working solutions for different iPhone problems.
1.      Force Restart Your iPhone
The first option to try is a force restart. The method is different for different iPhone series. Those can be divided into 3 groups, and here is how you can do that for every group."
·         For iPhone 6 series and older models:
Holding the home and power buttons together and waiting till you get Apple logo will force restart this group.
·         For iPhone 7 series:
Holding the Vol – and power buttons together and waiting till you get Apple logo will force restart 7 series.
·         For iPhone 8 and newer series:
Clicking Vol +, then holding the Vol –  and power buttons together and waiting till you get Apple logo will force the restart of this group.
2.      Put your iPhone into Recovery Mode/DFU mode.
If you frequently create iTunes backups of your iPhone, putting it in the DFU or Recovery mode, then restoring the most recent backup will resolve the issue. However, it can be time-consuming, and the data you haven't backed up will be lost.
3.      Update or restore your iPhone via iTunes.
If iTunes shows an iOS update option, go for it. It will not delete any data on your device, and the process will resolve the issue if it is caused due to outdated iOS version. In the device summary on iTunes PC, you can check for updates and install if any are available.
The above methods may sometimes work, but these are not always 100% successful. In the worst case, you may even face data loss. So, to get better reliability and efficient results, try Tenorshare ReiBoot.
4.      Fix your iPhone getting Stuck on the Apple Logo Storage Full by ReiBoot (A reliable and Efficient Solution)
The most reliable and efficient solution for all iPhone models and all software problems is ReiBoot- iOS system repair. It is the best free tool for repairing iOS systems and data recovery and works with macOS. If your iPhone is stuck due to full storage, it is the only tool you need to use. ReiBoot resolves over 150 problems with iPhones due to iOS failure or storage space being full. ReiBoot is packed with features for iPhones like:
Free and instant iOS upgrade and downgrade
Getting the latest iOS beta updates
Repairing iTunes errors with a few clicks
Supports all the old and new iPhone models
Reset iOS devices without Finder/iTunes
Along with such great features, ReiBoot offers an extremely easy user experience with only a few steps on "How to Fix iPhone Stuck on Apple Logo Storage Full?" as discussed below:
Step1: Connect the iPhone to Tool and select repair method
Start the ReiBoot tool on your PC and ensure that iPhone connects to the computer with recovery mode enabled. Once the tool detects your iPhone, you can click Start.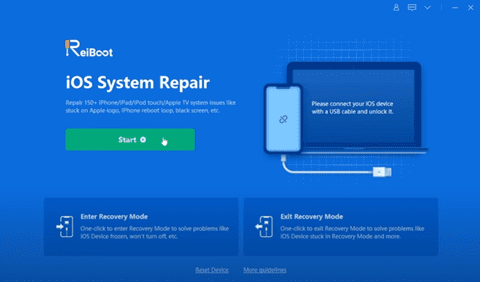 Now select the repairing mode for your iPhone. We will select Standard repair instead of Deep repair for a quick and easy fix to this problem.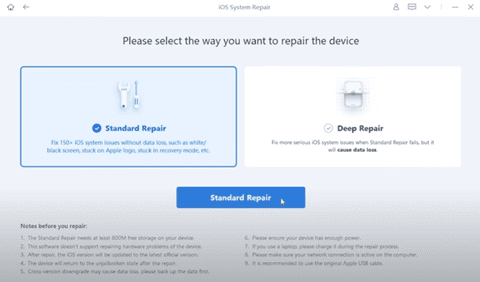 Step2: Download iPhone firmware and start repair
Check the model number of your iPhone and select a location on your PC to download firmware for your model. Hit the download button, and the tool will start downloading the firmware. Wait until the download completes.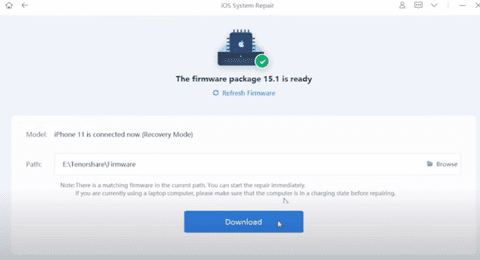 Once the download is complete, you can start repairing and wait until the tool shows the Success screen on your computer. That's when you can disconnect your smartphone from the computer, and it will start working again.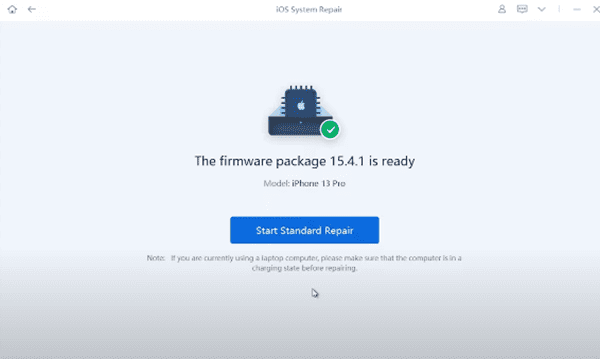 With these simple and easy steps, you can quickly repair the iPhone getting stuck. The best part is that process is the same for each iPhone. For better assistance, you can consider watching this video:
Recommendations for preventing iPhone storage full issue
Do you keep getting the "iPhone screen blinking on and off"? It is probably because of a lack of free storage space. So, instead of waiting to face the issue and then repairing it, you can take the following precautionary measures and free up some storage space:
1.      Remove those apps you don't use
Go through the App Library on your iPhone to see the apps you don't use. Going through every folder will show you many apps that can be deleted, and that will free up a lot of space.
2.      Clear browser cache periodically
Go to Settings and open settings for your browser in them. You need to go to clear website Data and history and tab clear to confirm. Doing this after every few days will keep unwanted files away from your iPhone and save you some space.
3.      Erase old and unused backups
iCloud backups take up a lot of space, and the old ones are usually unused. You can find them in the iCloud settings and highlight the ones you no longer need. Deleting them will free up some storage space.
4.      Delete the old and outdated videos and photos.
Go through the Photos app and delete videos and photos that are not useful. There could be accidental captures, duplicate photos, and images that are not useful. Deleting them from the library and the recycle bin will help.
5.      No Jailbreak
Ensure that your iPhone does not get Jailbreak since that can mess with the iOS software, and you will face the consequences.
6.      Update your iOS
Lastly, keep your iOS version always updated. You can find the option for Software updates in the General section.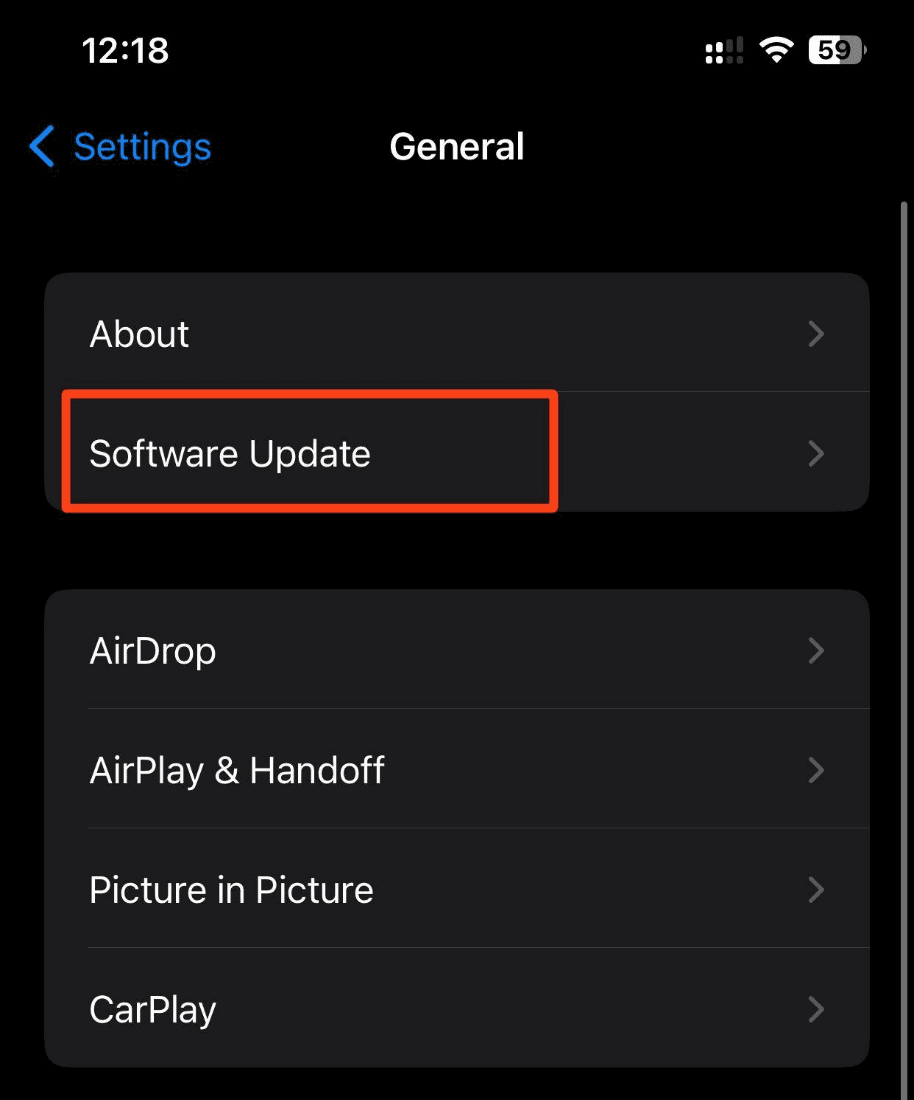 Allowing it to update automatically will give you a better experience.
Conclusion
iPhone storage full and stuck in recovery mode is a common problem among people who keep many files on the iPhone. The ideal option is to monitor your iPhone storage capacity and ensure it never gets full. However, if you ever get no storage space left free in your iPhone, then you can try the 11 solutions we discussed here.
The solutions discussed here work for different scenarios; some are unreliable in every case. So, if you want better reliability, Tenorshare ReiBoot is the optimal choice. It resolves most software issues with different models and iOS versions.
FAQ
1.      What to do if iPhone storage is full and the phone won't turn on?
If you get this issue, the easiest solution will be connecting your iPhone to the PC, accessing the DCIM folder in iTunes, and deleting unnecessary videos and photos. It may free up enough space on your iPhone that it starts working again.
2.      How to Check iPhone Storage Capacity?
Going into the About section under the General tab in the settings of iPhone and scrolling down to the "Available" option will tell you the remaining space available. The "Capacity" option right above it will tell you the total space of your iPhone.
3.      What is the quickest way for fixing an iPhone not turning on due to full storage?
The quickest fix that you can try is force restarting your iPhone. However, it may only work in some cases.
4.      Will I lose data due to a forced restart?
 You don't lose any saved data when performing a force restart. It will only delete the unsaved files from your iPhone.