– iPhone trade-in prices drop up to 16% post launch of a new iPhone. Ahead of the iPhone 13 launch, iPhone 12 Pro Max 512GB lost 15.7% in one month
– iPhone 11 256GB lost over 14% resale value in one month following the launch of the iPhone 13
– iPhone 12 Pro Max 256 GB lost $121 in value in one week following the iPhone 13 launch
By now, we all know that new smartphones (or any tech, for that matter) lose a lot of their value literally the day after launch. We can say the same for the generation of smartphone before, which always loses a heap of value once the brand announces its successor, and even more so when the newest iteration hits the shelves.
The same can generally be said for iPhone. While recent handsets have exhibited somewhat strange behaviour—in some cases recovering a small percentage of that lost value—value depreciation trends over the years show that Apple's baby isn't immune to the market effects felt by every other smartphone brand. While it may retain the most value compared to any other handset, iPhone sees value depreciation too, especially when Apple announces a new generation.
SellCell has analysed iPhone 11 and 12 value data from June 1st 2021-December 1st 2021, concentrating in particular on the month of the iPhone 13 announcement; September 2021. By scrutinizing these statistics, it becomes clear what is likely to happen to the iPhone 13 value when Apple announces the 14-series in September 2022. Basically, if an iPhone owner is thinking of trading their iPhone in, they shouldn't hang about, or it'll lose more value in the wake of the iPhone 14 launch.
Here's why iPhone owners should be thinking "I'll sell my iPhone now" rather than "I'll sell my iPhone later"…
NB: for the purpose of this report, SellCell analysed sales data for handsets in "like new" condition. Trends are similar for phones in "good" condition.
Main Findings
In the month after the launch of the iPhone 13-series, the iPhone 12 Pro Max 512GB lost 15.7% of its value. Between September and November post the launch of iPhone 13, that depreciation grew to 16.5%.
iPhone 11 256GB fared a little better, depreciating in value by up to 14.1%, then recovering some lost value, with depreciation at 11.3% by November after iPhone 13 launched.
Between September 1st 2021 and December 1st 2021, the iPhone 12 Pro Max 512GB lost $190 in value, while the iPhone 11 Pro Max 512GB lost $85.
Irrespective of the model, all iPhone 12 and iPhone 11 handsets lost significant value in September 2021, the month of the iPhone 13 announcement.
Despite this loss in value post iPhone 13 launch, many iPhone 12 and iPhone 11 models saw some value recovery between November 1st and December 1st, 2021.
Summary
Trends show that those currently sitting on an iPhone waiting to trade it in should do so with caution, particularly as we approach the launch of the iPhone 14.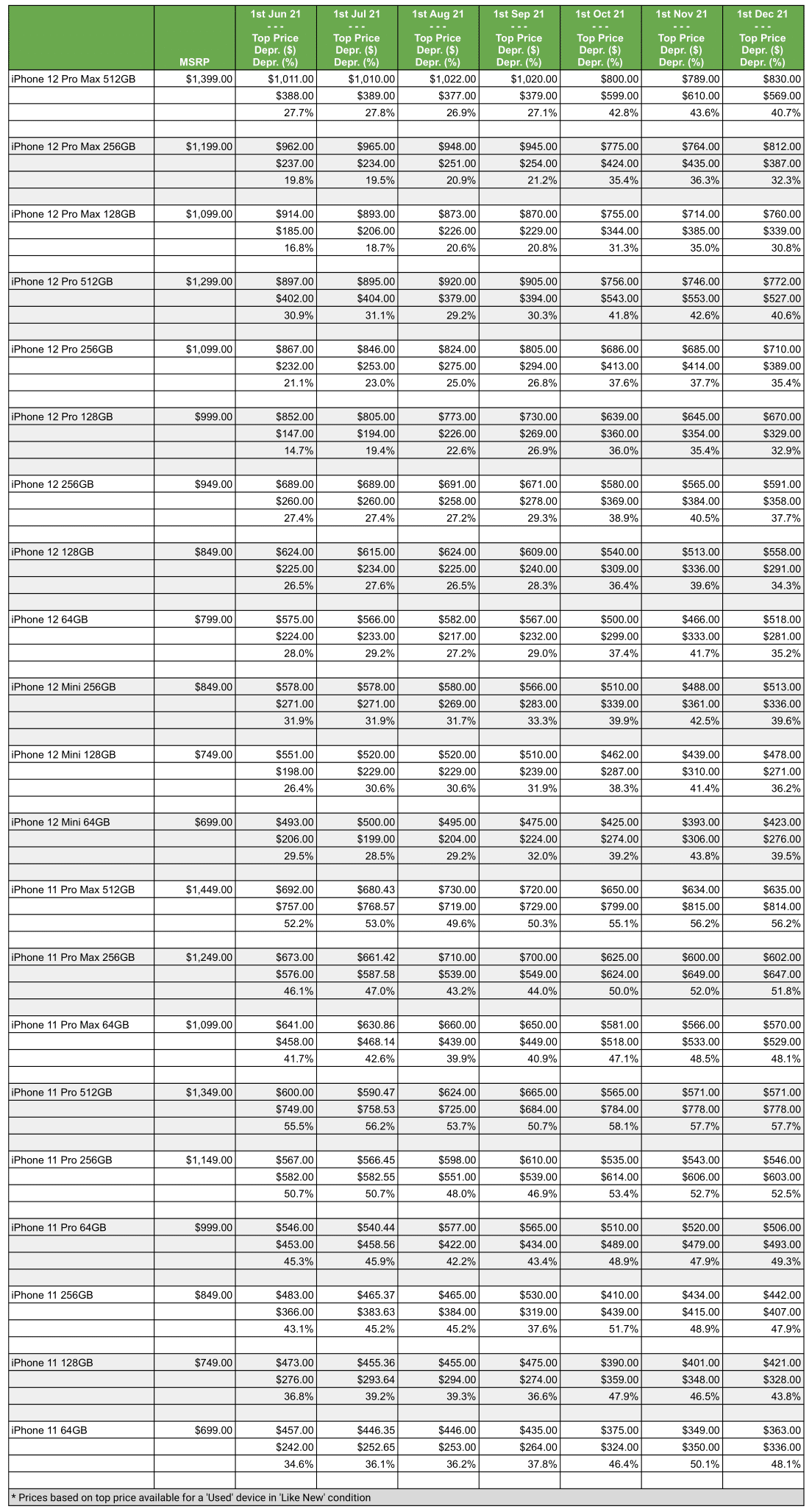 As the above table illustrates, even premium iPhones aren't safe from the slippery slope September brings. Apple consistently announces its new handsets around September, and SellCell's data above shows even the 12 Pro Max (512GB) lost $220 in value during September.
In fact, looking through values for every iPhone 11 and iPhone 12 model paints a similar picture. While not all iPhone models lost the same percentage value, every one of them saw depreciation during September.
This will have likely taken many iPhone owners by surprise… or at least those looking to trade their iPhone in pre-iPhone 13. Having seen some recovery of lost value during July 2021, iPhone owners may well have been lulled into a false sense of security, only to find the value of their handset has plummeted once the iPhone 13 was common knowledge.
We see that same minor uptick in November, with certain models like the iPhone 12 Mini 128GB and 12 Pro Max 128GB recovering $39 and $46, respectively. However, take this with a pinch of salt, given the overall loss between September 1st and December 1st, 2021, across the board.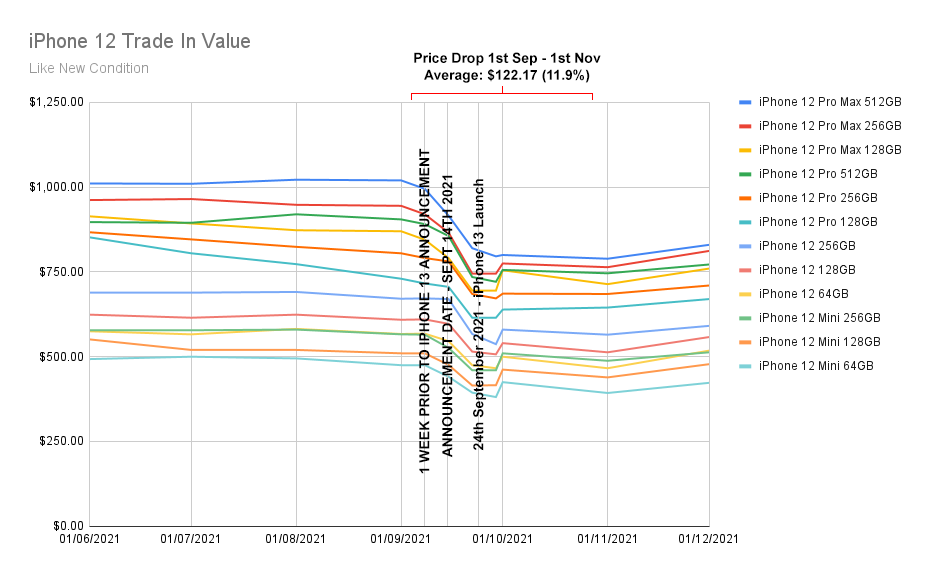 The graph above illustrates this value loss perfectly. As you can see, SellCell's value data shows a marked drop in value (on average 11.9%, or $122.17 in cash terms). The graph also illustrates the iPhone for the strange beast that it is, as all iPhone-12 models saw a minor recuperation in value just before October 2021.
Why is this? Well, as we know, the iPhone 13 release was fraught with setbacks on the back of 2021's COVID lockdown. Combine this with the subsequent component shortages and logistics delays, and we see Apple admitting it couldn't meet demand with a supply of freshly baked iPhone 13s. The result? Demand for the iPhone 12 went up again, meaning so did its value compared to its original MSRP.
Plus, this was just before Christmas, when phone values have a tendency to increase with demand rising as people flock to buy Christmas presents.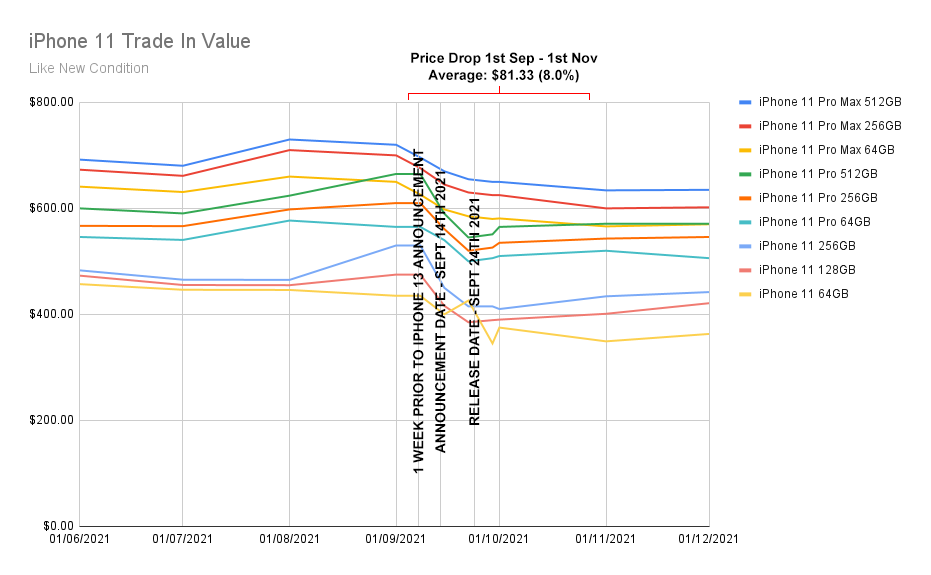 The iPhone 11 also saw depreciation between September 1st and November 1st. On average, the 11-series lost $81.33, or 8.0% of its value.
Again, though, we see some models recovering value in those last few days of September, much like the 12-series. However, while all iPhone 12 models saw some minor value recovery, only the iPhone 11 Pro 512GB, Pro 256GB, Pro 64GB, 11 128GB, and 11 64GB saw any recovery in value at the end of September. The iPhone 11 128GB actually continued to recover value until December 1st.
Again, though, SellCell stresses that this small recovery is far outweighed by the overall loss. Don't expect to trade your iPhone 12 in for the original MSRP, or anywhere near it. If you want to sell your iPhone and get the iPhone 14, do it sooner rather than later to avoid that loss.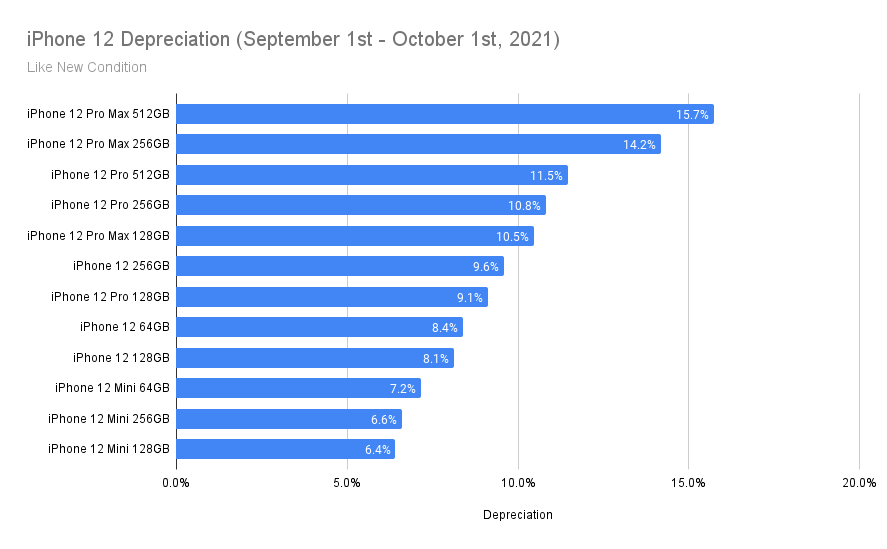 In terms of percentage value, we can see where the damage lies after just a month. The iPhone Pro Max 512GB, for example, loses a further 15.7% of its value between September 1st and October 1st. Likewise, the 256GB version loses a further 14.2% of its remaining value in the same timeframe. These are Apple's flagship products, and owners won't have taken lightly to the value of their smartphone plummeting like this.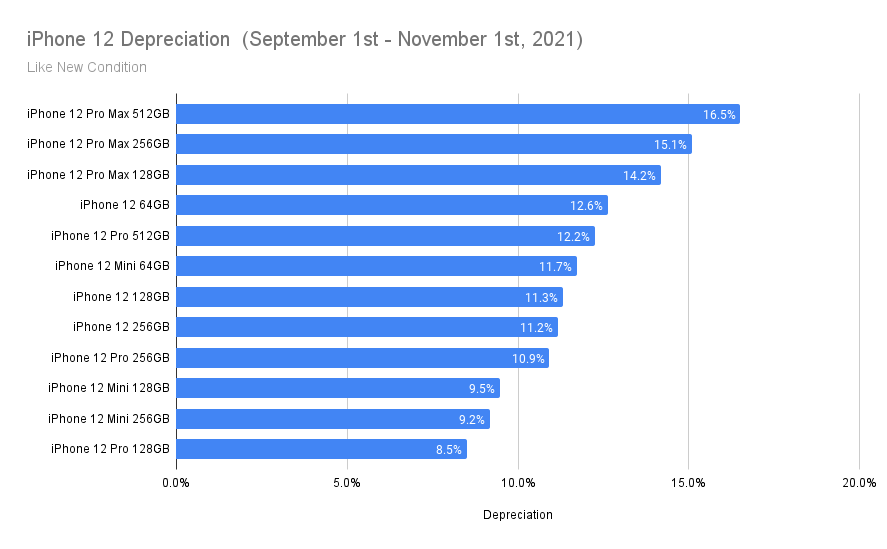 That trend continues as we fast forward to November 1st. At this point, the iPhone 12 Pro Max 512GB has lost 16.5% of its value since September 1st, and the 256GB model has lost 15.1%. Other models suffer the same fate, with the likes of the iPhone 12 Mini 64GB going from a 7.2% loss to an 11.7% loss in value.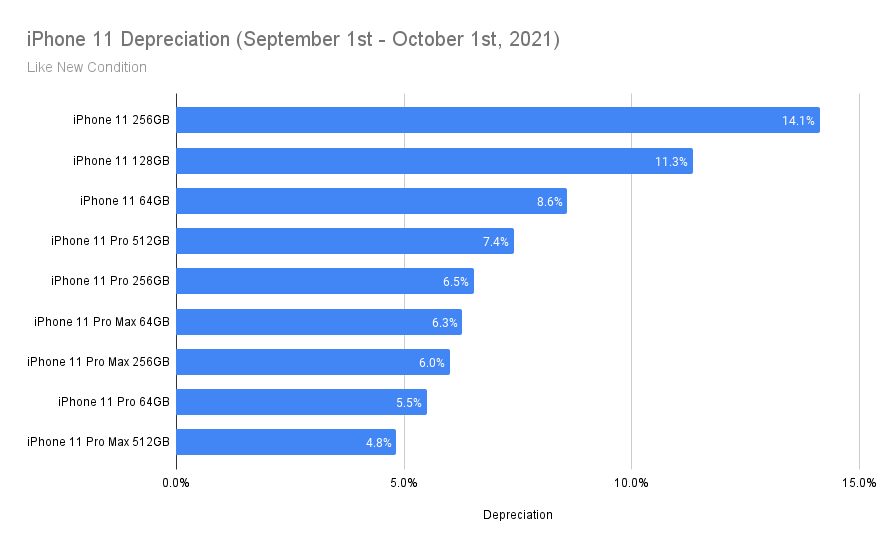 The iPhone 11-series behaved somewhat erratically, though, once we look through the months of September and October. As you can see, between September 1st and October 1st, 2021, models in this series lost between 4.8%-14.1% of their value.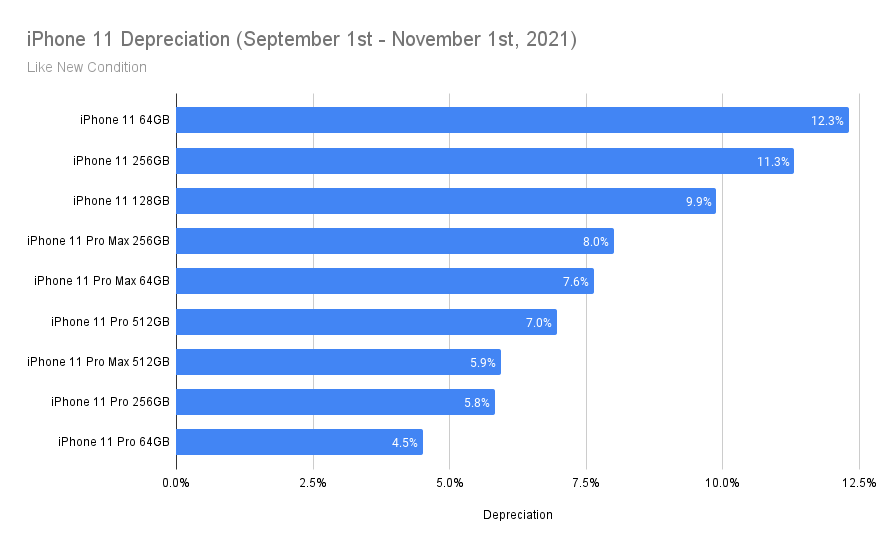 This trend continues for most handsets in the range, with the likes of the iPhone 11 Pro Max 512GB going from a 4.8% depreciation at the end of September, to 5.9% depreciation by the time we arrive at November. However, some handsets like the iPhone 11 256GB actually recovered some value, showing 14.1% depreciation during September, and 11.3% in October.
These trends are the same if we look at handsets in "good" condition.
Recommendations
Given the above trends, SellCell can recommend what your next course of action should be if you are considering trading your iPhone in.
The main takeaway is that iPhone owners should get a value sooner rather than later. iPhone value will plummet the closer we get to the iPhone 14 launch in September. Once Apple has conducted its annual September unveiling, previous generation iPhone value will drop even further.
Using a trade-in price comparison service like SellCell means that iPhone owners can see the value of their handset across a range of buyback vendors. All the vendors on SellCell will allow customers to lock a price in. If iPhone owners can find a vendor to whom they can sell an iPhone 13, and lock the price for up to 28 – 30 days , they might just be able to beat that sudden price plummet halfway into September, which SellCell predicts will happen in 2022 just as it did in 2021 with the iPhone 12 and 11.
Will the iPhone 13 Value Fall Pre-14 Launch?
At this stage, it is difficult to say how the iPhone 13 (and models before it) will perform when Apple unveils the iPhone 14. However, looking at past trends with Apple, SellCell has identified the point at which an iPhone will lose even more of its value, so owners can avoid that value drop if they trade in shrewdly, and don't hang fire for too long.
With purchase intent for the iPhone 14 not as dazzling as some may expect, perhaps the iPhone 13 series will remain buoyant and buck the trend we've seen in 2021.
Methodology
SellCell analysed value depreciation of the iPhone 11 and 12-series handsets between June 1st, 2021, and December 1st, 2021, in order to ascertain the depreciation trends before, during, and after the launch of the iPhone 13-series, and to predict how the iPhone 14 launch might affect depreciation in 2022.