You may have heard about the invisible braces, right? The new darling among dental patients and orthodontists is known for its efficiency and agility in treatment, but do you know why Invisalign technology guarantees these results?
If you've ever thought about doing the treatment with invisible aligners, you've probably already asked this question and, to explain how the method works, we'll tell you how Invisalign is produced. 
Read on to learn more about this technology!
How is Invisalign manufactured?
A large part of the efficiency of Invisalign is due to the technology applied in its development and to the fact that the treatment is completely personalized and every detail is designed especially for you. 
This is only possible thanks to the digital scan of your smile, which allows it to trace a virtual plan and makes your treatment much more predictable. As a result, the orthodontist is able to know exactly what is going to happen and thus significantly reduce the time using the device.
Furthermore, the way Invisalign is produced is a decisive factor for the fastest and most assertive results. With invisible aligners it is possible to treat the teeth individually, applying a much more precise force on them.
And the best part of it all? The treatment is much less painful when compared to conventional braces, not to mention that you are free of metallic wires and brackets: no one will notice that you are wearing braces!
Align Technology
Align Technology is largely responsible for the development of the incredible Invisalign devices. There are already more than 10 million patients treated around the world and the number is only growing!
The success of invisible aligners is the result of a lot of studies in search of innovation in orthodontic treatments. With this exclusive method, Align managed to combine technology and modernity with high quality to bring more comfort to patients. 
Check out the cases that can be treated with Invisalign aligners, produced by Align:
Diastema

undershot

overbite

cross bite

open bite

crowded teeth

teeth alignment
Ah, it's also worth noting that Invisalign produces exclusive aligners for orthodontic treatment in children: it's Invisalign First! This model was designed to serve children between 6 and 10 years old, who are in the mixed dentition stage (dairy teeth with permanent teeth), correcting the position of the dental arch so that there is space for the healthy growth of permanent teeth.
This treatment in the infant stage is essential to ensure the healthy development of the little ones' smiles, thus avoiding more complex orthodontic problems throughout life. 
Discover Various Invisalign technology
You might be wondering how all of this is possible, right? We explain: in addition to the technology used to develop its aligners, Align Technology has software that facilitates the orthodontist's work and allows for a much more precise treatment with up to 75% more predictability at each stage. 
Curious to understand the process? So, get to know all this technology used in Invisalign aligners with us:
1) ITERO ELEMENT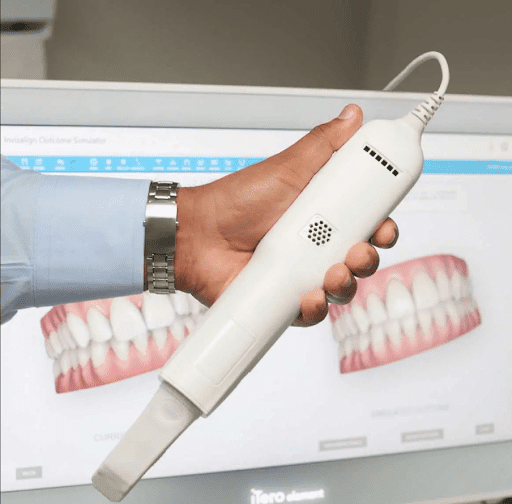 You can forget about those molds with putty that generate a lot of discomfort when making the base for your braces: with the iTero Element scanner, the orthodontist performs a completely digital and complete scan of your dental arch! There are six thousand pictures taken per second to make a perfect mold of your smile. 
With this, the professional captures a 3D image of their teeth and is able to plan a much more assertive treatment. The scanner is directly connected to Invisalign's exclusive software, allowing you to see a simulation of the final result even on the first consultation.
2) CLINCHECK
Speaking of Invisalign's exclusive software, let's introduce it to you now: ClinCheck is Align's software that allows you to plan your treatment virtually and completely personalized. This helps when producing your aligners, which are individually cut according to the shape of your teeth to provide total comfort when fitting. 
In the first appointment, you will scan with iTero and the dentist will use the software to show each of the steps and the final result of your treatment. In addition, ClinCheck has an algorithm capable of calculating with greater precision the amount of force needed to move each tooth. 
Throughout the treatment, it is possible to monitor the evolution of corrections and map each step, including the smallest of movements, reducing the chances of unforeseen events along the way.
3) SMARTTRACK
Your invisible aligners will be produced with SmartTrack technology, which allows an optimal adaptation of the device to your smile and also helps to promote the exact strength on individual teeth. 
This individual movement is essential to avoid impacts on neighboring teeth and end up delaying their treatment. The SmartTrack material also allows lighter forces to be applied during these movements, making the method much more comfortable and less painful than other orthodontic treatments.
4) SMARTFORCE ATTACHMENTS
In some cases, so-called attachments are also used to facilitate tooth movement in more complex cases. These attachments are small pieces (the same color as the teeth) glued to the tooth before or during treatment. 
With the use of yet another Invisalign technology, SmartForce, these pieces help the aligners to exert a little more pressure on the teeth, speeding up the dental correction process and ensuring greater precision. All this without discomfort for you, ok?
5) PRECISION WINGS
Precision Wings are other extra components that can be used in some treatments with Invisalign aligners to enhance the result in more complex cases. These models are indicated for adolescents and pre-adolescents, with the objective of correcting malocclusions related to the positioning of the jaw.
This technology is a small "extension" of the aligner located on the back of the aligners to achieve smooth, nimble and predictable mandibular advancement while Invisalign aligns teeth for a perfect smile.