Ankr has established itself as the industry's fastest-growing Web3 infrastructure provider, but what does this mean? In a nutshell, we're expanding the Ankr Protocol by adding more nodes and node providers, serving massive quantities of RPC queries to blockchain networks, and supporting more public RPC endpoints than any other infrastructure provider.
We'll look at why more and more developers are selecting Ankr for their Web3 infrastructure needs in this post, as well as how Ankr performs. Let's get started!
Every category has seen an increase in explosive growth
Ankr Protocol is rapidly expanding, owing in part to our node provider program, which allows independent node operators to service network traffic while earning ANKR incentives.
In addition to this initiative, Ankr is rapidly exceeding rivals in the Web3 infrastructure area in terms of the number of blockchain networks we support and provide free, public RPC endpoints for (at the time of writing, we're at 15, with more on the way). Ankr Protocol is now providing about 6 billion requests every day to these numerous networks, and the volume of traffic is growing every day
@ankr processed 7.3b RPC requests over the past 24 hours and its backed by a network of community-run nodes pic.twitter.com/lJYHC5A3sD

— Chandler syf.eth (@chandlersyf) April 19, 2022
With an ever-increasing number of nodes supporting Ankr Protocol from across the world, latency is continually lowering as Ankr strives to give developers with the quickest and most dependable connections imaginable – all at the most affordable prices.
Ankr's developer community is rapidly expanding because we're delivering the features they want most:
Scalability to handle large numbers of requests
Development tools for several chains
Node infrastructure that is becoming more dispersed and decentralized.
Affordability
We'll go through each of these features one by one in the sections that follow.
Huge Volume Balanced Perfectly
Hundreds of Ankr Protocol nodes are presently delivering traffic from our RPC load aggregator throughout the world, with more being added all the time. These nodes are now processing over 6 billion queries per day across 15+ blockchain networks, and the volume is growing every day.
As projects develop and require more infrastructure to support their expansion, Ankr Protocol is ideally suited to manage growing traffic. As their dApps gain widespread recognition and popularity, developers are turning to Ankr to satisfy the rising needs.
Ankr Protocol's node architecture is built to manage exceptionally large traffic levels, with each RPC endpoint capable of processing around 86 million queries per day. RPC endpoints are synchronised in real-time to underlying nodes thanks to continuous system monitoring. Network traffic monitoring, on the other hand, employs intelligent caching to improve performance and automate routing to the best available node during peak periods.
Multichain developers will have access to more blockchains
Ankr Protocol provides free, public RPC endpoints to 15 distinct blockchain ecosystems, with more being added on a regular basis. Ankr has swiftly established more RPC endpoints with our architecture than most other infrastructure providers, offering our developer community full access to multi-chain development. No registration, email, credit card, or KYC is necessary to use the 15 RPCs currently accessible via Ankr Protocol.
Ankr Protocol offers a multichain block explorer called AnkrScan that allows users to investigate transactions, addresses, blocks, and assets across 11+ blockchains from a single dashboard.
Increasingly decentralized and distributed
Due to our worldwide dispersion of nodes, Ankr Protocol can fulfill blockchain queries from any place with exceptionally low latency. Ankr has a long history of dispersing node infrastructure over several data centers across the world to avoid single points of failure and other centralized weaknesses. Ankr Protocol nodes are presently hosted by Ankr, Iotex, Fantom, Debooks, Polygon, Quicknode, and other unaffiliated providers.
In the future, Ankr plans to decentralize its services even further by inviting a large number of independent node providers to join the Ankr Protocol and participate in serving network traffic from the load balancer.
Web3 Development at a Reasonable Price
In addition to the free, public RPCs offered by Ankr Protocol, developers may purchase feature-rich Premium Plans at very low fees. The Ankr Protocol Premium Plan gives developers access to the following features:
Prioritized requests without rate limiting

Exclusive RPC endpoints

WebSockets capabilities

Advanced analytics and support

And more
In order to encourage Ankr Protocol users to become premium clients, Ankr is offering Ankr grants. Early adopters and heavy users of Ankr Protocol will be eligible for these awards, which will provide them with free access to Ankr Protocol's premium RPCs for up to a year or longer. Ankr Protocol will now be paid on a pay-as-you-go basis, replacing our prior yearly plan.
Ankr Protocol is still substantially less expensive than other competing products, even with a pay-as-you-go pricing plan. The average cost per request is around $0.0001 US dollars.
Consider SpiritSwap, which uses the Ankr Protocol and handled 8.59 billion requests over the course of 30 days utilizing Ankr's infrastructure. That amount of requests would cost $1.68 million per month with Infura and $268,000 per month with Alchemy under typical list pricing. In comparison, the cost of that amount of requests with APV2 would be only $86,000.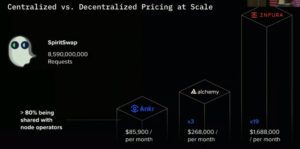 Ankr Protocol not only has a lower price tag, but it's also worth noting that customers are paying for a more decentralized, geo-distributed infrastructure that provides them with higher dependability, lower latency, and improved security.
Ankr in the Real World
Ankr serves as an infrastructure provider for blockchain networks, providing both node infrastructure and RPC access to clients who need to interface with those networks.
Ankr's node infrastructure rose by 2000% in handled requests in 2021, making it the primary infrastructure supplier for Binance, Fantom, and Polygon. Ankr also surpassed 13 of the top 15 PoS networks as the second or third largest supplier.
Ankr is happy to be connected with projects like as Celo, The Graph, Compound, Synthetix, Syscoin, Iotex, Ferrum, PancakeSwap, SpiritSwap, and many more in terms of users. Ankr infrastructure benefits a wide range of Web3 projects, including exchanges, staking platforms, wallets, decentralized applications, data aggregators, and much more.
Updates are on the way…
All of this comes ahead of the highly anticipated introduction of Ankr 2.0 (the most recent version of the Ankr Protocol), which will put the ANKR token at the heart of the whole ecosystem and provide it with entirely new functionality. This significant structural shift allows additional independent parties to join the Ankr Protocol and earn ANKR in return for handling network traffic, allowing the protocol to develop and decentralize even further.